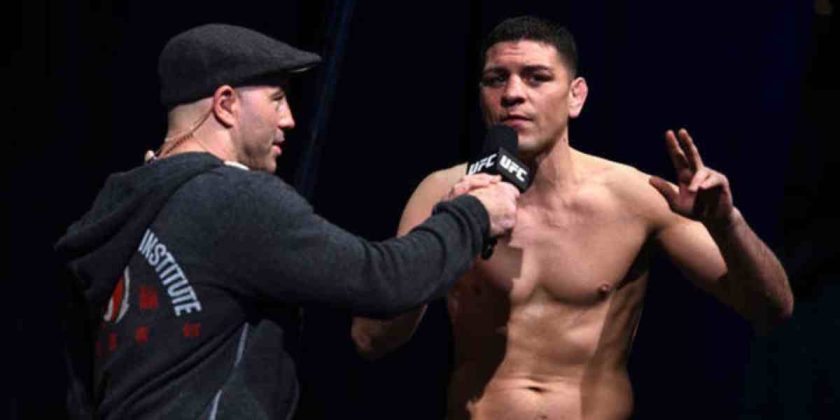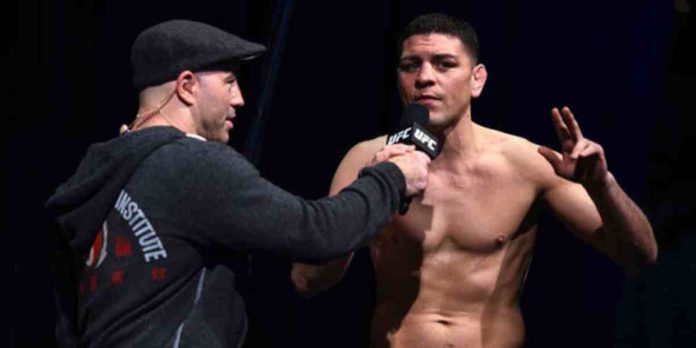 Joe Rogan believes Nick Diaz should have taken more time to prepare for his comeback fight against Robbie Lawler at UFC 266, where he lost by TKO in the third round.
Diaz returned to the Octagon for the first time since 2015 to rematch Lawler, 17 years after the Stockton native knocked 'Ruthless' out in the second round at UFC 47.
The fight was a back-and-forth brawl between the two, with Diaz covering up to defend combos from Lawler before firing back with his own shots. The former welterweight champion started opening up in the third round, hurting his arch-rival with a big left and dropping him with a knee.
Diaz refused to stand up, prompting the referee to wave off the fight.
'He Didn't Do That Bad'
Speaking on his The Joe Rogan Experience podcast (as transcribed by MMA Fighting), Rogan said that although Diaz 'didn't do that bad' considering his lengthy lay off, he should have taken more time to prepare for the fight.
"He didn't do that bad for a guy that was out six [years]," Rogan said. "Robbie Lawler was pressuring him and he was putting it on him and he was definitely getting the better of the exchanges, but it's not like Nick Diaz didn't have his moments. He definitely did. He would just have to have way more time to prepare and he'd have to be really ready to go. Like the old Nick Diaz. Like the Nick Diaz that fought Anderson Silva, like the Nick Diaz that fought Georges St-Pierre, like the Nick Diaz that fought Paul Daley in Strikeforce. That dude was a f***ing killer."
Taking His Time
Rogan continued by saying that if Diaz wants to keep fighting, he needs to give himself enough time to build back.
"Can he still do that at 38? Well, maybe," Rogan said. "We don't know if you have just have one fight. You need time. If your body hasn't been used to this stuff and you haven't been training as much as you were when you were in your prime – if you still want to do it again, he legitimately, physically probably can. But it's like, [when you] run a marathon. When you start out and you run a mile and you're dead, you're like, 'I can't believe anyone can run 26 of those.' But if you do it over and over and over again, you build up. I don't think he had a chance to build back up after being off for that much time. I think you get back to where he was, Nick Diaz at his best, you've got to have some time."
Do you agree with Joe Rogan?
See also: