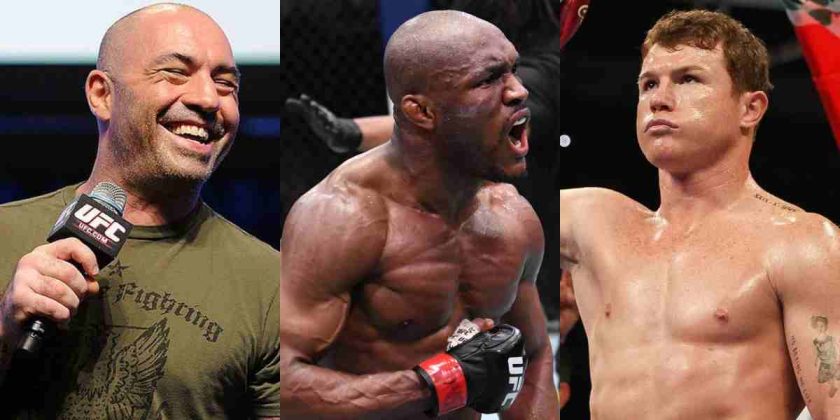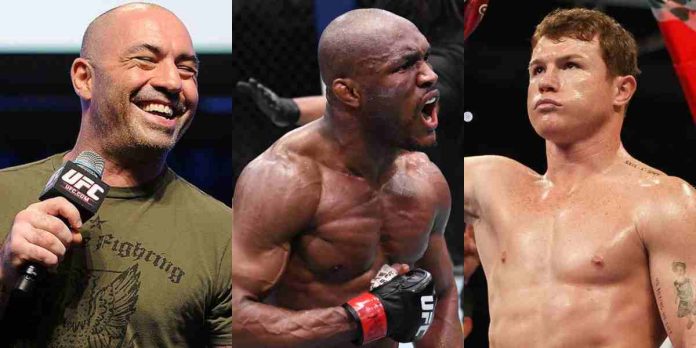 Joe Rogan has explained why he'd like to see a boxing fight between UFC welterweight champion Kamaru Usman and boxing phenom Canelo Alvarez.
Lately, Usman has been calling for a fight with Canelo, promising that he would shock the world if he was ever granted the opportunity. Dana White begs to differ however as he believes it is a 'stupid fight' that makes no sense. The Mexican doesn't seem interested in the fight either as he believes 'The Nigerian Nightmare' is only after a payday.
Joe Rogan On Kamaru Usman vs Canelo Alvarez
Rogan said that he'd like to see a fight between the two. Speaking on Hotboxin' with Mike Tyson (as transcribed by BJPenn.com), the 54-year-old said that not only would Usman make a huge amount of money from a potential Canelo fight, but he would also make improvements to his striking.
"I would like to see him fight Canelo," Rogan said. "I really would. Not because I think that he's a favorite in a boxing match against one of the greatest boxers of all time, but I want to see him get a giant payday. The same way I would like to see Ngannou fight Tyson Fury. That's a way you can make a s*** load of money, and I don't think it damages his potential as a UFC fighter. I think it would be invaluable experience for him as a champion if he did have that fight and then came back over to MMA. I think he'd probably be even better as a striker if he gets through it relatively undamaged, even if he loses."
Kamaru Usman made his fifth successful title defence by defeating Colby Covington in a closely contested fight at UFC 268, and is now expected to face Leon Edwards next, but says he's also open to a potential fight against Conor McGregor.
Do you agree with Joe Rogan?
See also: