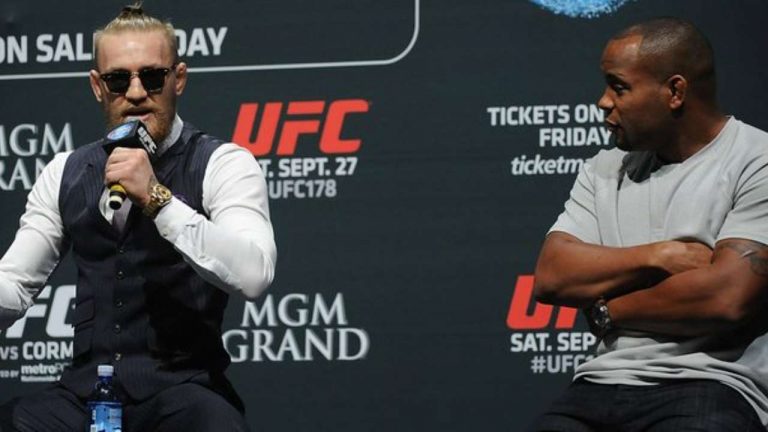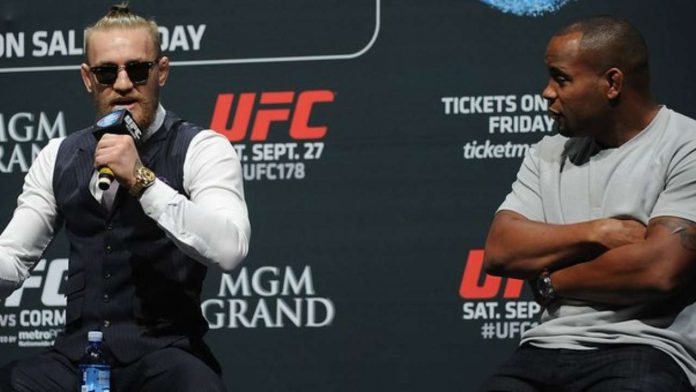 Conor McGregor has fired more shots at Daniel Cormier after he told the Irishman to stop tweeting about him and focus on his opponents, who "keep beating your ass".
McGregor has made things personal with Cormier after he criticised him for his disrespectful tweet about Khabib Nurmagomedov's father, Abdulmanap Nurmagomedov, who passed away due to COVID-related complications in July last year.
In a tweet on Wednesday, McGregor attacked Cormier and refuted his analysis that Dustin Poirier was successfully checking his leg kicks in their trilogy bout at UFC 264, which 'The Notorious' lost by a doctor's stoppage after breaking his tibia.
Daniel Cormier Responds
Speaking on his DC and RC show on ESPN (as transcribed by MMA Fighting), Cormier responded by saying that he can easily pull up and analyse evidence of several kicks that Poirier did check.
"It's much easier for me, because I work at ESPN," Cormier said. "We have a department that does that, that can get every one of the kicks that Conor did get checked."
The former UFC heavyweight and light heavyweight champion said that McGregor should stop talking about him because he has better things to worry about.
"So McGregor, listen to me bud. Stop worrying about me. Don't worry about Daniel Cormier. Don't worry about the things that I'm saying," Cormier said. "Don't worry about how I'm dressing and how I'm looking. Don't do that. Worry about the dudes that keep beating your ass every time you go into the Octagon. I'm not the guy you've got to worry about fighting. I'm done. I'm retired. I'm living my best life. You need to worry about trying to beat the guys that you fight against. Get off the internet. I don't hate this dude, but McGregor, fall back."
Conor McGregor Fires Back
A few hours after Cormier's show went on air, McGregor took to Twitter to target him in a new series of tweets, which were later deleted.
In his first tweet, McGregor called Cormier a "fat mess" and accused him of being drunk during UFC 264 fight week.
"Daniel Cormier is a fat mess. Getting into worse condition by the day," McGregor said. "God bless him. Showing up drunk at media events the very day before he was in the booth calling my fight. Drunk at a media event working? The day before being a commentator on the biggest fight in history?"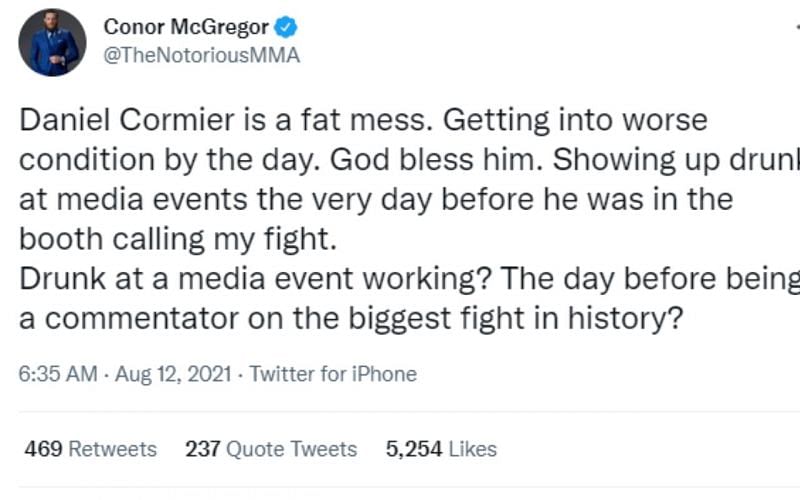 In his second tweet, McGregor said that Cormier should be sacked for being drunk on the job.
"It is a sackable offense for a commentator to be drunk at press work the day before commentating the big fight," McGregor said. "Dreadful! Get it together. Belching in the mic at a press event and an all wtf. The day before commenting the big fight? Is this guy serious? Disgraceful."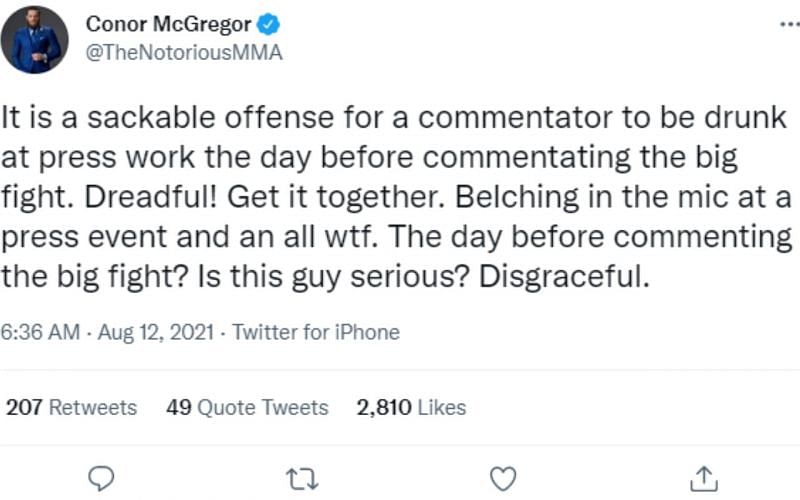 In his third tweet, McGregor upped the ante by making a reference to Cormier's third round knockout loss to Jon Jones at UFC 214, which was later ruled a no-contest after 'Bones' tested positive for a turinabol metabolite.
"Your back situations just mental too," McGregor tweeted. "Your weight and way of life is abysmal. And now drunk at work the day before you commentate a McGregor event? Pitiful. Congrats Jon on his head kick KO anniversary over you. Good always defeats evil? Wasn't sure you were evil. Fakes."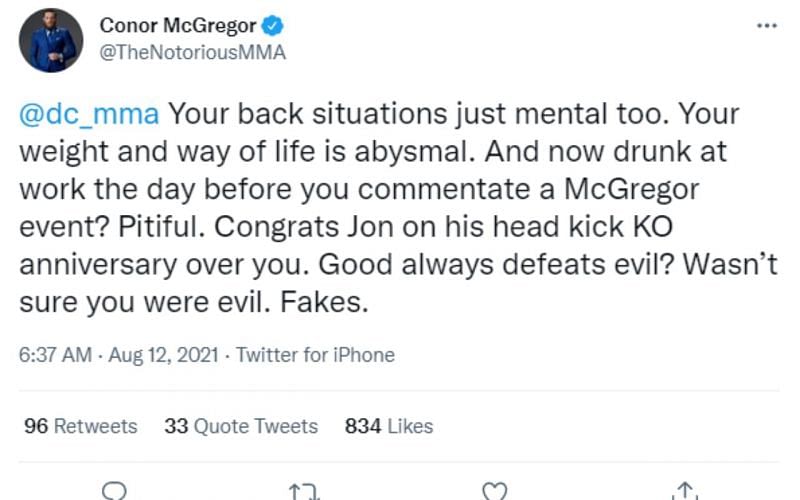 Do you agree with Daniel Cormier that Conor McGregor should stop talking about him and focus on fighters in his weight class?
See also: