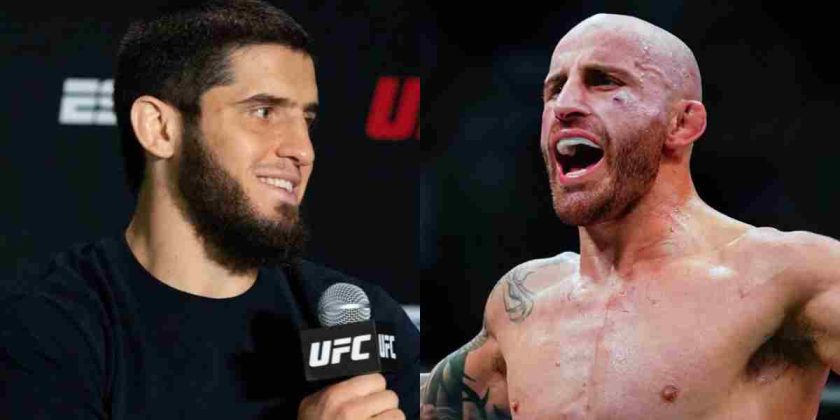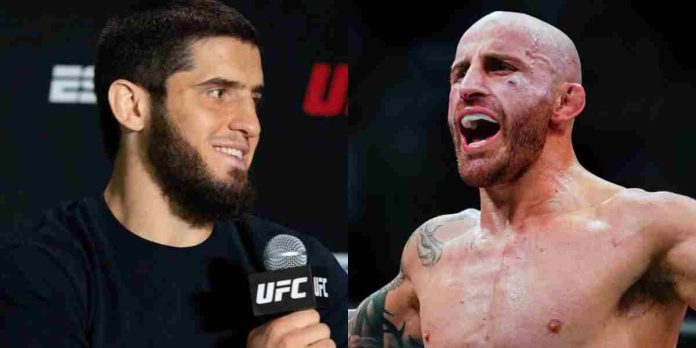 Islam Makhachev believes Alex Volkanovski should stay where he is after the Aussie said that he wants to move up in weight to fight for the lightweight title.
Volkanovski made his third successful featherweight title defence by decimating 'The Korean Zombie' in the main event at UFC 273, where he won by knockout in the fourth round. He was originally scheduled to fight Max Holloway at UFC 272, but the latter had to pull out due to injury. It is likely that the UFC will rebook the trilogy fight between the two, although 'The Great' believes there isn't a clear number one contender in the division.
Speaking to ESPN, Volkanovski said that he wants to move up in weight and fight for the lightweight title while the featherweight division "sorts itself out".
"I want that [lightweight title fight] this year. That's something I'm looking at next, even," Volkanovski said. "As I said, while this division [featherweight] is sorting itself out; I'm doing my part, I don't want to hold up any divisions. But if this division is getting held up it's because the contenders aren't taking that No. 1 spot. It's got nothing to do with me.
"So if [they're] going to do that, I want to be active, I'll move up, I'll work my options because I'm not holding anyone up and I'm doing my part. So if people don't want to do their part, let's have fun, let's have these money fights, let's have these double-champ status [fights], let's do all that type of stuff while that's happening. And I think I'm in a good position and a fair position to call for a double-champ status."
Islam Makhachev Responds To Alex Volkanovski
Makhachev, who believes he should fight the winner of the lightweight title fight between Charles Oliveira and Justin Gaethje at UFC 274, told Volkanovski to stay at featherweight because he has enough young contenders to worry about.
"Hold your horses cowboy, you have division full of young sharks, more than enough to stay busy. LW title fight is mine," Makhachev said.
Who do you think Alex Volkanovski should fight next?
See also: