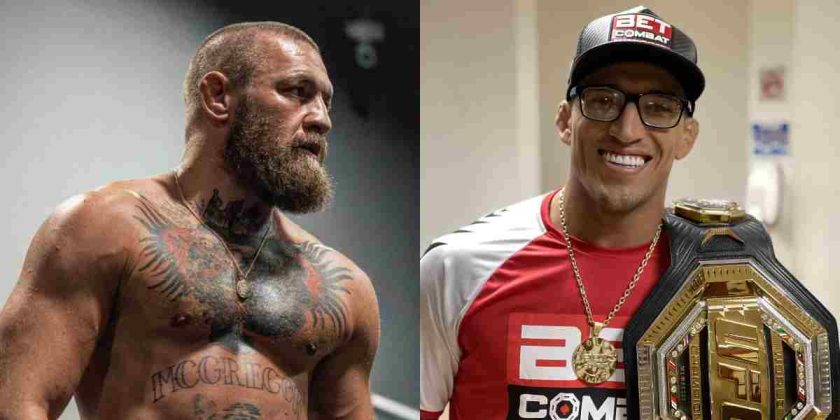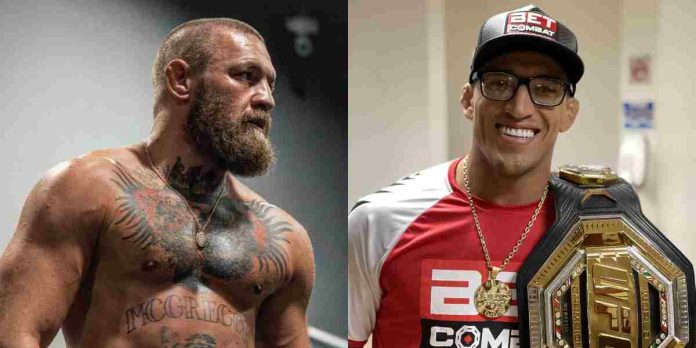 Conor McGregor has revealed that his recovery is going well, and he expects to resume full training within the next two months.
McGregor is coming off back-to-back defeats at the hands of Dustin Poirier, at UFC 257 by second round knockout and at UFC 264, where he lost by a doctor's stoppage after he broke his tibia seconds before the end of the first round.
Conor McGregor On His Return And Potential Charles Oliveira Fight
Speaking to Severe MMA at Bellator 275 (as transcribed by MMA Fighting), McGregor revealed that he will resume full training in April.
"April, they said I can spar again and I can box again basically," McGregor said. "So I'm just going to take it day-by-day. Hopefully, now, once I get back sparring, I'll know weight, I'll know feel, I'll know my own style. You know what I mean? I'm going to develop a different style, I'd imagine, so I've been shadowboxing a bit lately and I feel like I'm just getting the bearing of myself.
"But I feel good. I'm grounded on my feet, I can stop and start and take off. It's just the little twists or a torque, I've just got to be careful. But this will be a here today, gone tomorrow type of thing in my own head. The bone will recover, it'll connect back to itself and it'll be like it never happened."
McGregor eyes an immediate title shot upon his return to the Octagon this summer, but it is highly unlikely as champion Charles Oliveira is scheduled to defend his title against Justin Gaethje at UFC 274 in May.
The Irishman however, advised Oliveira to wait for him, instead of putting his belt on the line against Gaethje.
"It (Oliveira vs Gaethje) is not announced," McGregor said. "I don't know either, I've heard. Maybe if the man (Oliveira) is wise you will give it a month or two. July seems okay for me, I can't say too early, but if I'm sparring April, May, June, July. I could slap the head of most of these guys by the end of April, you know what I'm saying. My first spar could be a fight. It's about time this game gives me respect for my different styles of fighting, my shots downward, my shots upward… People are going to give me my respect."
Who do you think would win a potential fight between Conor McGregor and Charles Oliveira?
See also: