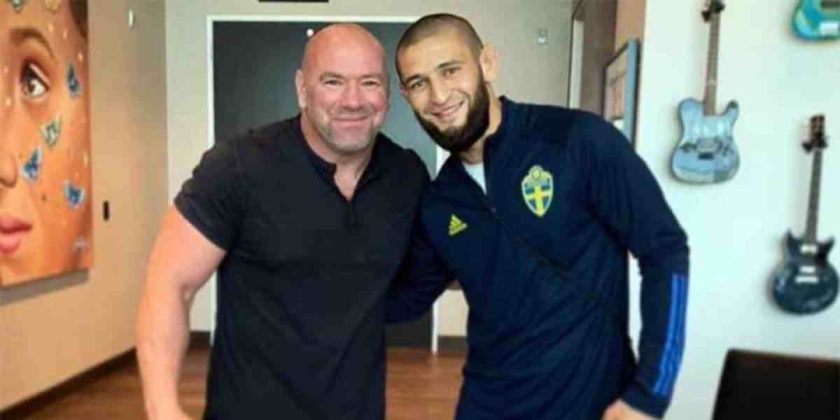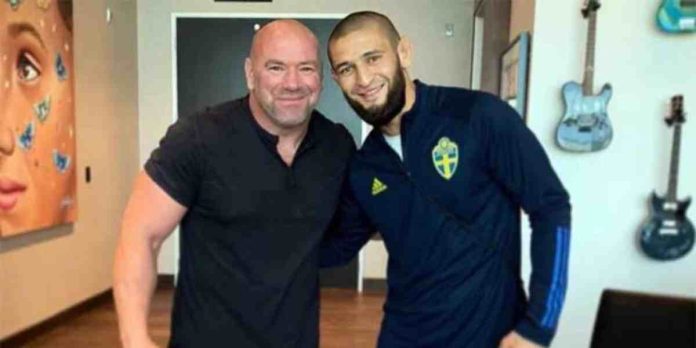 Dana White has come to Khamzat Chimaev's defence after Nate Diaz said that he doesn't want to fight him because he's a 'rookie'.
Chimaev made a spectacular return to the Octagon after a year-long lay off at UFC 267, where he finished Li Jingliang in the first round, without breaking a sweat. Diaz is coming off a unanimous decision loss at the hands of Leon Edwards at UFC 262. The Stockton native has shown interest in fighting Vicente Luque and Tony Ferguson, but doesn't think Chimaev deserves a showdown with him.
"They (UFC) are coming at me with Khamzat, and I'm like, 'Hold on, don't disrespect me like that, trying to offer me a fight with a rookie,'" Diaz said. "I'm cool, you got four fights in the UFC. Don't even talk my name."
Dana Responds To Diaz
Speaking to TMZ Sports, Dana commended Chimaev for his willingness to fight anyone, anywhere and anytime, adding that there are no 'rookies' in the UFC.
"Listen, everybody in this business, everybody in this company, is here because they belong here," Dana said. "There are no real rookies, per se, here.
"There are guys with more experience and some guys with some less experience. Khamzat Chimaev is one of those guys that's willing to fight anybody. In multiple weight classes. On short notice. He's doing wrestling matches [in between UFC fights]. If it's a fight, he's in and he wants to fight you. And that's the reality. People can spin Khamzat however they want to — and I don't blame them."
'I Don't Blame Anybody'
Dana continued by saying that he doesn't blame fighters for refusing to lock horns with Chimaev because he's an absolute 'savage'.
"Listen man, Khamzat is a straight murderer," Dana said. "He's a killer. He's an absolute savage. And I don't blame anybody for not wanting to fight Khamzat Chimaev."
Who do you think Khamzat Chimaev should fight next?
See also: