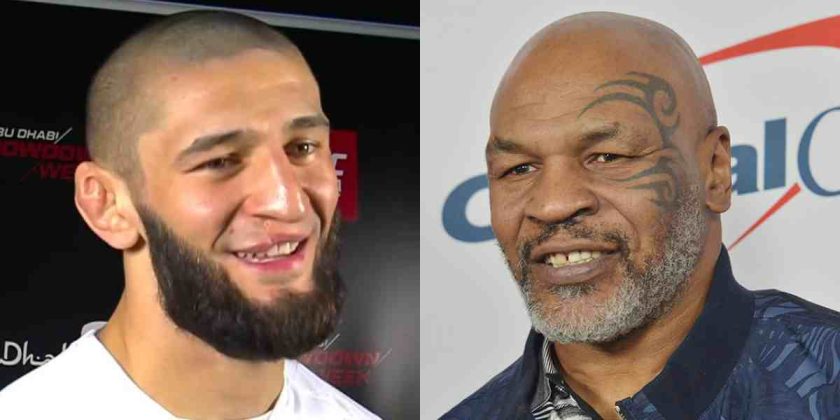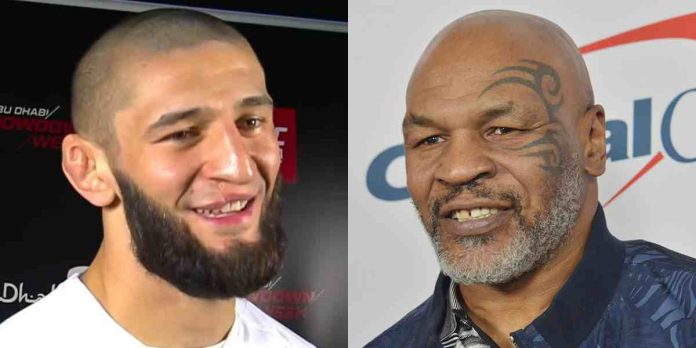 Khamzat Chimaev has explained why he turned down an offer to appear on former boxing heavyweight champion Mike Tyson's podcast.
Tyson has interviewed several of Ali Abdelaziz's top clients, including former two division champion Henry Cejudo and former lightweight champion Khabib Nurmagomedov, in the past and enjoys a cordial relationship with the Dominance MMA chief and his fighters.
Chimaev's Thoughts On Tyson
Speaking on the Hustle MMA podcast, Chimaev said that he has a great amount of respect for 'Iron' Mike, but unlike Cejudo and Khabib, he turned down an offer to appear on the 'Hotboxin with Mike Tyson' podcast due to the 55 year old's history of legal and drug issues.
"Ali said Mike Tyson also wants something, but I didn't go," Chimaev said. "I didn't have much desire to do that. As a fighter, an athlete, I really like him. But I don't like what all happened with him – The violence, the pills, the marijuana, then Muslims, it's strange. But I still respect him – Both as a fighter and as a person. He went through a lot of things and because of this, he broke down, did a lot of bad things. And no one knows what will happen to me. It can happen to anyone. A good, normal person, but something happens and you end up in a mental hospital. I don't judge anyone, but I just didn't want to go."
Khamzat Chimaev is coming off a first round submission victory against Li Jingliang in his most recent fight at UFC 267, and is itching to get back inside the Octagon. During the past few weeks, 'Borz' has called out Nate Diaz, Conor McGregor and Jorge Masvidal, among others.
What do you make of Khamzat Chimaev's comments about Mike Tyson?
See also: