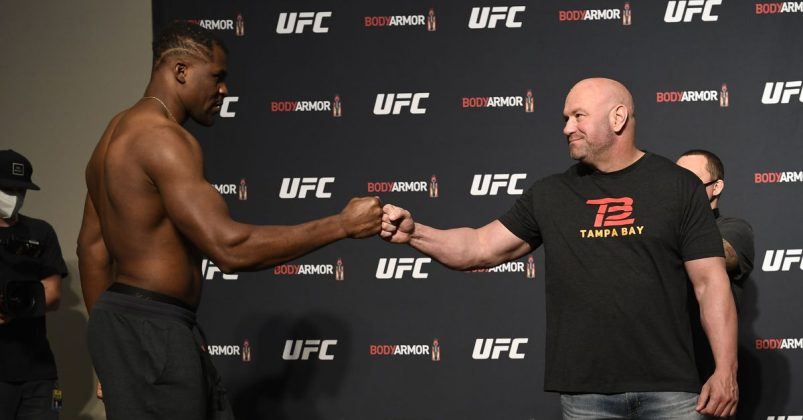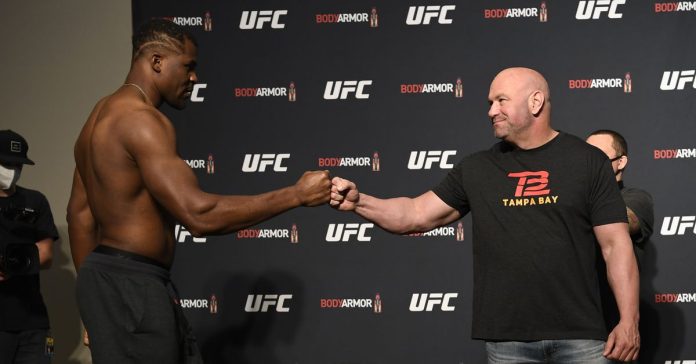 Dana White has explained why he didn't wrap the belt around Francis Ngannou's waist at UFC 270, where the Cameroonian defended his heavyweight title against Ciryl Gane.
Ngannou made his first successful title defence by scoring a unanimous decision win against Gane this past weekend at UFC 270. After struggling to land anything significant on the feet during the first couple of rounds, 'The Predator' used his wrestling to turn the tables on the Frenchman from the third round onwards and take a hard-fought victory home.
Dana White On Francis Ngannou Snub
UFC matchmaker Mick Maynard did the post-fight honours in place of Dana, who also missed the post-fight press conference to the surprise of many. Speaking to ESPN+ (as transcribed by MMA Fighting), the UFC president said that he couldn't fulfil his post-fight duties because he had to deal with issues backstage.
"I wasn't out there for the main event — I actually walked out of the arena right after the co-main event because there was stuff going on backstage that I was dealing with," Dana said. "For anybody to think that I was showing any type of disrespect towards Francis — I saw Francis all week, you idiots. I shook his hand, I said hi to him, I was out there for the staredowns, the whole thing."
Dana Praises Ngannou
Giving his thoughts on the fight, Dana said that he was extremely impressed with Ngannou's performance.
"I think the heavyweight main event was a shocker," Dana said. "I don't think anybody expected to see Francis come in and wrestle. During the fight, I was very surprised [by Ngannou's game plan]. After the fight, it was genius. It was genius for him to go work on his wrestling. I guarantee you — I don't know this for a fact — but I would guarantee you that Ciryl Gane did almost no wrestling to prepare for that fight. So to come in and implement the game plan that he had, it was brilliant."
What do you make of Dana White's comments on Francis Ngannou snub?
See also: