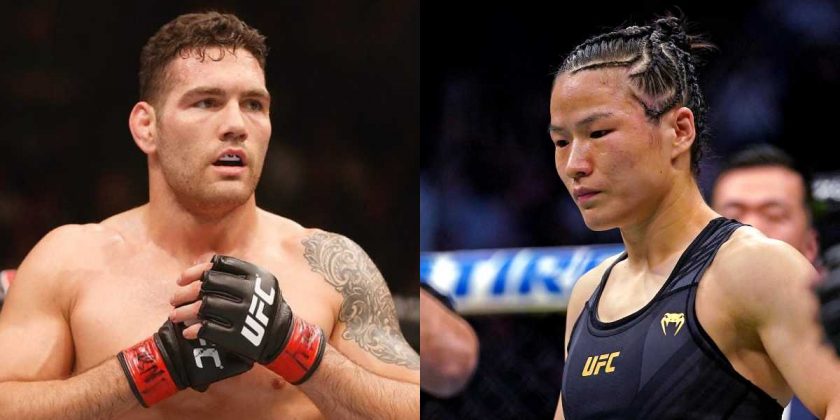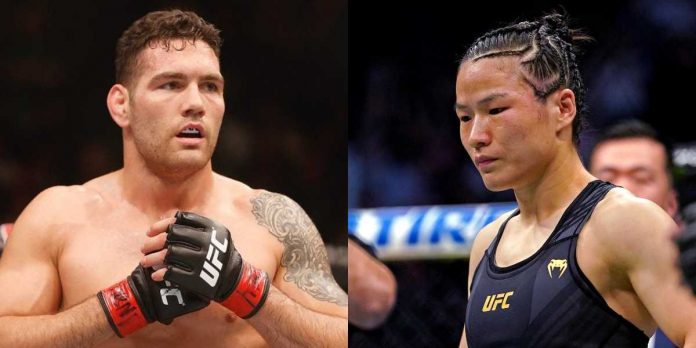 Chris Weidman thinks Zhang Weili shouldn't use his gruesome leg injury as an excuse for her loss to Rose Namajunas at UFC 261.
Weidman lost his main card fight against Uriah Hall at UFC 261 in only 17 seconds after he snapped his leg as a result of a hard check. In the co-main event, Zhang lost her strawweight title to Namajunas after she was brutally finished in the first round.
While Zhang has paid due respect to Namajunas for being the better fighter on the night, she has also cited a number of reasons over the past few months that put her off her game, including a hostile crowd. 'Magnum' recently said that she was particularly affected by Weidman's gruesome injury, especially because she had touched gloves with him as he walked out to fight.
'You Don't Want To Make Excuses Like That'
Speaking to MMA Fighting's The MMA Hour (as transcribed by MMA News), Weidman said that although his injury must have been a traumatic experience for everyone who witnessed it, Zhang shouldn't use it as an excuse for her loss to Namajunas.
"Yeah, I gave her the bad juju…" Weidman said. "Yeah, I mean listen, that was a super traumatic moment for me and I think anybody probably who watched it, the people in the stands and stuff…
"We weren't even sweating yet. There was no adrenaline going. I was fresh. It was the first strike of the fight, full force, everything I have. And it was traumatic, I think, for everybody to see that happen. So listen, I think it probably would mess with anybody a little bit, but that being said, you don't want to make excuses like that. I'm friends with Rose. I love Rose. I'm sure she was upset when she saw me do that, but you gotta get right back to getting in your own head and being ready for your own fight."
Do you agree with Chris Weidman that Zhang Weili shouldn't use his injury as an excuse for her UFC 261 loss to Rose Namajunas?
See also: