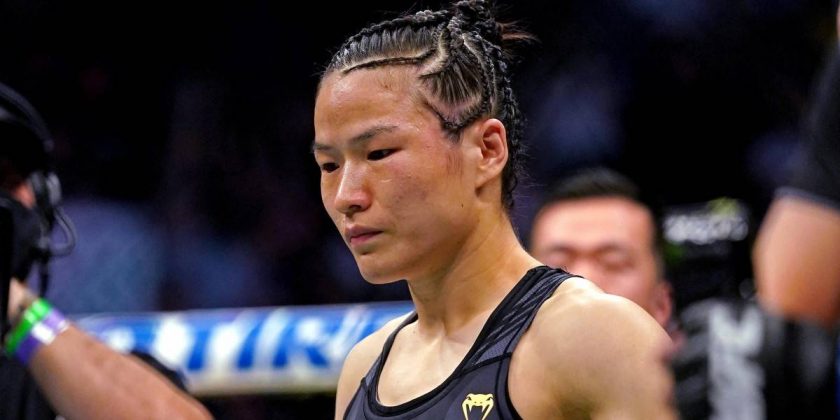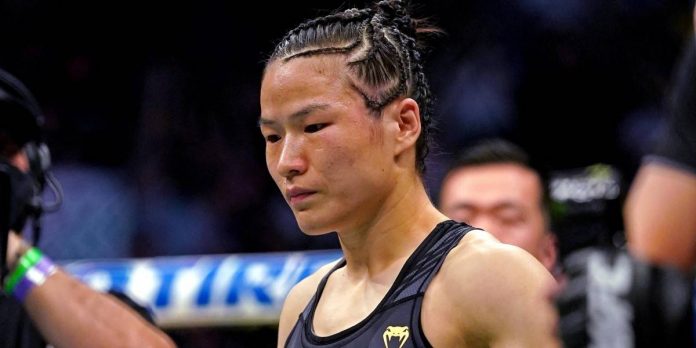 Zhang Weili has been keeping a low profile lately, in part due to the hate comments she has been receiving online since her UFC 261 loss to Rose Namajunas in their strawweight title fight.
Namajunas snapped Zhang's 21-fight win streak by knocking her out in under two minutes at UFC 261 to reclaim the strawweight strap. While the Chinese sensation was extremely upset in the immediate aftermath of her loss, she is in a much better state of mind now and has an abiding respect for her arch-rival.
'She's A God'
Speaking on part one of her documentary titled 'My Bronze Age' (as transcribed by BJPenn.com), Zhang said that Namajunas is one of the gods of the sport.
"You must have no feelings when you see the knockout again," Zhang said. "She's the champion now. You must admire her. You must respect her as a god. You can't think she got the belt because of my accidental mistake. Rose is at the top and I should give all due respect. She's the champ, just like a god. She's the one in billions. I should respect her. But she's still my target."
Accepting Her Loss
Needless to say, it took Zhang a lot of time to come to terms with the fact that she lost arguably the biggest fight of her career, but life goes on.
"I couldn't talk about it without crying but now I can talk about it freely," Zhang said. "I've accepted it. It felt like the cage flipped over (laughs). This time I was distracted a bit and one 'DONG'. Only one minute passed by. Things can occur like this.
"I just feel… extremely not reconciled. I brought so many people to go to the fight with me, and the way how I felt in the match makes me not satisfied at all. The day after, I didn't sleep for more than 20 hours. I couldn't fall asleep at all. Once I closed my eyes, the moment when I fell down was replayed in my head. Every time I closed my eyes I saw the moment. I kept asking my coach Cai [Xuejun] after the match, 'Is the fight really finished? Did I really lose the belt? Is it finished?'"
Dealing With Internet Trolls
To make matters worse, Zhang said that she was bullied by internet trolls to the point where she contemplated taking time off from social media, but her coach advised her against it.
"Everyone commented on this," Zhang said. "Haters, supporters — giving me all kinds of comments. It felt like I was being cyberbullied at the time (laughs). I told Cai that I want to have an old phone. I don't want to look at the internet and all the comments anymore. Cai said I can't, 'You can't live in your own vacuum. You need to accept this.'
"There are only two types of comments; good and bad. [You] Don't need to care about the comments. Just do well and be myself."
Itching For A Comeback
Having suffered her first defeat in almost eight years, Zhang was itching to get back into the Octagon and the win column immediately, but she said that her coaches wanted her to take some time off.
"I didn't want to go back to China," Zhang said. "I wanted to stay and train in the US. I wanted a second fight. I would have to wait in the US and not go home. After I was back in China, I thought I was mentally recovered. But then I had my first live stream, my memory was brought back to the fight again. I couldn't help my thought, I cried. I felt my scar was re-opened. I was upset.
"After I came back, I told Cai that I need to train immediately. Cai said, 'No. We can't rush right now. We wait until you no longer have any resentment to the fight, that moment. Then we can start over again.'"
Do you think Zhang Weili deserves an immediate rematch with Rose Namajunas?
See also: