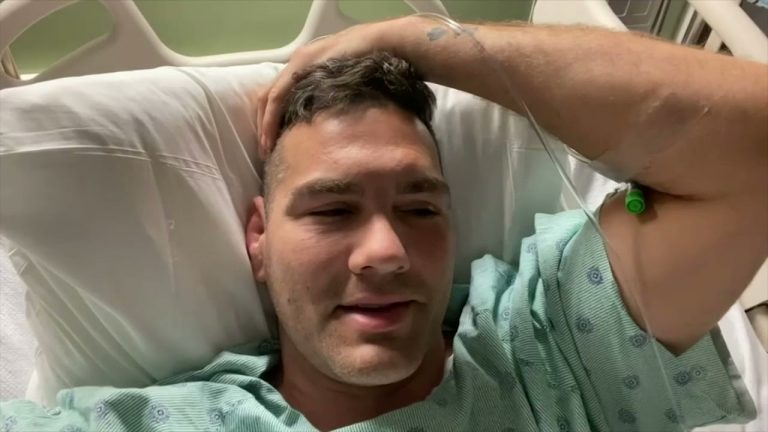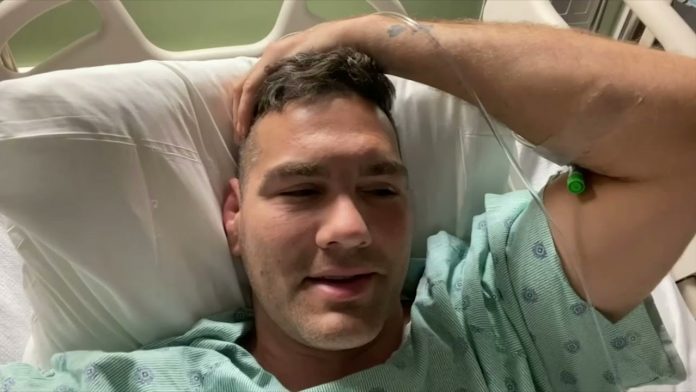 Chris Weidman's top 15 middleweight bout with Uriah Hall at UFC 261 ended in a horrible way when he snapped his right leg after landing a low kick less than 20 seconds into the first round.
When he landed the kick, Weidman's first reaction was that he hurt his opponent as the impact of the strike was profound. A split second later, however, 'The All American' realised that it was quite the opposite.
'A Nightmare'
During an Instagram live, Weidman recounted the moment he realised that he broke his leg, which he described as a 'nightmare'.
"As soon as I hit him with that kick, I knew it was super hard," Weidman said. "It was so concussive, the sound I do remember. Now looking back, it was my whole leg snapping but I didn't realise that. I just thought it was a crazy good leg kick that landed super hard. I remember looking at Uriah Hall in the face and he had this poker face on and I'm like 'yeah, bro, I know that one hurt you.' I knew he was going to be feeling that and all I could think about was like I land one more of those, he has to go down cause that was freaking brutal.
"As I put my foot down, I don't remember putting my foot down and feeling any of the pain or anything like that cause I was still focused on letting him know that I was good. I guess as my leg snapped underneath me, I happened to look down and when I see my leg look like rubber, that's when I think I just went into a crazy, weird spot. I went face down and it was like a nightmare. In my head I'm like there's no way that was my leg. There's no way I was just looking at my leg and my leg was looking like that."
More Scares
Weidman was escorted out of the VyStar Veterans Memorial Arena in Jacksonville, Florida on a stretcher. While he was in the ambulance, he heard the medical attendants talking about struggling to find a pulse in his foot. That's when even more frightening thoughts started creeping into his mind.
"Honestly, I remember thinking even if they have to cut off my leg and give me a prosthetic leg, I'll be able to still do things with my kids," Weidman said. "I started thinking of positive things out of the whole thing."
In addition to breaking his leg, Weidman also suffered a compound fracture, which occurs when a bone tears through the skin.
"When I stepped my foot back after I kicked, I put all my weight back on my foot that was broken, the leg obviously snapped and the bone went shooting through my calf muscle and out my skin," Weidman said.
"So they're worried about blood clots because of that trauma, so I'm on tons of blood thinners. I think I have to be on blood thinners for like 45 days."
'Most Traumatic Experience'
The two-time NCAA All-American and the former UFC middleweight champion has gone under the knife 23 times in his professional career, but none of his injuries have been as traumatic and painful as his most recent one.
"I've had 23 surgeries in my life," Weidman said. "I've been through a lot of ups and downs but I will say this is the most traumatic and most painful thing I've ever been through. I know it's going to take a long time. It's really tough for me."
Staying Positive
Despite the magnitude of the injury and his age, Weidman is positive that he will make his return to the Octagon.
"I do think I'll fight again," Weidman said. "I'm staying really positive with that. I need to start working out quick, even if it's upper body stuff. I need to find out when I can do that.
"I'm going to go see the doctor on May 10th and that's when they take out all the stitches and giving me a game plan of what this is going to look like for recovery. I'm really looking forward to seeing that doctor and coming up with that game plan. Cause right now, I don't like just being in a state of not knowing what's going on with my life."
The Long Island native is also grateful for all the love and support he's received from his fans over the past few days.
"I'm blown away by the amount of support and love, prayers, uplifting comments, just good energy, I got after my fight on April 24th," Weidman said. "It's been really amazing to feel all the love."
Do you think we'll see Chris Weidman back inside the Octagon again?
See also: