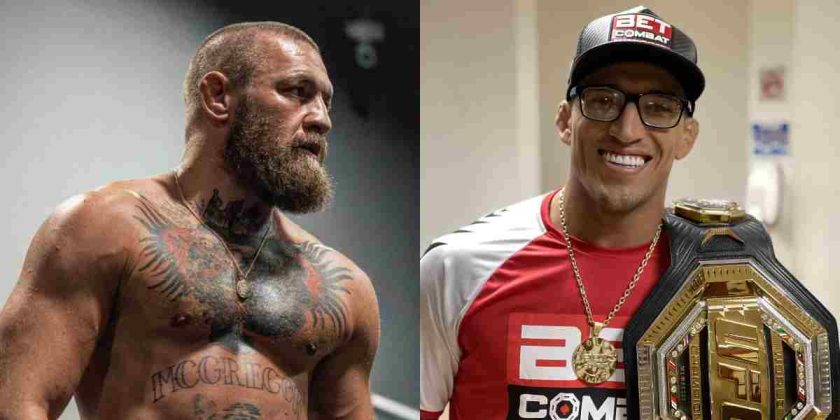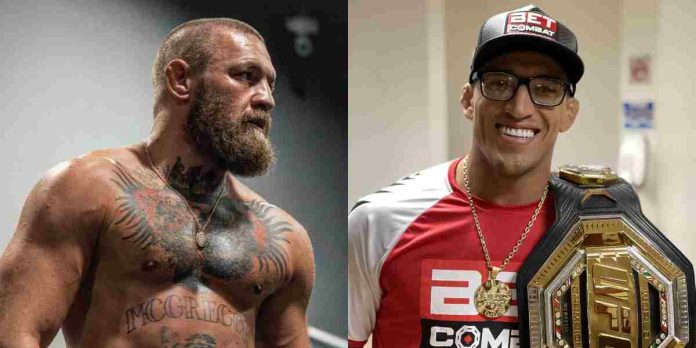 Charles Oliveira thinks Conor McGregor is scared of fighting him because he is well aware of the consequences.
Oliveira is currently riding an eleven fight winning streak, with his most recent victory coming against Justin Gaethje in their lightweight title fight at UFC 274, where the Brazilian lost his title despite winning because he missed weight. 'Do Bronx' will fight for the vacant title next, however, and he wants to share the Octagon with McGregor to reclaim his belt.
In his post-fight Octagon interview at UFC 274, Oliveira said that he'd fight anyone the UFC put in front of him, before calling out McGregor, who responded on Twitter by saying that although he'd love to fight him, he is too big for lightweight at the moment and is looking to move up to welterweight to try and become a three-division champion.
"I am really enjoying being built like a refrigerator. I feel I want to fight at this size just to watch it back lol. But I'd love to fight the Brazilian, 100 percent. I love Brazil and I'm unbeaten against Brazil. All KOs. I've some thinking to do," McGregor tweeted.
Charles Oliveira Slams Conor McGregor
Speaking to Canal Encarada (as translated by The Mirror), Oliveira said that McGregor has known for some time that he's a terrible matchup for him.
"I think when we're on a losing streak, we should think a lot about who our next opponent will be," Oliveira said. "I think for some time now, he's been thinking a lot that I'm the division problem. That I'm a problem to fight him. I think the answer has already been given. He ran, is in shock at what could happen."
McGregor is coming off back to back defeats at the hands of Dustin Poirier at UFC 257 and UFC 264, and wants to compete against the best fighters in the world immediately upon his return. Henry Cejudo believes it's a bad idea and he should fight a comparatively easier matchup like Tony Ferguson. Daniel Cormier thinks he should complete his trilogy with Nate Diaz.
Who do you think Conor McGregor should fight next?
See also: