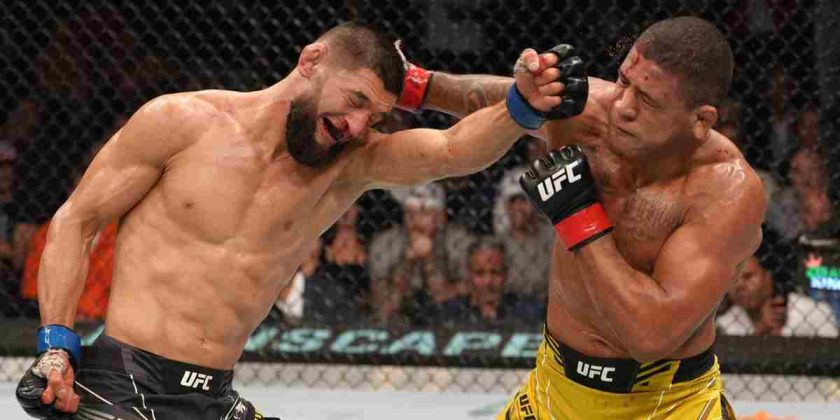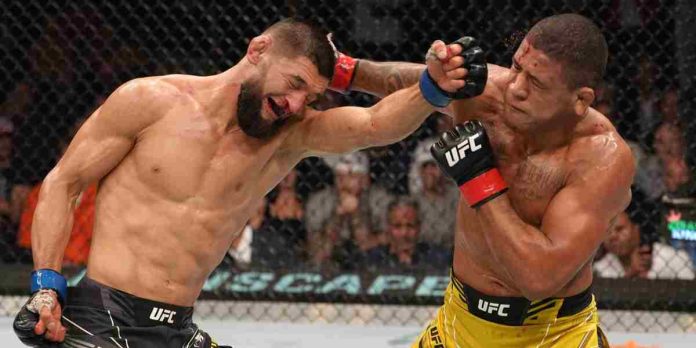 Gilbert Burns has responded to Khamzat Chimaev's claim that his encounter with the Brazilian's kids made it a 'little bit hard' to fight him.
Chimaev improved to 11-0 by scoring a unanimous decision victory against Burns in a razor close contest at UFC 273. The three round bout marked the first time the Chechen-Swede had gone the distance since turning pro in 2018.
During the UFC 273 post-fight press conference, Chimaev admitted that Burns was tougher than he expected but he also didn't want to badly hurt him because of an encounter he had with his kids before the fight.
"It actually was a little bit hard to fight him because I see his kids," Chimaev said. "They come to me [and say] 'you fight my daddy' and I said 's***', I don't need that. I don't want to fight with some daddy. I need some killer like me, who will kill somebody and don't care about that s***. I go to him [after that fight], I said I respect you brother, sorry for punches and we do that for our family and to have fun as well."
Gilbert Burns Refutes Khamzat Chimaev's Claim
Speaking on the DC and RC Show on ESPN, Burns refuted the claim saying that Chimaev never talked to his kids.
"He's saying 'Oh his kids talk to me', my kids never talked to him," Burns said. "He fought a killer bro and I'm a killer but he never talked to my kids. He was like he's the mauler, and he wanted me to show him my power. I freaking showed you my power buddy, and you were doing pushups in the middle of the fight (laughs), and your coach was begging you to not wrestle with me.
"We are not done yet bro. I don't want to take anything away from this guy but the fight was super close. We needed five more rounds to decide that to see who really won."
Who do you think Gilbert Burns and Khamzat Chimaev should fight next?
See also: