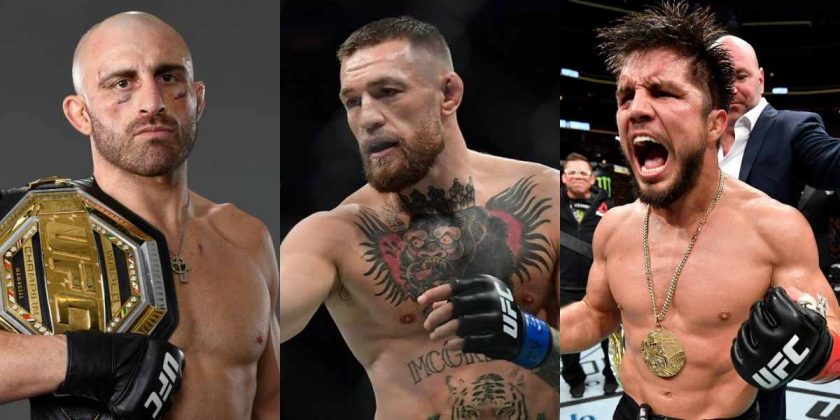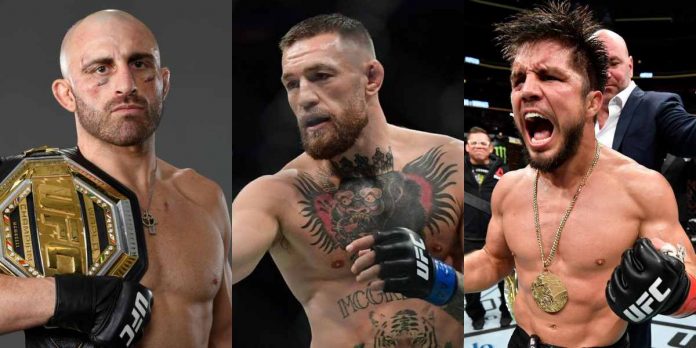 UFC featherweight champion Alex Volkanovski has clapped back at Conor McGregor and Henry Cejudo for their comments in the wake of his dominant win over Brian Ortega at UFC 266.
Despite coming close to pulling off the upset with a couple of sneaky submission attempts in the third round, Ortega was outclassed in the Octagon, with the judges scoring the contest 49-46, 50-45, 50-44 in Volkanovski's favour. The Aussie landed a total of 214 significant strikes, almost thrice as many as his opponent.
Volkanovski was widely praised for his performance against Ortega, who was commended for showcasing great heart and resilience. However, a couple of potential opponents were quick to take digs at the champ.
In a tweet that has now been deleted, McGregor said that he would "kick Volkanovski's head off like a rugby ball".
McGregor was impressed with Volkanovski's performance, however.
Cejudo meanwhile, reiterated his desire to fight Volkanovski.
Response To Conor McGregor
Responding to McGregor's tweets during the UFC 266 post-event press conference (as transcribed by SCMP MMA), Volkanovski speculated that the Irishman was drunk.
"I heard about it, it sounds like he's on the p***. Good on him, so am I, I will be too," Volkanovski said, clutching a can of beer. "Something about sharting or farting or something doesn't really make sense. Yeah, it's Conor, man. Conor doing Conor things, good on him. I don't know if he wants to come back down to 145 [pounds], obviously, that'll never happen."
Response To Henry Cejudo
When asked about Cejudo's tweet, Volkanovski said it's all noise and that he'd squash him in a fistfight.
"F*** Henry Cejudo, mate," Volkanovski said. "He's called out everyone, he called out females. [Do] you actually believe the s*** that comes out of his mouth? I'll squash the little germ."
Cejudo was quick to hit back.
Do you think Alex Volkanovski should consider fighting Conor McGregor or Henry Cejudo?
See also: