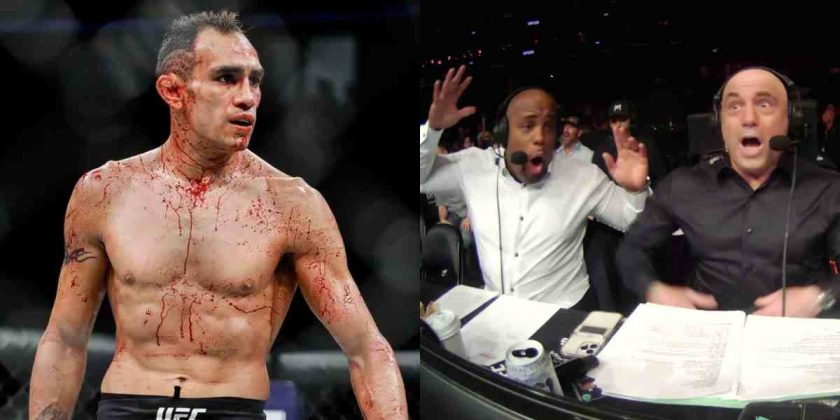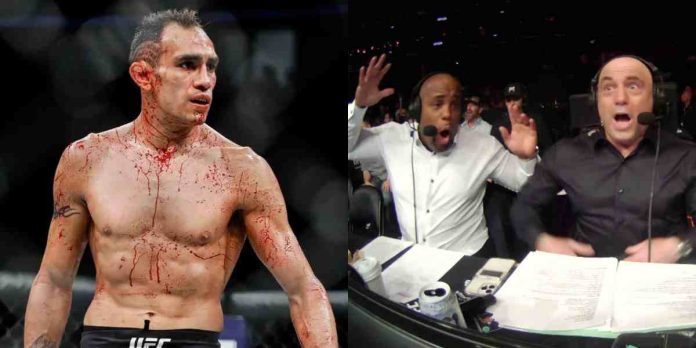 Tony Ferguson has hit out at Daniel Cormier and Joe Rogan, accusing them of being biased against him while calling his fights.
Ferguson is currently riding a four fight losing streak, which started with a loss to Justin Gaethje, followed by a lopsided decision loss to Charles Oliveira at UFC 256, where despite being dominated through their three round fight, 'El Cucuy' believes he put up a better fight against 'Do Bronx' than Dustin Poirier and Justin Gaethje, who were finished in the third and first round respectively.
Tony Ferguson On Daniel Cormier And Joe Rogan
Speaking on MMA Fighting's The MMA Hour, Ferguson accused Cormier and Rogan of being biased against him while calling his fight against Oliveira.
"I always give props to Jon Anik because he would always kind of speak up for me but they [Cormier and Rogan] don't mind bagging on me," Ferguson said. "I'm the only person that told Joe 'no' for his podcast… I have my reasons for it but I got a lotta respect for Joe and what he has done for the sport and for himself. But you know, I'm not best friends with him. I don't gotta be best friends with him. Same thing with Cormier.
"If you see the Charles Oliveira fight without the commentary, you can actually see the fights better. I recommend anybody to do that. Because what ends up happening is that the commentary team gang up on people they don't like. I never did a Joe Rogan interview before – I might – but because of that, obviously. He probably got bent out of shape on that one. Obviously, with Cormier, with Khabib. And I making comments about 'fathead' and him not making weight."
Do you agree with Tony Ferguson?
See also: