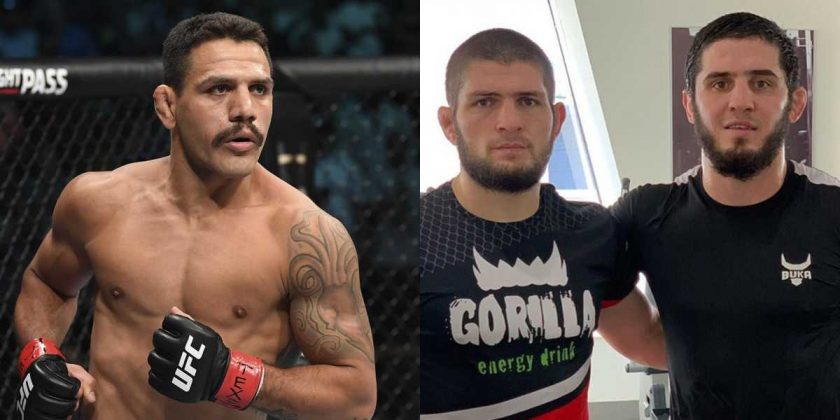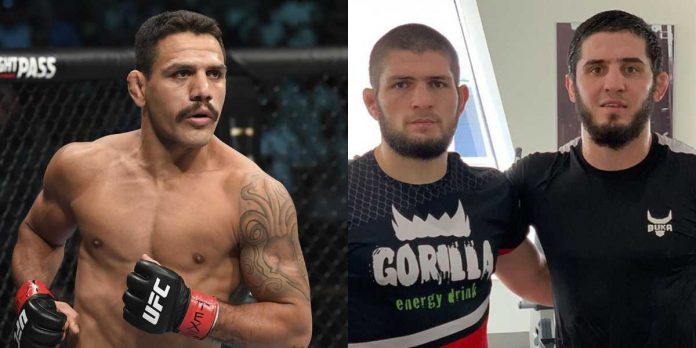 Former UFC lightweight champion Rafael dos Anjos doesn't agree with the idea that Islam Makhachev is a better version of Khabib Nurmagomedov.
Dos Anjos is scheduled to face Makhachev at UFC 267 on Fight Island in Abu Dhabi on October 30th. The pair was scheduled to fight on two previous occasions, but their stars didn't align.
Makhachev is considered one of the biggest threats to UFC lightweight champion Charles Oliveira's throne, with Khabib believing that he's among the three best lightweights in the world, and will become the champion in 2022.
The 36 year old Brazilian, who lost to Khabib in 2014, has a good idea of Makhachev's skill set, and based on what he's heard about him from various people, he thinks the two Dagestanis are very different in how they approach their fights.
Makhachev/Khabib Comparison
Speaking to Combate, dos Anjos noted the key differences between Makahchev and Khabib.
"I think they are totally different fighters," dos Anjos said. "I think his camp (AKA) is betting the chips that he will be the new champion. Islam is a talented guy, but I think Khabib is different. This I say listening to people who trained with the two of them, know both of them, and trained with me too. What I was told is that Islam is more technical than Khabib, he has more technique, but he doesn't have much gas. He keeps saving himself and gives that blow, gets in the position he wants, and keeps holding on. Khabib, on the other hand, achieves more, has more desire, and more gas. Just looking at it, I can already see it. Khabib is a guy who gives more rhythm to the fight, pulls more, doesn't tire so much. It's a guy who plays forward. Islam is more technical but plays not to expose itself too much."
Boring Fight Against Makhachev
As far as his fight with Makhachev is concerned, dos Anjos expects a boring wrestling match, but he'll be ready for anything that comes his way.
"There's going to be a boring wrestling game, probably with good ground control," dos Anjos said. "But I have my weapons sharpened, I've trained for him and I know more or less what's waiting for me. We already have everything at the tip of the pencil, his strongest blows, his strongest takedowns. Everything was already scheduled a year ago and now we're just going to revise, go over our homework and get there firmly to achieve this victory."
Do you agree with Rafael dos Anjos' views on Islam Makhachev and Khabib Nurmagomedov?
See also: