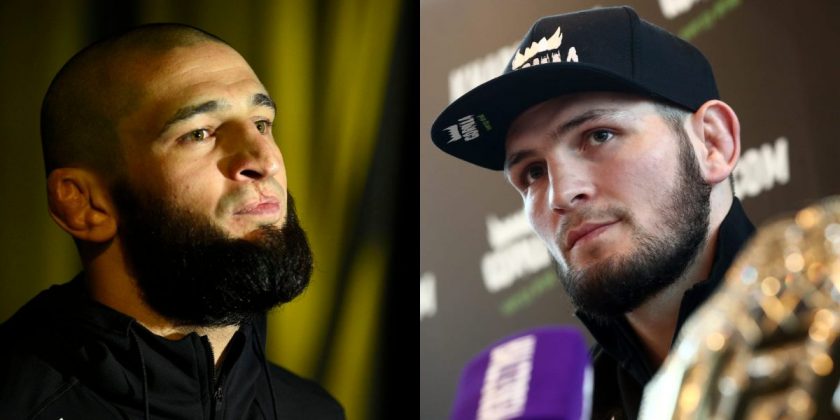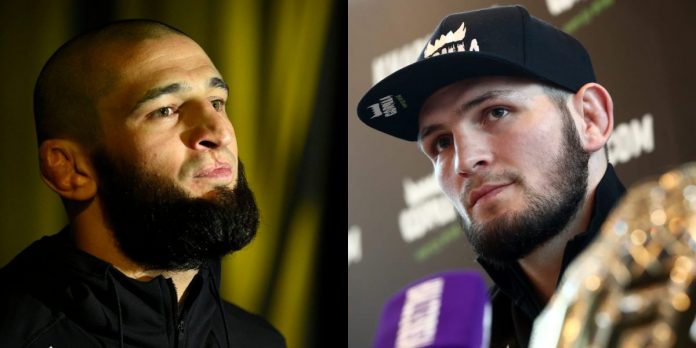 Khamzat Chimaev has said that he has the utmost respect for former UFC lightweight champion Khabib Nurmagomedov, and like everybody else in the North Caucasus region, he looks up to him.
Commenting on Chechnya leader Ramzan Kadyrov's Instagram Live in May, Chimaev said that "we'll tear him apart too" with reference to Khabib. 'Borz' received a lot of flak online for his comments, especially from the Dagestani's cousin Abubakar Nurmagomedov, who condemned him in a series of Instagram posts.
'We're Brothers'
Speaking to Frontkick Online (as transcribed by BJPenn.com), Chimaev explained why he made those comments.
"This guy (Khabib), we looked up to him beginning and now still look up to him," Chimaev said. "He [became] a champ, he's one of the best fighters in the world. And people think I hate him. I love him because he's Muslim. I'm Muslim. He comes from some village like me, same country, same small Republic, like Chechnya, Dagestan. It's the same. I have a lot of brothers from Dagestan. He's Muslim, I'm Muslim, we're brothers.
"I answered to some bulls*** guy, but nobody knows him. It's my [mistake] because I answer for him. He said like, 'Khabib gonna smash you…' If somebody says to you, 'He gonna smash you,' of course I'm gonna answer it like, 'No, nobody gonna smash me. I'm gonna smash everybody. If you are a real man, you have to think like that."
Chimaev made a blistering start to his UFC career in summer 2020, winning three times in a span of two months, but he has been on the sidelines since last September due to the long-term effects of COVID. He is scheduled to make his comeback though against Li Jingliang at UFC 267 on October 30th on Fight Island in Abu Dhabi.
Do you think Khamzat Chimaev's comments about Khabib Nurmagomedov were blown out of proportion?
See also: