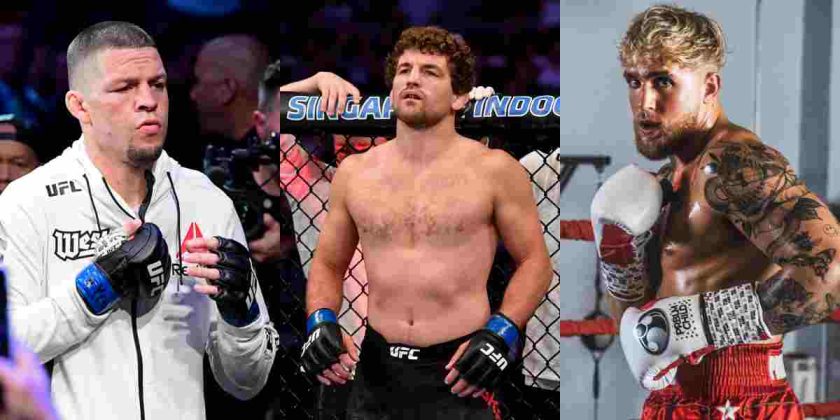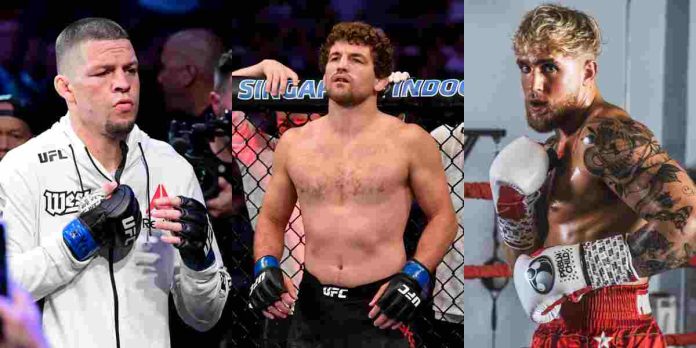 Jake Paul and Ben Askren have clapped back at Nate Diaz after he criticised 'Funky' for praising the YouTube sensation.
In an interview with Lex Fridman (as transcribed by BJPenn.com) earlier this week, Askren, who was knocked out in the first round of his professional boxing debut against Paul, admitted that his former foe is 'kind of good' at boxing.
"So the thing I said when I went in to fight him (Jake Paul) is maybe he's good or maybe he's not. We really have no idea to this point, you know," Askren said. "I knew that Tyron [Woodley] was a lot better in boxing than I was. And so I thought that there is a good likelihood that Tyron beats him up but there is a chance that Jake is kind of good at this."
Askren's appraisal of Paul's boxing skillset wasn't received well by Diaz, who took aim at the former Bellator and ONE Championship titleholder.
Paul then came to Askren's defence, reminding Diaz of his 13 career defeats.
Diaz responded by saying that Paul's cherry-picking wrestlers, and would get 'smoked' in a real fight.
Askren responded a few hours later, challenging Diaz to an MMA fight.
"Nate is right, I suck at boxing. He sucks at MMA. If he wants me to prove it I can be in the USADA pool tomorrow. Would be happy to be the last fight on his contract," Askren tweeted.
Diaz is coming off a unanimous decision loss to Leon Edwards at UFC 263, where the two competed in the first non title, non main event five round fight in the promotion's history. Askren retired from the sport a month after suffering a third round submission loss to Demian Maia at UFC Singapore in 2019.
As for Jake Paul, he's set to face Tommy Fury in a highly anticipated boxing match next month.
Who do you think would win a potential MMA fight between Nate Diaz and Ben Askren?
See also: