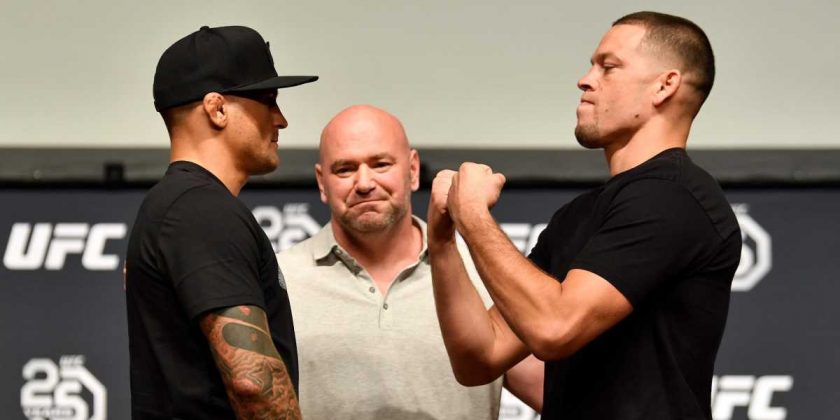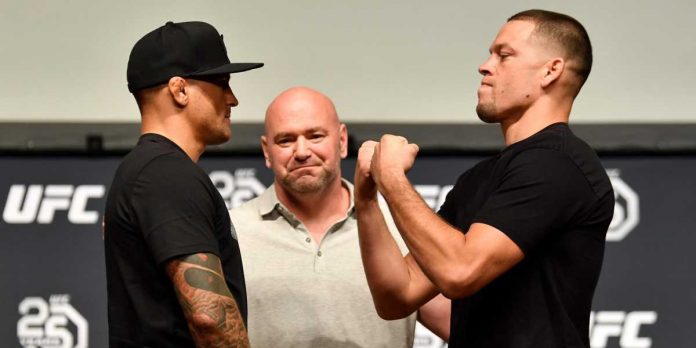 American Top Team coach Mike Brown believes a potential fight between Dustin Poirier and Nate Diaz would be massive, but stated that they are prioritising a lightweight title fight with Charles Oliveira.
Poirier is coming off consecutive wins against Conor McGregor at UFC 257 and UFC 264 and will likely challenge Oliveira for the title next. However, 'The Diamond' and his team aren't ruling out the possibility of a big-money fight with Diaz, who's coming off a unanimous decision loss to Leon Edwards at UFC 263.
Nate Diaz And Charles Oliveira
Speaking to MyMMANews' John Eric Poli (as transcribed by BJPenn.com), Brown said that a potential fight with Diaz would do giant numbers, but they want to get their hands on the title first.
"I'm assuming the title will probably be next, who knows," Brown said. "I see there's some talks maybe potentially [about] a Nate Diaz fight. I'm sure that would do giant numbers. They were scheduled to fight before, it kind of fell through. But that would be monster. Something everybody would want to see. Maybe they could do it at welterweight, nobody's got to cut weight, kind of a fun fight for the fans. But I think probably first, business is winning the undisputed lightweight title."
Should Poirier lock horns with Diaz in the near future, Brown believes it would be a very violent fight.
"Like every Poirier fight, it's gonna be super exciting, a lot of violence, a lot of pressure, and probably a DP finish," Brown said.
Conor McGregor
McGregor lost his rubber match with Poirier by a doctor's stoppage after breaking his tibia at UFC 264. Given the way their trilogy ended, Brown isn't ruling out the possibility of a fourth fight, but doesn't think it will happen anytime soon.
"Who knows, right? It's all about entertainment, what people want to see," Brown said. "Money talks. But I mean, he's gonna be out for a while so I don't anticipate it anytime soon and I think there's some other things that Dustin wants to take care of first. I would never say never to anything but I don't see it in the near future."
Who would you like to see Dustin Poirier fight next?
See also: