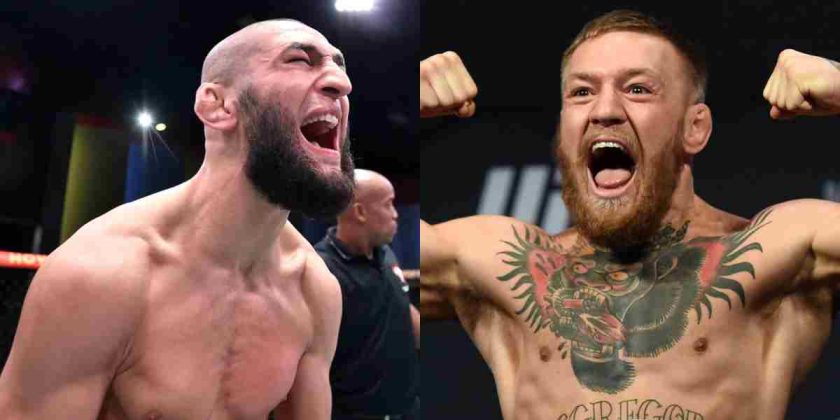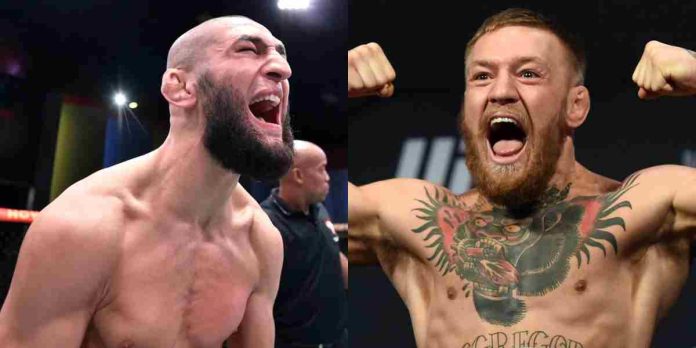 Khamzat Chimaev has rejected Conor McGregor's claims that he offered to help him prepare for his lightweight title fight against Khabib Nurmagomedov at UFC 229.
After his first round submission victory over Li Jingliang last October at UFC 267, Chimaev took to Twitter to callout McGregor, who responded by appreciating 'Borz' for offering to help him prepare for his fight against Khabib at UFC 229, which he lost by fourth round submission.
"Bratha, no problem. I appreciate you reaching out to the team in 2018 to come and help me beat up the little scared pigeon bitch. Chechnya knows! F*** those Eagles MMA p******, we are Akhmat MMA! Smash them up we will! Let's go! The Mac and Akhmat! We take no s***! Never peace," McGregor said in a series of tweets that were later deleted.
Khamzat Chimaev Rejects Conor McGregor's Claim
Speaking on his YouTube channel, Chimaev said that he reached out to McGregor's team, not because he wanted to help him for the Khabib fight, but to beat him up for posting a video of him dropping his Chechen sparring partner online.
"That's not true," Chimaev said. "He dropped a Chechen sparring partner and posted it online. So, I got calls telling me to come over and beat him up. That's what I wanted to do. It wasn't about helping him for the Khabib fight. As far as I remember, the fight hadn't yet been announced. I was going there to beat him up. And I still want to beat him up if he dares to fight me. I gotta give credit to his accomplishments and I don't mind that fight, but he can't control his mouth."
Khamzat Chimaev will face the biggest test of his career in Gilbert Burns on Saturday night at UFC 273.
Who do you think Conor McGregor should fight next?
See also: