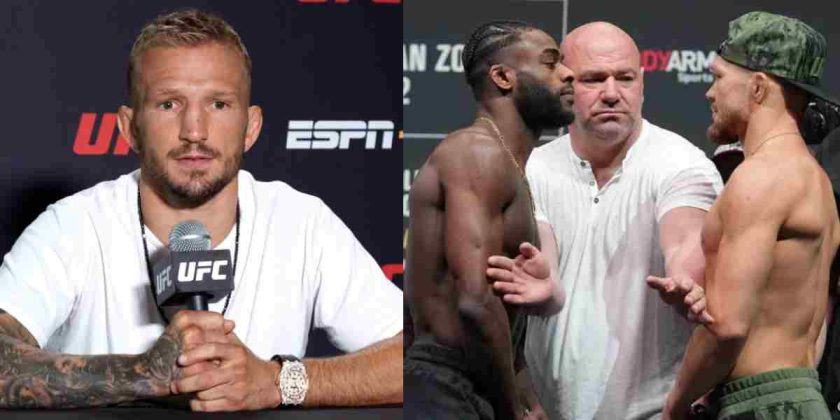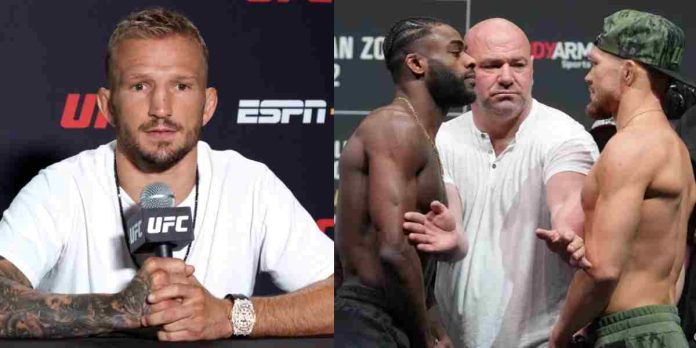 TJ Dillashaw has given his thoughts on the bantamweight title rematch between Aljamain Sterling and Petr Yan, set to take place on Saturday night at UFC 273.
Sterling won their first fight in a controversial manner at UFC 259 after Yan struck him with an illegal knee, leading to his disqualification and the title changing hands. The pair was scheduled to rematch at UFC 267, but 'Funk Master' withdrew due to lingering neck issues following surgery.
Cory Sandhagen was brought in as a short-notice replacement to fight for the interim title, which Yan won by unanimous decision. Dillashaw, who made a successful return to the Octagon last July after a two-year doping suspension, hopes to fight the winner of the UFC 273 co-main event.
TJ Dillashaw On Sterling vs Yan 2
Speaking to MMA Junkie, Dillashaw said that although Sterling is a strong competitor, he believes Yan will reclaim the title because he's the better fighter.
"He got that title win by DQ and kind of played it up a bit too, right? So, I think Petr Yan's the real champ," Dillashaw said. "I think he's going to show that. Look, we're in the world of MMA, anything can happen. Sterling's a very strong competitor, great grappler, all-around athlete, but I think Petr Yan is more of the fighter. He's got that mentality and he's the guy I expect to fight coming up here at the end of the year.
"Aljamain definitely has to out-grapple him to get the fight done. I mean, to be honest, he would probably have to submit him. I don't think he's going to be able to keep that pace up to keep him down and his striking is just not dangerous enough to make Yan believe in it. So, I think Yan just has to stick to the same game plan he did last time. Be patient, make sure to defend the takedowns, and kind of dominate him."
Do you agree with TJ Dillashaw?
See also: