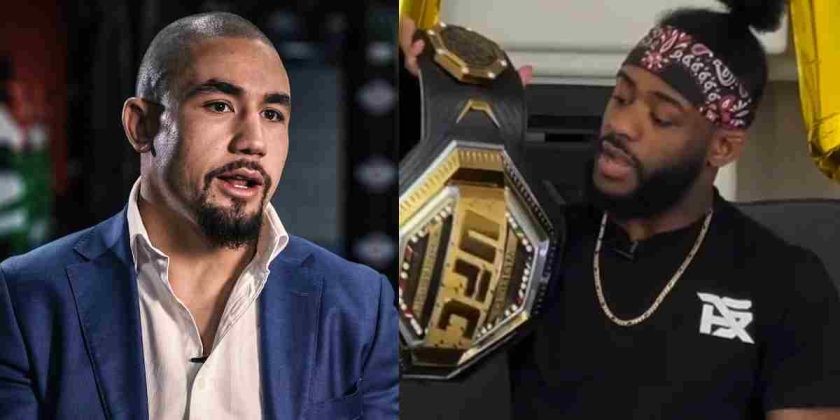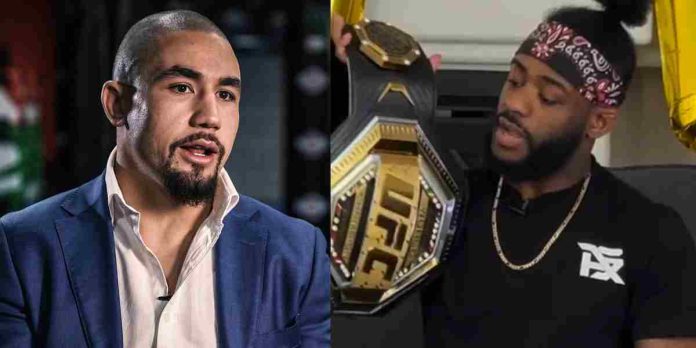 Robert Whittaker believes Aljamain Sterling shouldn't go around boasting that he's the UFC bantamweight champion because of the way he won the belt.
Sterling will put his title on the line in a rematch against Petr Yan at UFC 273. In their first fight at UFC 259, 'Funk Master' won in a controversial manner, after Yan, who was cruising to victory, struck his arch-rival with an illegal knee in the fourth round, leading to his disqualification and the title changing hands.
Disappointment radiated from the American's eyes as the official decision was announced and the belt was wrapped around his waist. Not satisfied with the way he won the belt, Sterling left the belt inside the Octagon.
A few hours later however, Sterling uploaded a photo of himself posing with the belt on social media, causing a major uproar, with many fans labelling him as a "fake" and "paper" champ. Instead of taking offence at the crude barbs thrown his way, the 32-year-old has resorted to trolling the trolls by constantly calling himself the real champion and claiming that he dominated Yan in their first fight.
Robert Whittaker On Aljamain Sterling
Whittaker believes Sterling's antics have gone too far. Speaking to Fox Sports (as transcribed by MMA Junkie), the Aussie said that Sterling can't claim to be the best, having won the belt the way he did.
"The character, he's gone with it, it's just too far because he can fight," Whittaker said. "He's a phenomenal fighter. He is unbelievable. But you can't go claiming you're the best in the world from it either because he didn't win, Petr lost. Sterling didn't win, Petr lost. That is how it happened. That is the undeniable truth of the matter. So you can't go around saying 'I'm the champ, I'm the best in the world' because you didn't win the belt. You were given it. It's different.
"But like I said before, there's the business side of it and the longevity side of whatever it is he's trying to do, and he's done that. I just think he's taking it too far, a bit disrespectful."
Do you agree with Robert Whittaker?
See also: