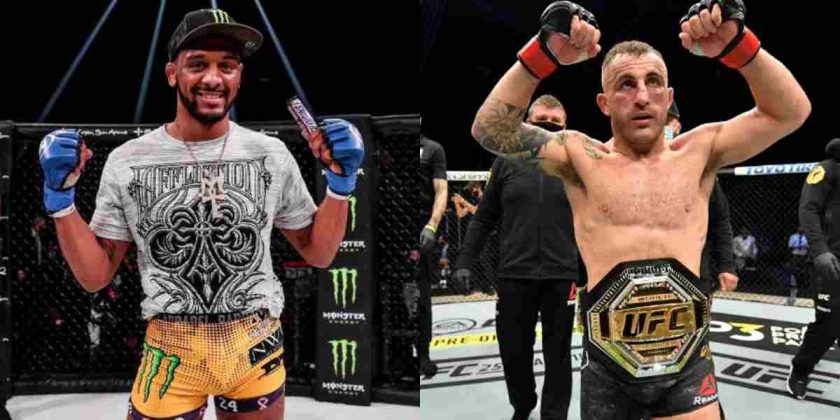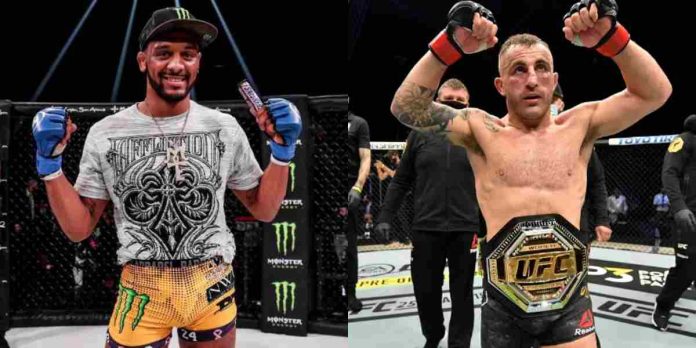 Bellator featherweight champion AJ McKee is itching to fight his UFC counterpart, Alex Volkanovski, but believes that the Aussie wants no part of him.
McKee, who won the featherweight title by making light work of long-time champion Patricio 'Pitbull' Freire in the Grand Prix final last July at Bellator 263, has since called out Volkanovski and Max Holloway on a number of occasions. The UFC champion responded to his initial callout by saying that although 'Mercenary' is a talented fighter, there are levels to MMA and UFC is a different ball game altogether.
AJ McKee On Alex Volkanovski
Back when Freire challenged Volkanovski to a cross-promotional fight, he was quick to accept and asked Dana White to make it happen. He hasn't shown the same sort of willingness to fight McKee though, who told MMA Junkie that he believes the UFC kingpin doesn't want to fight him.
"He won't respond to me," McKee said. "He responded to 'Pitbull.' I'm waiting for him to respond to me. The day he responds to me, he's signing his will. Actually, I quoted something with him and Dana. I asked him specifically. I said, 'Hey, how come when Patricio was champion you responded to him? Now I'm barking up your name, and you won't respond to me.' No disrespect to small people, but it's like the battle of the midgets, you know what I mean? F***ing what's up? You don't want to respond to this big boy? What's going on? I want this smoke. … In due time, his time is coming. It will come."
AJ McKee is scheduled to run it back with Freire next weekend at Bellator 277.
Who do you think would win if AJ McKee and Alex Volkanovski lock horns in the future?
See also: