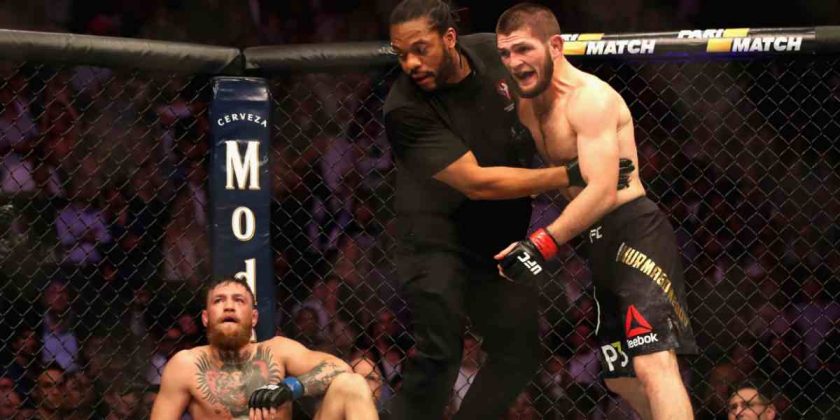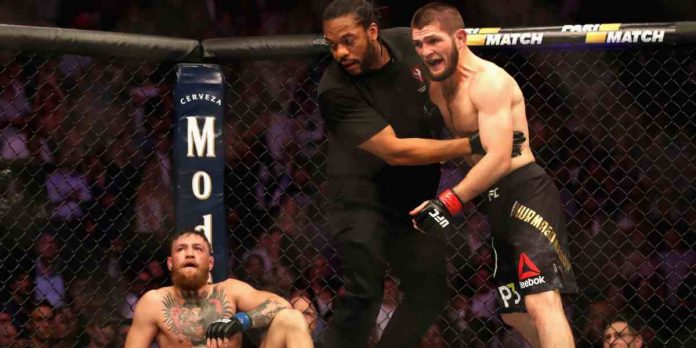 Khabib Nurmagomedov has said that Conor McGregor is to blame for the brawl that took place at UFC 229, where 'The Eagle' defended his title by submitting his arch-rival in the fourth round.
Seconds after submitting McGregor to make his first successful title defence at UFC 229, Khabib climbed over the fence and jump kicked Dillon Danis, the former two division UFC champion's close friend and teammate, who was in his corner on the night. The incident sparked brawls both outside and inside the Octagon, with the Russian being restrained by security outside and the Irishman trading blows with Abubakar Nurmagomedov and Zubaira Tukhugov inside the Octagon.
Khabib was suspended for nine months, with an opportunity to reduce his ban to six months by participating in an anti-bullying campaign, and was fined $500,000 for his actions, while McGregor was handed a six-month suspension and a $50,000 fine.
Khabib Nurmagomedov On UFC 229 Melee
While Khabib was the one who instigated the melee, he said while speaking on the Full Send Podcast (as transcribed by BJPenn.com) that McGregor's lack of heart in the fight was to blame for his actions.  
"First of all, I was preparing for war. I come inside the cage, I fight with this guy, and he tapped, I'm like, why I come here, why I train so hard for this? You're going to tap easily like this? I just take his chin, you know, and he tapped," Khabib said. "This one makes me upset too, because I expect more than what I find inside the cage, I expect more. Honestly, I don't remember everything, I'm going to be honest. I remember someone from his corner saying something and it was crazy emotional moment for me. I'm like okay this party not finished. I'm not going to say I am proud of something like this, maybe at the age, right now of 33-and-a-half, maybe I'm not going to jump right now. But, at that time [I did]."
Khabib Nurmagomedov retired from MMA after successfully making his third title defence by submitting Justin Gaethje in the second round at UFC 254. McGregor is coming off back to back defeats at the hands of Dustin Poirier at UFC 257 and UFC 264.
What do you make of Khabib Nurmagomedov's comments?
See also: