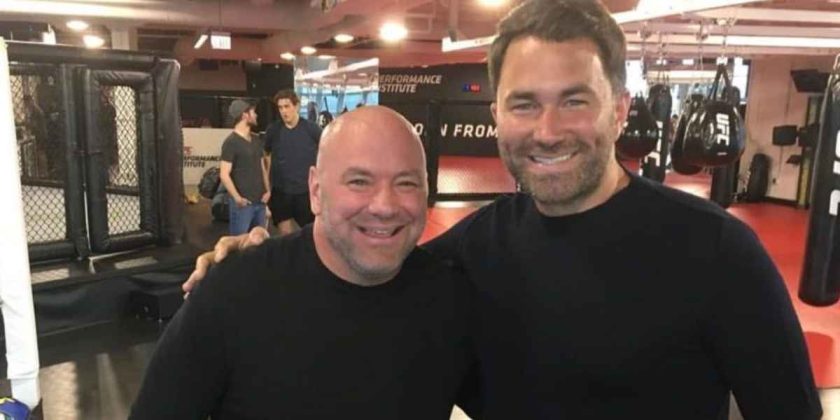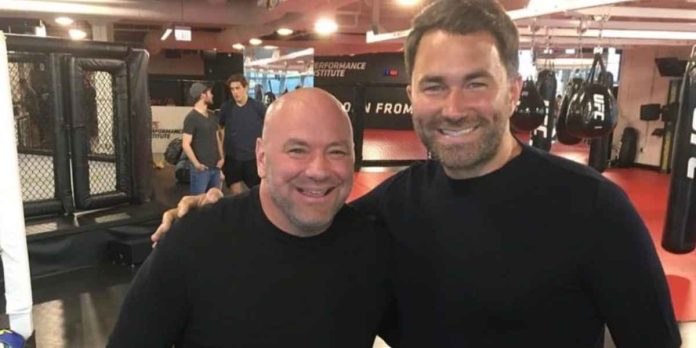 Matchroom Sport chairman and promoter Eddie Hearn believes UFC president Dana White is the best promoter in combat sports today.
Dana joined the UFC in 2001 when not only was the promotion mired in debt but also facing stiff mainstream opposition, with many demanding a ban on what they referred to as 'human cockfighting'. Under the 52 year old's leadership however, the UFC quickly gained momentum and frankly, has never looked back, producing some of the greatest fighters in the history of the sport, gaining millions of loyal fans, and becoming a 4 billion dollar business entity in less than two decades.
Eddie Hearn On Dana White
His journey from a scrappy young man to a seasoned mogul has been inspirational, but Dana isn't the kind of person to brag about his personal achievements. He lets his work do the talking, and his counterparts are certainly paying attention. Speaking to MMA Fighting, Hearn explained why he believes the UFC kingpin is the best promoter in combat sports today.
"Again, sorry to bring up Dana White – I think he's really good at what he does," Hearn told Ariel Helwani. "A lot of what we do as a business follows suit from the UFC. And I never mind admitting that I tell our team, 'Watch what they're doing.' You know, in terms of everything – the live streams, to the press conferences, to the graphics, to the look and feel, the branding, the ring, everything. So, I believe that I'm definitely the best promoter in boxing. But I do think Dana White is a bit of an icon in that respect. He has built his brand and profile to a point where he's very powerful. I think what he has done in MMA is very similar to what we want to do in boxing."
Do you agree with Eddie Hearn that Dana White is the best promoter in combat sports today?
See also: