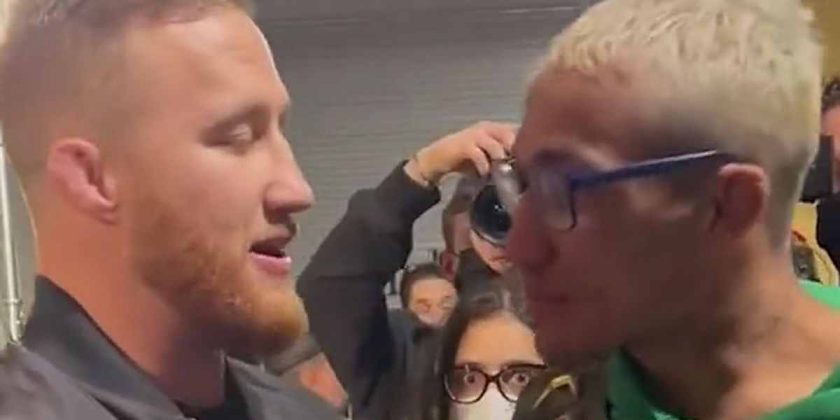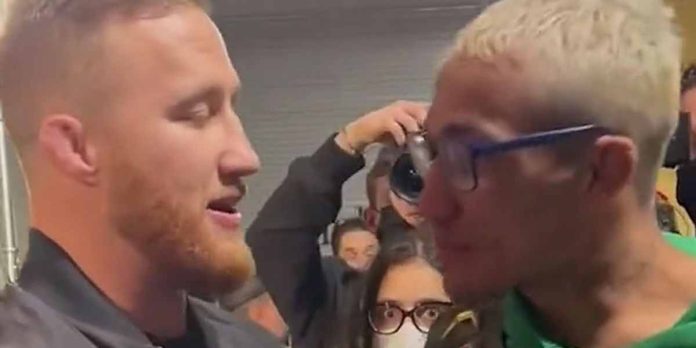 Justin Gaethje has fired back at UFC lightweight champion Charles Oliveira after he told him to decide whether he wants to be a trash talker or a respectful fighter.
Oliveira most recently fought at UFC 269, where he defeated Dustin Poirier by third round submission to make his first successful title defence. Gaethje, who had called the Brazilian a 'quitter' before the fight, congratulated him during their backstage encounter and told him that he had nothing but respect for him. A few days later, however, 'The Highlight' said that he deserves to fight for the title next and would break 'Do Bronx's' face in a potential fight.
Oliveira's On Gaethje's Flip Flopping
Gaethje's flip flopping did not sit well with Oliveira, who expressed his thoughts on the matter in a recent interview with MMA Fighting.
"The guy is talking a bunch of crap the entire time, and when we meet face-to-face he says he has all the respect for me and what I do… Two minutes later he's saying he'll break my face and saying a bunch of stuff," Oliveira said. "These guys hype things up and try to sell the fight with something they are not. If you're a humble guy, if you're a respectful guy, you have to sell the fight that way. If you're a guy that talks crap, you have to sell the fight talking crap the entire time, to my face and behind my back.
"These 10 [consecutive] wins I got, I'm only worried about what I can bring to the game, not what my opponents can bring, and I believe it will continue that way. I'm not worried about what Justin Gaethje, if it is against him, can bring. But [instead] what I can bring to the game. A striker, a jiu-jitsu guy, an MMA fighter, that's what I'll bring. Boldness and joy inside the cage. I'm happy and I have cardio. That's what matters."
Gaethje Responds
Gaethje took to Twitter to respond, saying that his backstage gesture was as real as his intention to beat Oliveira in his backyard.
"It's called respect you fool and we are in the breaking faces business. My respect that night was just as real as my intention to take everything from you in your country," Gaethje tweeted.
Who do you think would win a potential fight between Charles Oliveira and Justin Gaethje?
See also: