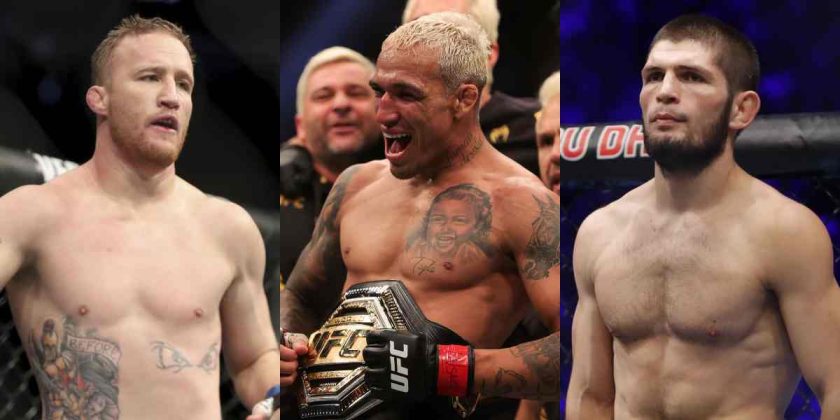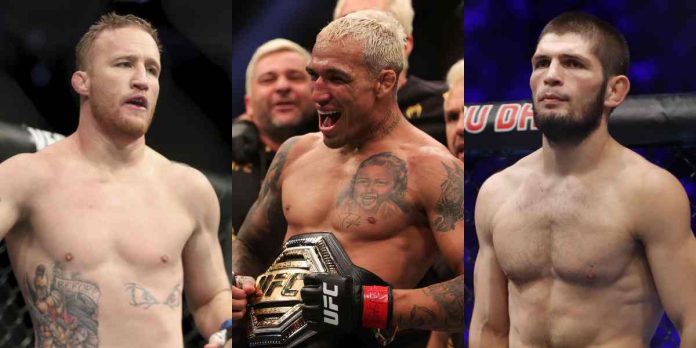 Justin Gaethje has explained why he believes UFC lightweight champion Charles Oliveira is a less dangerous opponent than Khabib Nurmagomedov.
After getting choked out in the second round of his lightweight title fight against Khabib at UFC 254, Gaethje returned to winning ways with a closely contested unanimous decision win over Michael Chandler at UFC 268 and will challenge Oliveira this weekend at UFC 274. The Brazilian is the betting favourite, thanks to his gritty performances in his last two fights against the former Bellator champion and Dustin Poirier, where he came from behind to prove his doubters wrong.
Justin Gaethje On Charles Oliveira
Gaethje isn't completely sold on Oliveira's toughness however and believes that he still has the quit in him. Speaking to the media ahead of his UFC 274 (as transcribed by MMA Fighting), 'The Highlight' said that 'Do Bronx' is not as dangerous as Khabib and he will make him quit come fight night.
"They're definitely not the same athlete," Gaethje said. "And Charles certainly is not more dangerous than Khabib. His ability to take damage is not the same, proven through the times we've seen him fight. All my criticism of Charles is from a kid that we were talking about, that we all watched grow, and now we're talking about a man with confidence. It's a different person, but ultimately the same Charles is still there.
"The same Charles that fought Cub Swanson. The same Charles that fought Donald Cerrone. The same Charles that fought [Anthony] Pettis. Choices were made by him and the choice to quit was made, and I'm going to give him that choice on Saturday night, I guarantee that."
Do you agree with Justin Gaethje?
See also: