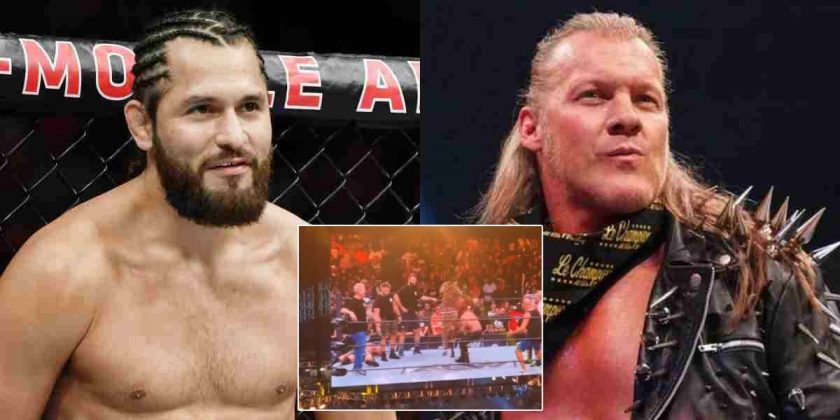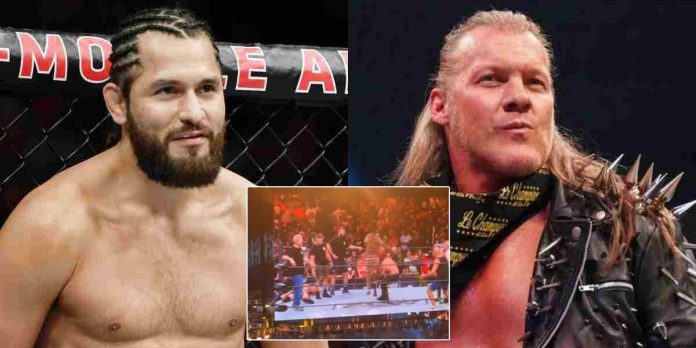 Jorge Masvidal has taken over All Elite Wrestling (AEW) by knocking out Chris Jericho, one of the company's biggest stars, with his signature flying knee.
Masvidal bagged the fastest knockout win in UFC history by using the same flying knee against former Bellator and ONE Championship titleholder Ben Askren at UFC 239, putting him away in only five seconds.
In a leaked video online, Masvidal can be seen attacking Jericho with his signature move, with Andrei Arlovski and Junior dos Santos also present in the ring at AEW Rampage, which was recorded at Arthur Ashe Stadium in Queens, New York, and will air on Friday (tomorrow).
This isn't the first time Masvidal has featured in an AEW event. American Top Team owner Dan Lambert and fighters, including 'Gamebred', dos Santos and two-division champion Amanda Nunes, have appeared in AEW segments in the past.
AEW owner Tony Khan is also a great admirer of Masvidal. In a previous interview, he said that it's an honour having the Miami native feature in his wrestling promotion.
"Anybody who knows Dan, loves Dan, and that's why Jorge comes, cause he loves wrestling," Khan said. "He likes having a good time; I think he likes me; I like Jorge a lot and it's fun having him here. So, it's really an honour to have Jorge Masvidal. I mean, Jorge is such a cool guy. I can't tell you what a nice person he is, and he's always really been good to me, like not when we're at shows but just around Florida and stuff. And it was a big deal for him to come here, and who knows?"
Masvidal last competed at UFC 261, where he was brutally knocked out in the second round of his title rematch with welterweight champion Kamaru Usman.
Do you think Jorge Masvidal would do well in the world of pro wrestling?
See also: