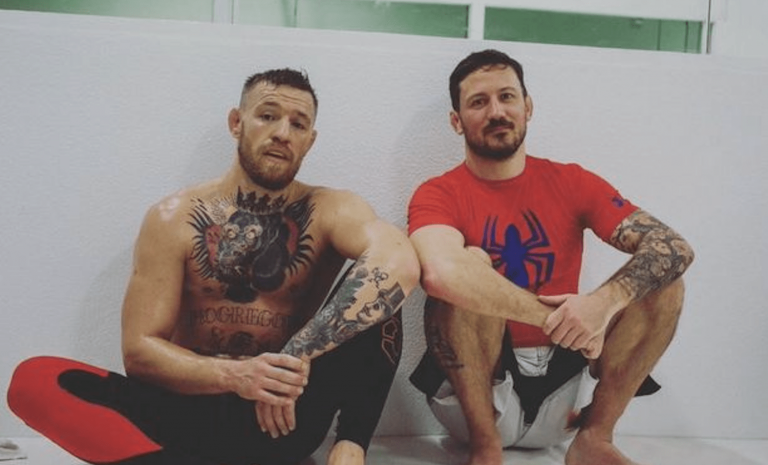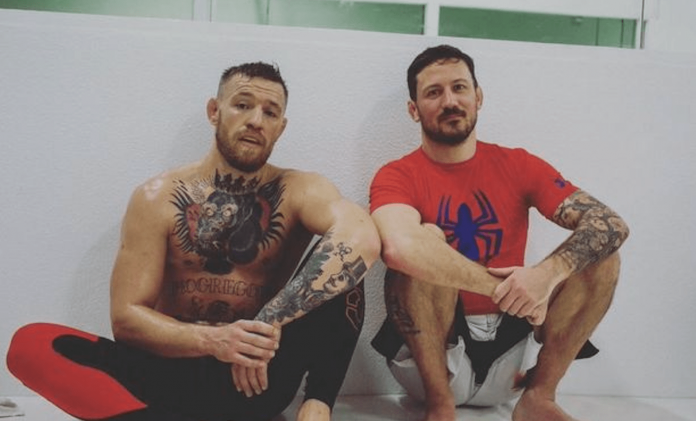 John Kavanagh has named potential opponents for Conor McGregor's comeback fight, which is expected to take place next summer.
McGregor is coming off back to back losses against Dustin Poirier at UFC 257, where he was finished in the second round, and at UFC 264, where he lost by a doctor's stoppage after he was unable to continue due to a broken tibia moments before the end of the first round.
Conor McGregor's Potential Opponents
Speaking to MMA Fighting, Kavanagh named potential opponents for McGregor's comeback, including Nate Diaz and Tony Ferguson.
"I'll be honest, the Nate Diaz trilogy is very, very tempting," Kavanagh said. "It's a fight that gives me nightmares. The man doesn't stop coming forward, whether it's three rounds or five rounds, but it's an intriguing fight. So that one is definitely very interesting. But also the Tony Ferguson one — it never happened. It was talked about a lot. And Tony still has, I believe, a lot to offer the game. He's a very unorthodox striker, grappler. I think the buildup would be fun for the fans. So any of those kind of legacy guys.
"Look, that division is killer. Your Dan Hooker's in there. The Islam [Makhachev] fight would be amazing as well, for obvious reasons. And we have whoever is going to win this belt coming up this Saturday. So, look, any of those names. I'm just excited to see Conor back healthy, training."
McGregor has fought Diaz twice, with the Stockton native winning by second round submission at UFC 196, and the Irishman avenging his loss at UFC 202 by majority decision. A third fight between the two makes a lot of sense under current circumstances, while potential fights against Ferguson and Hooker are also reasonable.
Personally, McGregor said that he would prefer to fight for the lightweight belt upon his return. The 155-pound title will be on the line this weekend at UFC 269, where champion Charles Oliveira takes on Poirier.
Who do you think Conor McGregor should fight next?
See also: