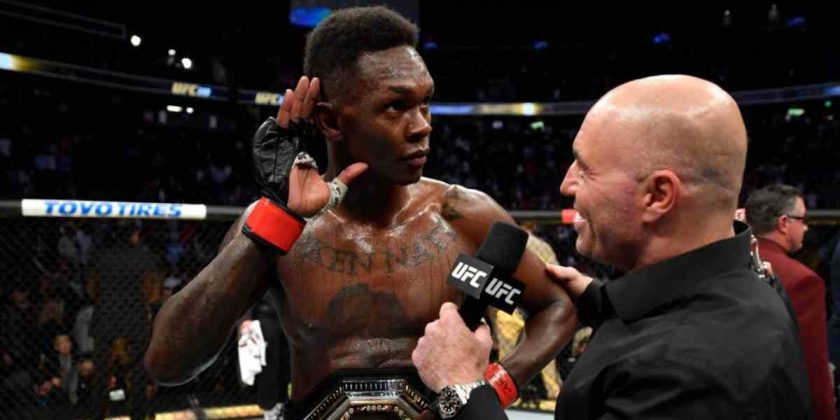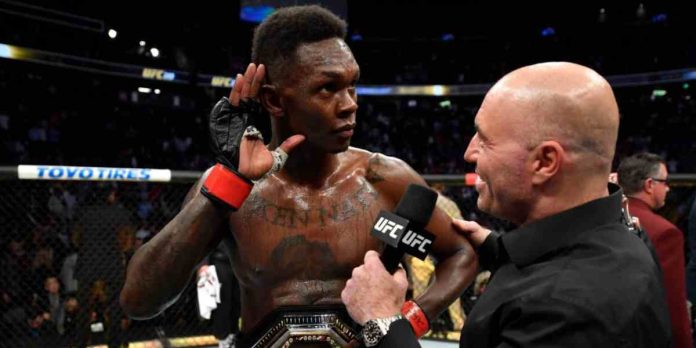 UFC middleweight champion Israel Adesanya has come to Joe Rogan's defence after he came under fire over a resurfaced montage video of him using the N-word. The 54-year-old has been riddled with controversy in recent weeks. Last month, a number of notable celebrities and musicians called for Rogan's removal from Spotify for allegedly spreading COVID-related misinformation.
In addition, Spotify pulled dozens of 'The Joe Rogan Experience' episodes from its platform last Friday after singer India Arie threatened to remove her music and podcasts from the platform citing Rogan's "racially insensitive language". She reposted a video on Instagram compiling 24 times Rogan used the N-word on his podcast.
Israel Adesanya On Joe Rogan N-Word Controversy
During the UFC 271 pre-fight press conference (as transcribed by MMA Junkie), Dana White was asked about the recent controversies involving Rogan. Before the UFC president could speak however, Adesanya took it upon himself to defend the UFC commentator, saying that he's one of the nicest people he's ever worked with.
"First off, let me take this one," Adesanya said. "Hold up. I'm Black. I can take this one. Look, there's a lot of c***s in this game. There are a lot of snakes in this game. I've been in this fight game since 2008. Joe Rogan is one of the nicest, coolest, humble motherf***ers I've had the pleasure of working with. Understand that.
"F*** the noise. You know what they're trying to do. You can't control the man. He's got the biggest platform in the world right now. F*** the noise. Just keep doing you, Joe. Have some mushrooms. Keep doing you."
Israel Adesanya will defend his middleweight title in a rematch with Robert Whittaker on Saturday night at UFC 271, where Joe Rogan will commentate alongside Daniel Cormier and Jon Anik.
Do you agree with Israel Adesanya?
See also: