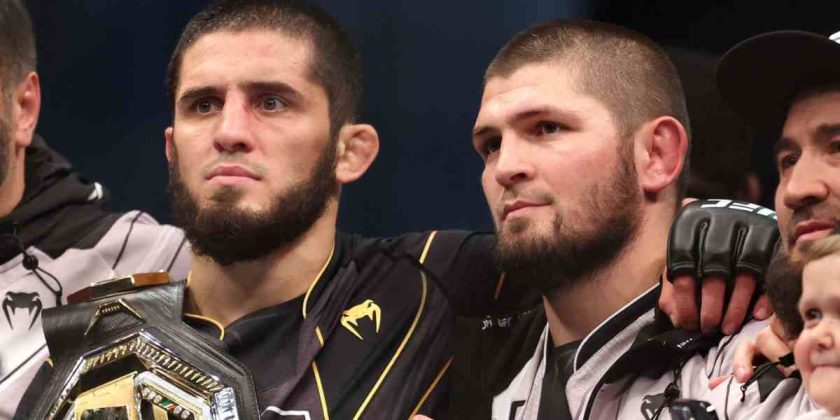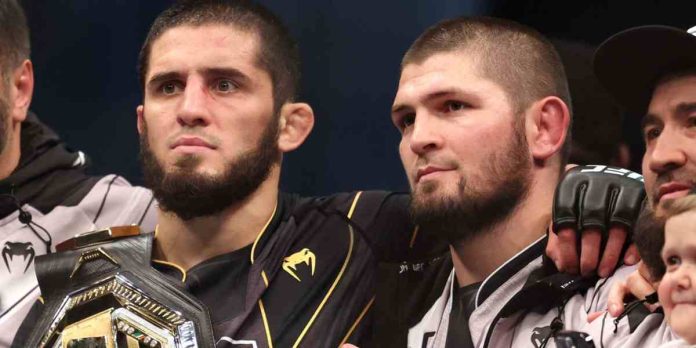 Islam Makhachev has given his thoughts on what it's like training and fighting without Khabib Nurmagomedov by his side.
Makhachev is set to make his first title defence in a little over two weeks against Alex Volkanovski at UFC 284 in Australia. Khabib was by his side when he won the vacant lightweight title by choking out Charles Oliveira in the second round at UFC 280.
'The Eagle' was the one who asked the newly crowned champ to challenge 'The Great', and Makhachev in his post-fight Octagon interview paid tribute to his best friend and his father, Abdulmanap Nurmagomedov, by crediting them for his success.
Islam Makhachev On Khabib
Islam won't have Khabib in his corner when he enters enemy territory at UFC 284, and while his absence is a big loss, Makhachev understands that nobody is going to help him when the cage door closes, he said while speaking to Fox Sports Australia.
"When the cage door close, no one is there for you," Makhachev said. "Of course, it's going to be different but I've already fought without him a couple of times. And he cannot always be with me. Of course, it's very good when he is here. I always like when he is with me because he knows all the games being played.
"He knows what you need for the fight, for the weight cut, you don't have to worry about any of this. It's always good when you have someone as experienced as him. You don't have to spend your energy thinking about other things. But I understand that he has to spend more time with his family. Because with all the fighting, the training, his family miss him too. Even though he is retired he's still traveling a lot. That's why I understand."
Who do you think will win the lightweight title fight between Islam Makhachev and Alex Volkanovski?