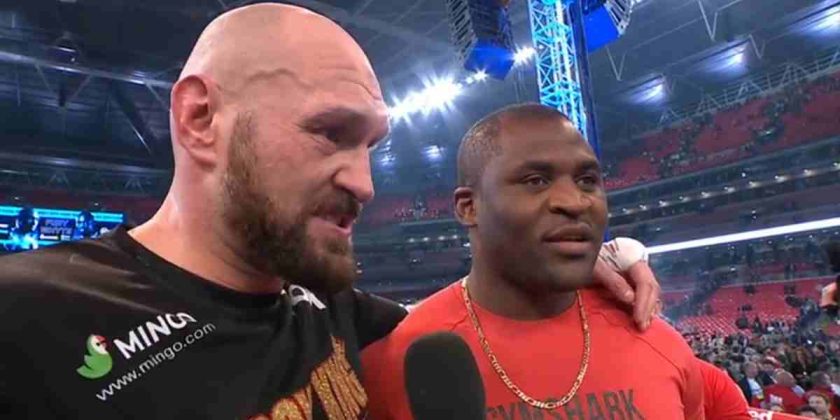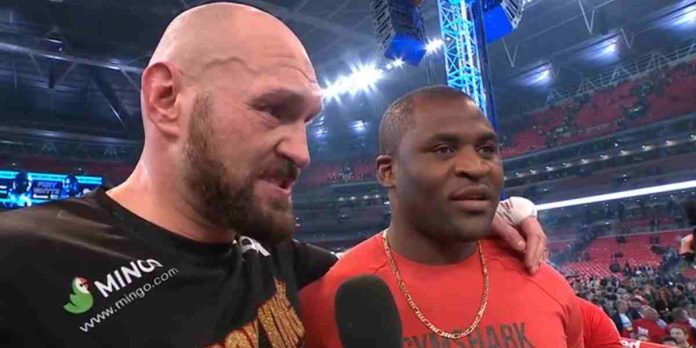 Tyson Fury has made Francis Ngannou an offer he can't refuse.
Former UFC heavyweight champion Ngannou parted ways with the promotion a week ago after the two parties failed to reach a deal. The Cameroonian turned down a whopping eight million dollar deal because his other conditions, including sponsorship rights and health insurance for fighters, weren't met by the UFC. He is now a free agent and recently said that he wants to try his luck in boxing before eventually making his return to MMA.
Tyson Fury On Francis Ngannou
Personally, Ngannou said that he'd love to fight Anthony Joshua, and Fury, who offered him an intriguing deal while speaking to Radio Rahim (as transcribed by MMA Fighting).
"Francis Ngannou, I know you're out of contract with the UFC," Fury said. "You want to earn some big boy money? Come see 'The Gypsy King' and let's do a big, big fight for the baddest MF on the planet. Let's kick it up spicy, in a cage, four-ounce gloves under Queensbury [rules], and let's have a badass referee like 'Iron' Mike Tyson. Did I just sell that to the world?"
Unfortunately, Ngannou is plan B for Fury, who is in deep negotiations for a champion-versus-champion matchup against Oleksandr Usyk.
"If the contract doesn't get signed with Usyk next for the fight of the century in boxing then we'll do the Ngannou fight," Fury said. "Whether it's going to be in Las Vegas or Wembley [Stadium], who will know — we will know quite soon I think. Because if these fellas don't start coming up and signing the contract for the fight of the century then we're moving on to greener pastures."
Who do you think would win a potential boxing match between Tyson Fury and Francis Ngannou?