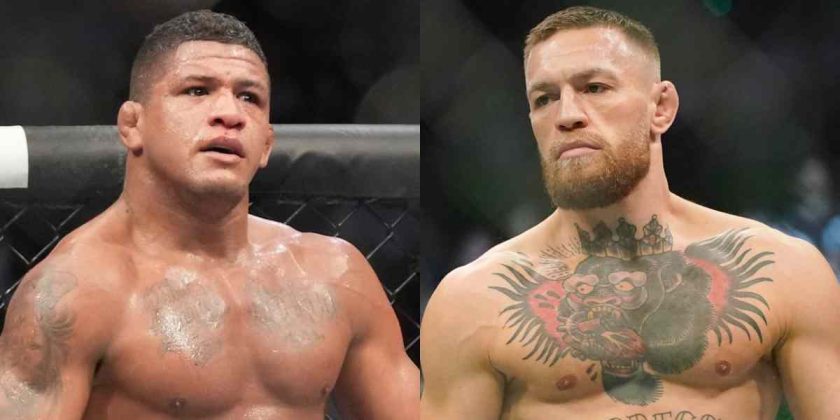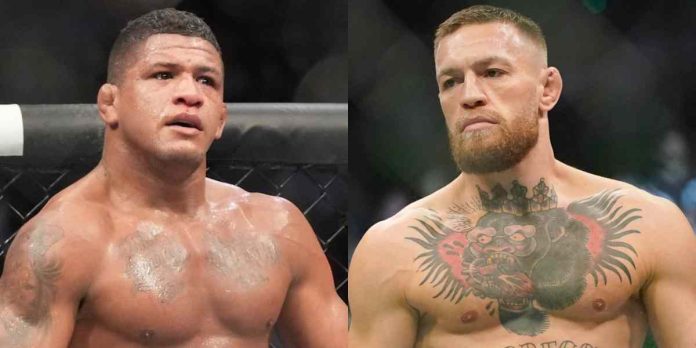 Gilbert Burns has warned that he would 'beat the s***' out of former two division UFC champion Conor McGregor if he decides to move up to welterweight to face him.
McGregor hasn't fought since July last year when he lost by a doctor's stoppage after breaking his tibia in the first round of his trilogy against Dustin Poirier at UFC 264. Although John Kavanagh recently revealed that the Irishman has resumed full training, he still needs time to get ready to fight again. In the meantime, 'The Notorious' will be making his Hollywood debut, starring alongside Jake Gyllenhaal in the remake of the 80s hit 'Road House'.
The Dublin native is eyeing a move up to welterweight upon his return and prioritises a 170 pound title fight, but if he somehow ends up fighting Burns, the Brazilian believes that it would be a terrible night for him.
Gilbert Burns On Conor McGregor
In a recent interview with MMA Fighting, Burns said that a potential McGregor fight would be a win-win situation for him.
"He's not a welterweight but if he wants to fight at welterweight, I'd love to beat the s*** out of Conor," Burns said. "I think he's not going to take that punch. I'm not even talking about grappling cause that's not fair. [I'd] just take him down and maul him but a fight with Conor, it's a win-win for me. I'm going to beat him up and I'm going to get a ton of crazy money. I'm not even calling for that fight cause it's not fair. I think he's a 155-pounder, [if] he's at 170, he can't take those punches. He cannot handle that wrestling."
In fact, Burns believes McGregor would struggle against everyone in the welterweight top five.
"If you're talking about the top five in the world, everybody hits hard except Colby [Covington] but everybody can wrestle," Burns explained. "Colby can wrestle. Colby and Conor is not fun cause Colby would just outwrestle him. Kamaru [Usman], he can hit hard and he can wrestle. Khamzat [Chimaev], he can hit hard and he can wrestle. Leon Edwards, he can hit very hard, good striking and can wrestle. I hit hard and can wrestle so don't say you're a welterweight."
Who do you think would win a potential fight between Gilbert Burns and Conor McGregor?