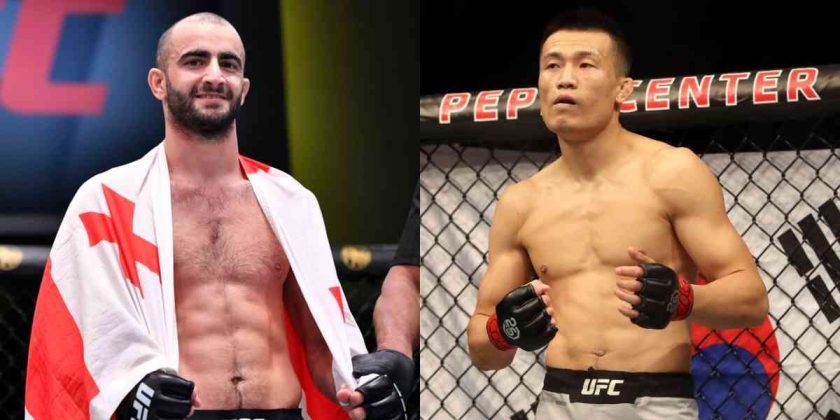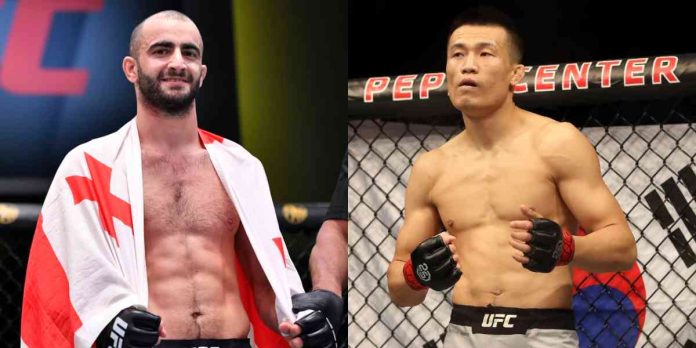 Giga Chikadze wasn't happy with 'The Korean Zombie's' reaction to his loss at the hands of Calvin Kattar in the UFC Vegas 46 main event this past weekend.
A year after suffering a brutal beating at the hands of Max Holloway at UFC Fight Island 7, Kattar made a huge comeback this past weekend to prove that he's still a relevant player in the featherweight division. Chikadze made a strong start, landing kicks and punches to his opponent's head, but a single mistake changed the complexion of the first round, as the Georgian slipped after missing a kick, allowing 'The Boston Finisher' to dominate and finish the first frame in a strong position.
The grappling work in the first round took a lot of steam out of Chikadze, with Kattar's attacks growing in numbers as the fight progressed. 'Ninja' stayed in the fight, however, landing shots of his own, but his output wasn't enough to get him ahead on the judges' scorecards, as the American won by unanimous decision with a score of 50-45, 50-45, 50-44.
'The Korean Zombie', who Chikadze called the easiest fight in the division prior to his loss, took to Twitter to react to the UFC Vegas 46 main event.
Giga Chikadze Responds To 'The Korean Zombie'
Chikadze took to Instagram to thank his supporters, promising that he will make a strong comeback, before taking a shot at 'The Korean Zombie'.
"Thank you my real supporters! I love you all and owe you a [speedy] comeback. [There's a] lot of fake people around, but that's okay. Also, f*** you Korean Zombie! Be happy with someone's loss you cheap f***," Chikadze said on his Instagram stories.
'The Korean Zombie' returned to winning ways by beating Dan Ige in his most recent fight at UFC Vegas 29, and is scheduled to face Alex Volkanovski for the featherweight title at UFC 273 in April. Max Holloway was originally scheduled to challenge the champion, but he had to pull out due to an injury.
Who do you think would win a potential fight between Giga Chikadze and 'The Korean Zombie'?
See also: