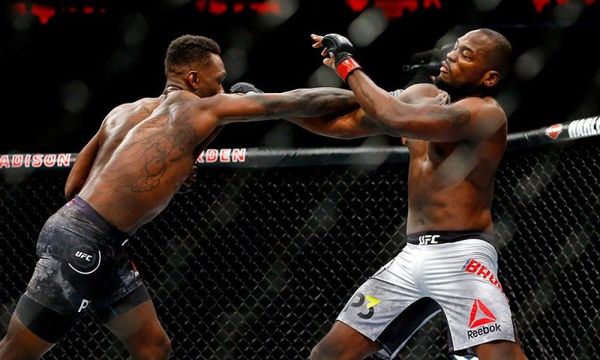 Derek Brunson has admitted that he underestimated Israel Adesanya before their fight at UFC 230, where the middleweight champion won by first round TKO.
Since his loss to Adesanya, Brunson has won five in a row, against Elias Theodorou, Ian Heinisch, Edmen Shahbazyan, Kevin Holland and Darren Till, who he most recently finished at UFC Vegas 36.
Brunson will now fight Jared Cannonier in a potential title eliminator at UFC 270.
Cannonier Fight
Speaking to MMA Fighting's MMA Hour, Brunson explained why he agreed to fight Cannonier instead of sitting around and waiting for a title shot.
"I'm confident. I'm confident in the fight for a title fight. I'm confident in the fight against Cannonier," Brunson said. "So [the fight] was on the table, and you know what? Instead of sitting, waiting — potentially, let's say Cannonier sits, I sit, I'm kind of in the driver's seat, and let's say the winner of [Marvin] Vettori and [Paulo] Costa fights Cannonier. They probably will jump me just if I've being sitting, waiting. You never know what's going to happen in these title fights. Somebody might get a big injury. So [staying] active was the best thing to me."
Adesanya Rematch
When asked about his first fight with Adesanya, Brunson said that he wasn't at his best, but he can't wait to run it back with him.
"There's things in that fight that I know wasn't me," Brunson said. "I didn't prepare properly. It doesn't matter. None of that stuff matters. The only thing is he came up with the win and now this is time for the rematch, for the get-back, and we're going to change it up. I got one more and then we're back to that fight. And that's if he gets past Whittaker, you know?"
Underestimating Adesanya
Brunson also admitted that he didn't train well for the fight because he underestimated Adesanya.
"I was pissed off right when I went back to the locker room [at UFC 230]," Brunson said. "I was just like, 'Man, I can't believe that happened.' I was just so mad that I was able to get in so easy — like, I had him body-locked, and bro, those are easy finishes for me, when I grab somebody that well. I just felt like I squandered the opportunity. I kind of took him lightly, I would say. I underestimated him. I was like, 'I'm going to squash this guy easily.'
"When I say I underestimate people, I don't disrespect people, I just feel like I got their number. So I'm like, 'I've got this guy's number, no problem.' So I kind of underestimated where I needed to be and my cardio wasn't up there. I was training at home with soccer moms, soccer dads, firemen, police officers and stuff like that, so those were my training partners — the guys who weren't full-time martial artists. So I'm up here smoking these guys in the gym, and I go into the fight and I'm not ready for this high-level guy that's in front of me who's got a lot of feints, a good style that's going to be scrambling."
Adesanya is expected to defend his title against Robert Whittaker early next year.
Do you think Derek Brunson would beat Israel Adesanya in a potential rematch?
See also: