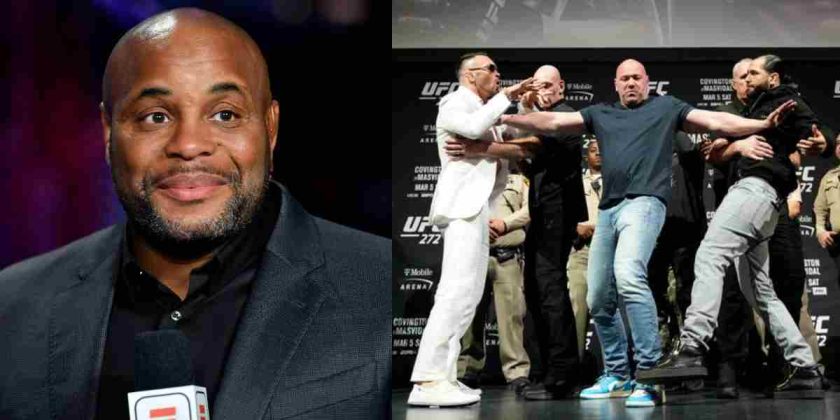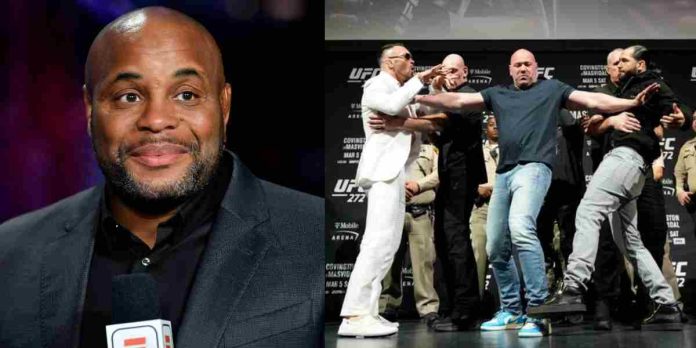 Daniel Cormier has given his thoughts on Jorge Masvidal's alleged assault on Colby Covington outside a restaurant in Miami.
Masvidal fought friend-turned-bitter foe Covington at UFC 272, where he lost by a lopsided unanimous decision. In the post-fight press conference, however, 'Gamebred' said that his rivalry with Colby wasn't over, and he would break his jaw if he saw him in the street.
The BMF champion kept his word, attacking Covington outside of Papi Steak restaurant in Miami on Monday. According to reports, Masvidal, who hid his identity by wearing a surgical mask and a hoodie, allegedly sucker-punched his arch-rival three to four times, fracturing his front left tooth and damaging his watch.
Masvidal was detained by the Miami Beach police on Wednesday and faces charges of aggravated battery resulting in great bodily harm and criminal mischief. He was released on a $15,000 bond but could face up to 15 years in prison if he's found guilty.
Daniel Cormier On Masvidal-Covington Controversy
Speaking on his DC & RC show on ESPN (as transcribed by MMA Fighting), Cormier said that although he understands why Masvidal reacted the way he did, he thinks the way the BMF champion carried out the attack was a 'bit off'.
"It's hard for me to really sit up here and judge Jorge for his actions being that Jon Jones and I had many altercations that almost ended up in the same way," Cormier said. "Ultimately, people were able to stop us from taking it to the next level. But here's the thing, a lot of these altercations happened prior to the fights happening and then we were always very clear of each other.
"When you've got 25 minutes — you've got 25 minutes and that is the only place in which I'm going to condemn Jorge Masvidal — you had 25 minutes less than two weeks ago to do everything you wanted. It does not seem as though this was a — it's so hard here not to assume — but it does not seem as though this was a 'come face to face and then we get into a fight,' it seems like something different. And that's where it becomes a little bit off."
Do you agree with Daniel Cormier?
See also: