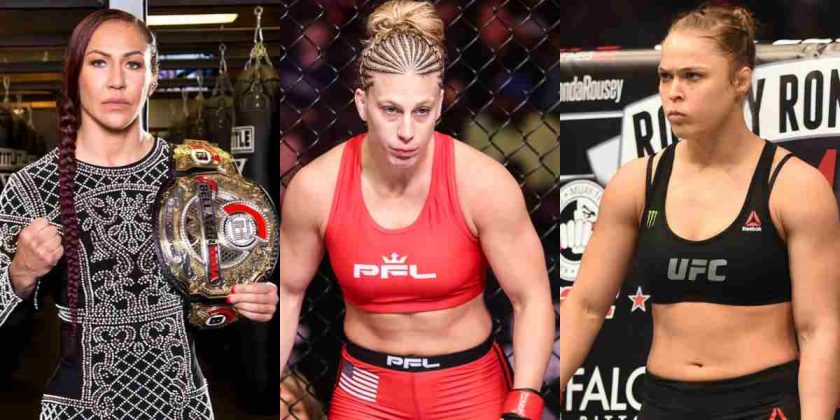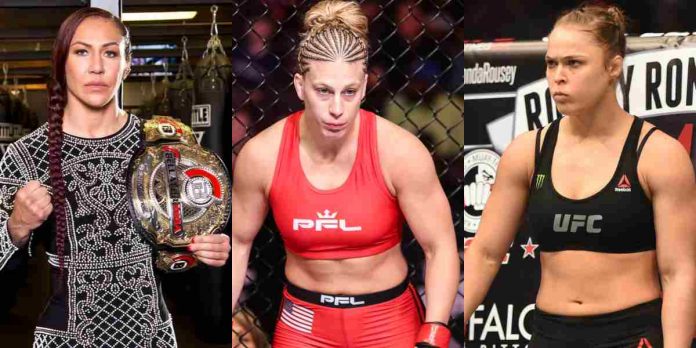 Bellator featherweight champion Cris Cyborg has said that she is open to fighting Kayla Harrison. The two-time Olympic gold medalist in judo improved her MMA record to 11-0 by finishing Genah Fabian in the first round at PFL 8.
Harrison will face Taylor Guardado in the final next, with the fight being the last on her current PFL contract. The American has expressed her willingness to explore her options in the open market, as she eyes to prove herself against the likes of UFC two-division champion Amanda Nunes and Cyborg.
While Nunes has stayed quiet on the matter and is focusing on her bantamweight title defence against Julianna Pena, which is expected to take place later this year, Cyborg has shown her willingness to accept the Harrison challenge.
Fighting Kayla Harrison
Speaking to MMA Fighting, Cyborg said that she'd move up to lightweight to fight Harrison.
"I think it's going to be a great fight for me," Cyborg said. "She don't need to come in at 145 [pounds], we can fight at 155. She said [it was] the last fight on her contract too. I saw and I believe maybe she's going to sign with the UFC, but she can make more money than Amanda Nunes in PFL.
"I don't know if it's going to be worth [it], but maybe we can do one fight, champion vs. champion. Scott Coker can be my co-promoter, maybe in the future. It's a great fight."
Kayla Harrison vs Ronda Rousey
As dominant as Harrison has been inside the cage, Cyborg believes she isn't as serious a threat as Ronda Rousey, also a former Olympian turned MMA fighter, would have been.
"I was supposed to fight Ronda Rousey before and I was training for a camp," Cyborg said. "The first thing you train in judo is learn to fall. Because when you're going to fight judo, maybe you're going to fall yes, but you have to know what to do after.
"I believe Ronda Rousey was more dangerous than Kayla. Her transitions were fast, her technique was fast and I know [Kayla] got a gold medal in the Olympics. But I think it's a different level about the speed, about the transitions for the submissions."
Do you agree with Cris Cyborg that Ronda Rousey was more dangerous than Kayla Harrison?
See also: