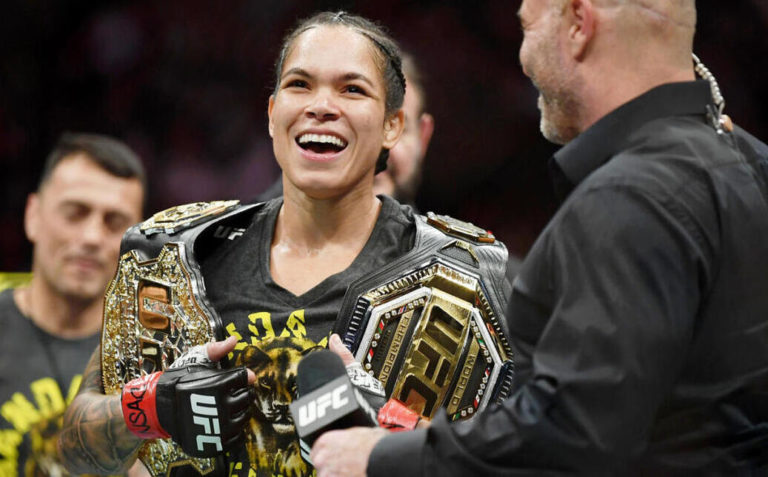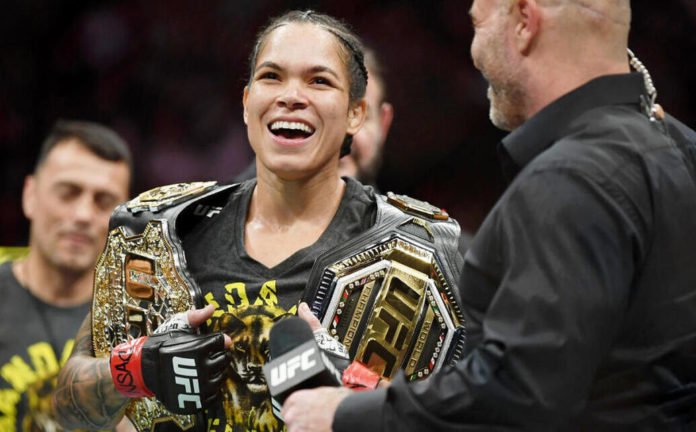 Amanda Nunes made her UFC debut against Shiela Gaff in August 2013, where she'd win via first round TKO (elbows and punches). She followed that win up with another first round TKO (elbows) victory, before being handed her first, and only setback in the UFC. That only setback came to Cat Zingano, who she'd almost finished multiple times earlier on in the fight, and who went on to fight for the title next.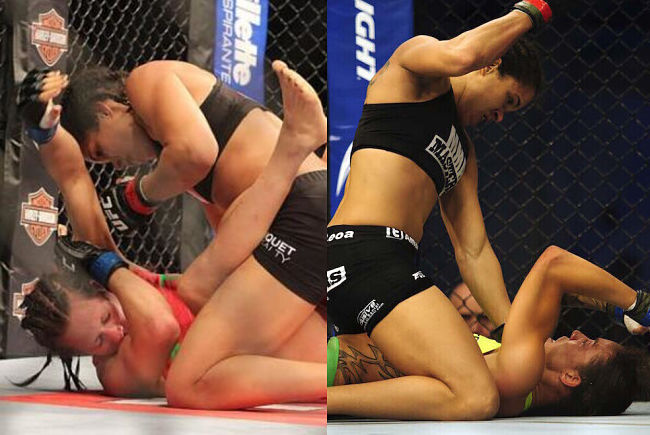 Her first two UFC fights didn't last long of course, she took each of her opponents down and ground-and-pounded each of them until the referee was forced to stop them. She was absolutely dominating Zingano, and almost won that fight in the same fashion numerous times throughout round one. She blew her wad however, and spent the majority of the rest of the fight on her back, before being TKO'd herself in round three.
'The Lioness' has had ten fights since then, and hasn't lost a single one of them. Her win streak started with a first round TKO (leg kick) win over women's MMA pioneer Shayna Baszler.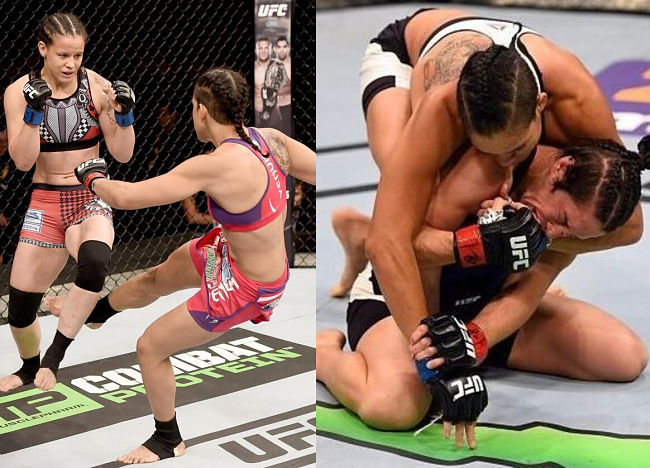 She followed that up with a submission (rear naked choke) win over former UFC title challenger and Olympic Silver medalist in freestyle wrestling Sara McMann, before being pitted against Valentina Shevchenko for the first time.
Nunes handily won the first two rounds against 'The Bullet', but convincingly lost the third round due to a conditioning issue. Many of us believed she had an endurance problem because of this fight, but she fixed that problem later on. This win granted her a title shot against then champion Miesha Tate at UFC 200, a fight she'd dominate.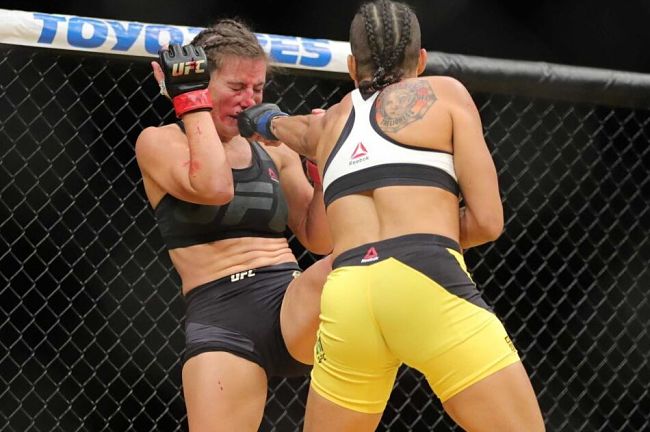 Nunes badly hurt Tate on the feet before submitting her just 3:16 into round one via rear naked choke and capturing the UFC Women's Bantamweight Championship.
Nunes' first title defense came against the returning Ronda Rousey at UFC 207. Rousey was never able to get going thanks to the power and persistence of Nunes, and Nunes quickly had her first title defense in the books. 'The Lioness' defeated Rousey via TKO (punches) just 48 seconds into round one.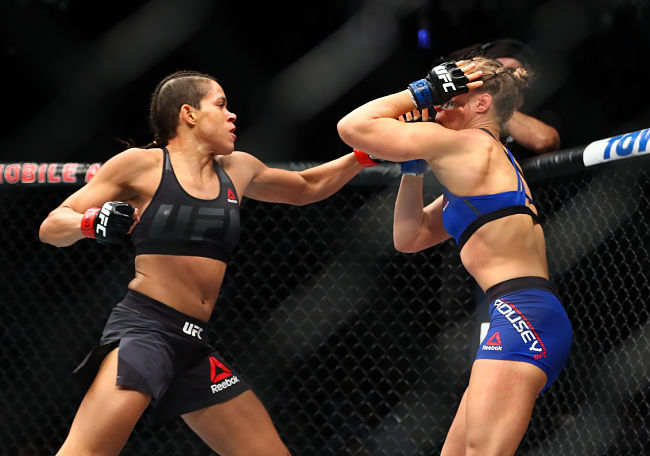 A rematch with Shevchenko followed this; considering their first fight left so many questions unanswered, and considering Shevchenko just kept winning, now they got to do it for five rounds. The tide was rapidly changing for Shevchenko the longer their first fight went, now she had an extra two rounds to get the job done. Nunes won this rematch via very close split decision (47-48, 48-47, 48-47).
This fight looked so close when watching it, it was insane. Though going back and looking at the numbers, Nunes out-struck Shevchenko in all of the first four rounds; though aside from round one, Shevchenko out-struck Nunes much more in round five than Nunes did in any previous round.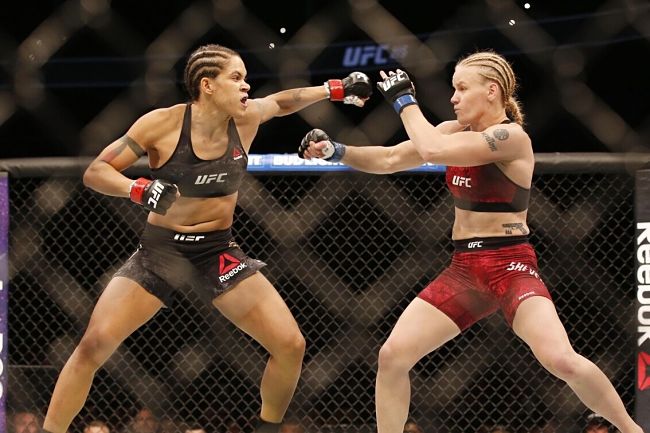 Nunes also racked up two takedowns to Shevchenko's zero, and the striking totals were 86-72 in favor of Nunes for significant strikes, and 90-85 for Nunes in total strikes. She was also the much more efficient striker of the two that night, landing 48% of her strikes, as opposed to Shevchenko's 37%.
She then dominated Raquel Pennington for four-and-a-half rounds, finishing her midway through round five via TKO (punches). Pennington wasn't necessarily someone many of us saw as a big threat to her, but she was on a four-fight win streak, two of those wins coming over Jessica Andrade and Miesha Tate, she was the most deserving of a title shot at that point.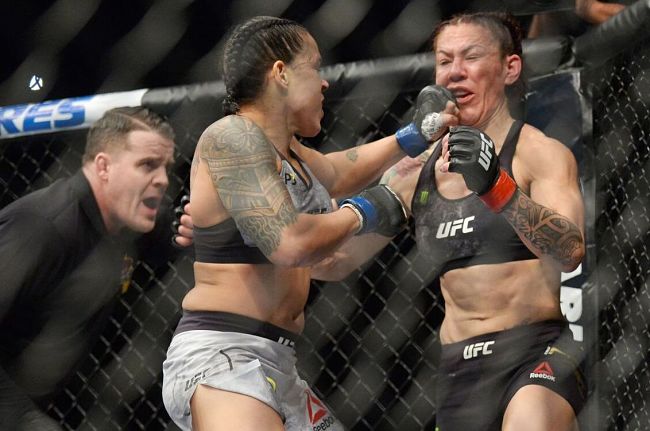 Nunes' next fight would be an attempt to capture the UFC Women's Featherweight Championship from the previously most dominant female fighter the world had ever seen, Cris Cyborg. This was perhaps Nunes' best performance, as she won via KO (punch) less than a minute into round one, making her a UFC champ-champ.
Next she defended her 135 lb. title against 18-time world boxing champion Holly Holm, and won that fight via TKO (head kick and punches) at 4:10 of round one. Just a week later, Germaine de Randamie defeated Aspen Ladd, and their rematch for the UFC Women's Bantamweight Championship was set not long after.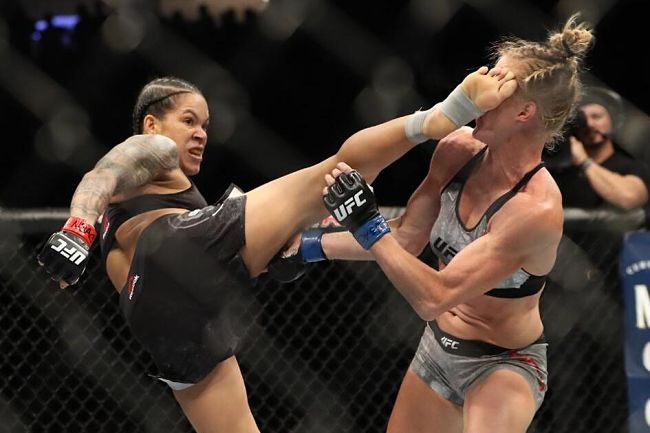 This fight saw her go through much adversity, but she pulled through like a true champion and was awarded the (49-44, 49-46, 49-45) unanimous decision. This marks only the third decision win in her entire career, the other two were over Shevchenko.
That's really something, there's only one fighter she's ever fought that she couldn't finish. She finished de Randamie in round one in their first fight, then she defeated Shevchenko via decision twice. Considering how big Nunes is, and how small Shevchenko is, do we all understand how special Valentina Shevchenko is now?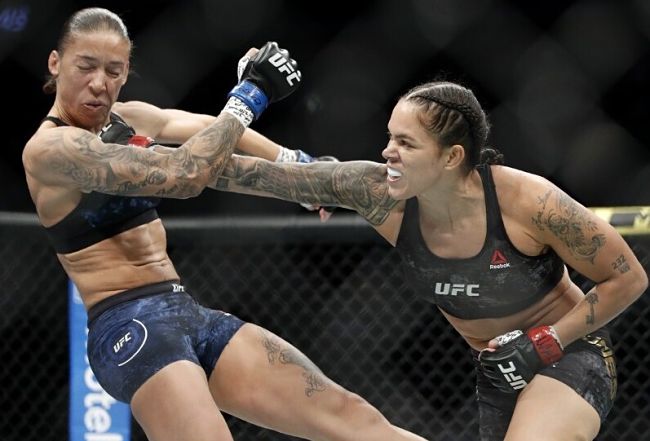 Round one for Nunes was as dominant as it possibly could be, she almost finished de Randamie multiple times with both strikes and submission attempts, but she used nearly all of her energy in that first round, and the rest of the fight was very nerve wracking for Nunes fans to watch. She was able to get the takedown eight times out of eleven attempts, and that kept her safe throughout the last four rounds.
After round one, it was very reminiscent of Nunes' fight with Zingano. We were thinking, is she really going to lose again when she's clearly the better fighter, just because she didn't reserve any stamina for later on? That'd mean her only two losses in the UFC came against opponents she absolutely smashed early on, but couldn't finish. Thankfully for her sake, that's not the case. Nunes was able to muster up the drive she needed for the takedowns, and that was enough this time around.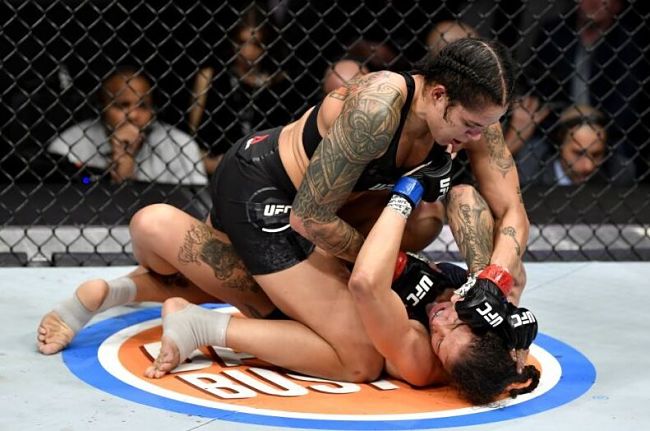 Throughout Nunes' career, she's had great performances, but it's only within the last three-to-four years where we've really gotten to see that she's a special talent, and only since a year ago did we know how good she really is. She's one of the best mixed martial arts fighters ever, not just in women's MMA.
Just a couple facts about Amanda Nunes
She has first round wins over every female to ever hold the UFC Women's Bantamweight Championship: Miesha Tate, Ronda Rousey, Holly Holm.
She has first round wins over the only two women to ever hold the UFC Women's Featherweight Championship: Germaine de Randamie, Cris Cyborg.
She has two wins over the only women to ever legitimately hold the UFC Women's Flyweight Championship: Valentina Shevchenko.
She has finished 16 of her 19 wins – 13 (T)KO, 3 submission, 3 decision
She fought both de Randamie and Shevchenko twice, a 46-0 professional kickboxer in de Randamie, a 56-2 professional kickboxer in Shevchenko, and she's 4-0 in those fights. She was doing great on the feet early on against de Randamie in the rematch, and she spent much of her Shevchenko fights on the feet.
She started off her MMA career 9-4, she's now 19-4 (12-1 UFC)
Five UFC Women's Bantamweight Championship defenses (current title holder)
Won the UFC Women's Featherweight Championship in December 2018 (current title holder)
BJJ black belt, Kyokushin Karate black belt, Judo brown belt
Five-time Performance of the Night winner
7-0 in championship fights