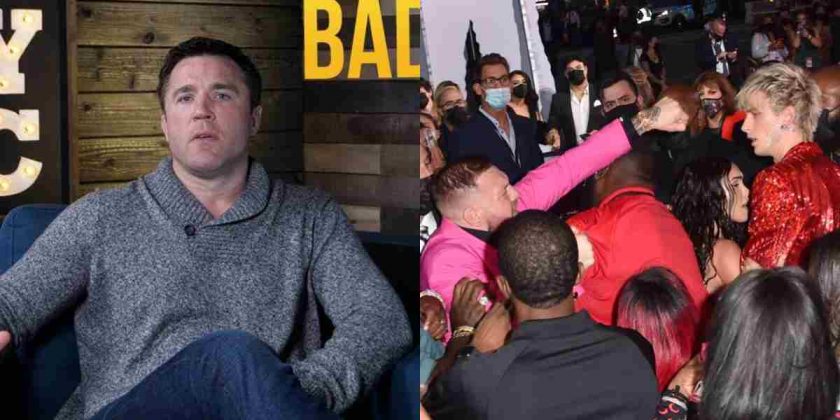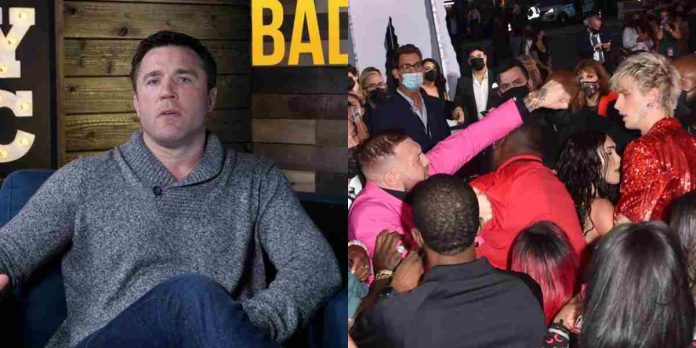 Chael Sonnen has given his thoughts on Conor McGregor's altercation with rapper Machine Gun Kelly at the 2021 MTV Video Music Awards on Sunday.
McGregor and MGK came face to face on the red carpet, where the two exchanged heated words for a few seconds before the Irishman threw his trademark left hand at the rapper, which fortunately missed. 'The Notorious' also threw his drink at MGK, whose real name is Colson Baker.
According to TMZ, things turned sour between the two when MGK didn't want to take a picture with McGregor, but the Dublin native denies the report. Another report claims that Baker confronted the former two-division UFC champion because he had been sending DMs to his girlfriend, Megan Fox.
Ironically, the MTV VMAs took place at the Barclays Center in Brooklyn, where McGregor infamously attacked a fighter bus carrying his arch-rival, Khabib Nurmagomedov.
Thoughts On McGregor-MGK Scuffle
Speaking on his YouTube channel, Sonnen said that McGregor is dangerously close to being a little, rich, weird guy.
"Conor found a way to get a little media attention over the weekend," Sonnen said. "He goes out to something known as the MTV awards or the VMA awards, which is weird. That's not cool. That's not what cool guys would do, that's what dorks would do, and then hope that more nerds at home [will] watch it. I mean Conor being there very off-brand, not great, not really sure what he would do there, who got him there, how starved for attention he would be to be there. The whole thing is very slimy.
"Here's what I don't want for Conor. As a Conor defender openly, I don't want him to be a little, rich, weird guy. He's hedging dangerously close to being that. It's a very fine line. The fact that he was there is not great. If you're ever at a show where MGK is recognised for doing a good job, you're at a weird show."
Unlike the other people he has attacked in the past, McGregor has no harsh feelings towards MGK, and doesn't want to fight him, he said during an interview at the MTV VMAs.
"Nothing happened with me, I only fight real fighters. People that actually fight," McGregor said. "I certainly don't fight little Vanilla Ice white rappers. I don't even know the guy. I don't know anything about him, except that he's with Megan Fox."
Do you agree with Chael Sonnen that Conor McGregor is headed in the wrong direction?
See also: