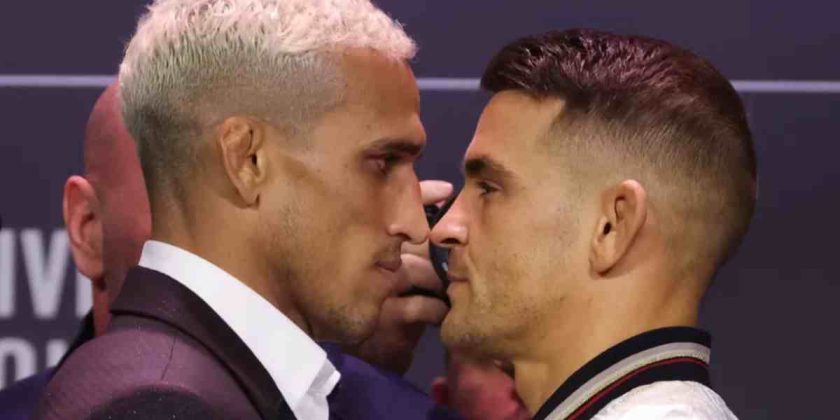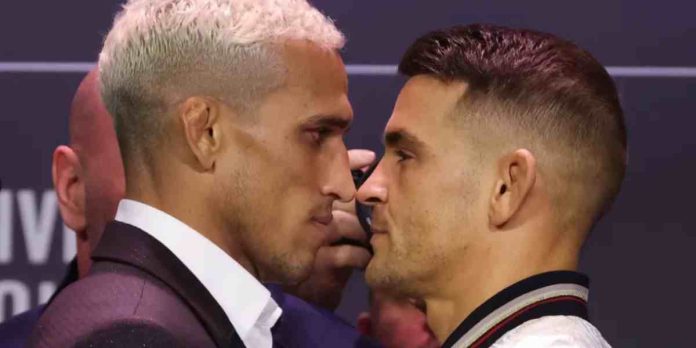 Charles Oliveira has predicted that he will finish Dustin Poirier in the first round of their lightweight title fight this weekend in the UFC 269 main event.
Oliveira won the vacant title after finishing Michael Chandler in the second round at UFC 262. He is currently riding a nine fight win streak, with eight finishes. Poirier has also won eight out of his last nine fights, with six finishes. His most recent win came against Conor McGregor by a doctor's stoppage at UFC 264.
Oliveira On Poirier Fight
Poirier is a slight favourite at -160 ahead of UFC 269, but Oliveira believes he thrives as the underdog. Speaking to Combate (as translated by Bloody Elbow), 'Do Bronx' said that he will shock the world again this weekend.
"I said something in my last fight and I'll say it again. I'm going to shock the world on December 11th," Oliveira said. "I'll beat him in the first round. I respect him a lot, just like I respect everyone in the division. Nowadays, though, I have something more than them. I will shock the world again and then I'll say what I've been planning to say all my life. Line them up and let every contender come. One at a time, I'll beat them all.
"I will clear out the division. I want people to not believe in me every time. Because every time I beat them like I did in my last fight, they'll give me a standing ovation. Then the whole world says that Charles is a monster. Charles is not a monster, he's just different. That's the truth."
Beating Poirier At His Own Game
Oliveira is without a doubt the most lethal submission grappler in the UFC right now, but he firmly believes he will beat an elite striker like Poirier at his own game.
"I want to win, no matter how. I really believe in a knockout," Oliveira said. "He's good with his hands and I like to surprise people. I've been breaking guys, but nobody says a word. People say that some guy is a monster, that he is a knockout artist. That guys hit him and he doesn't break. I hit them with my left and they go down. I don't know why that happens. It's like I said before, it's something different."
Do you think Charles Oliveira will reign as the UFC lightweight champion for a long time?
See also: