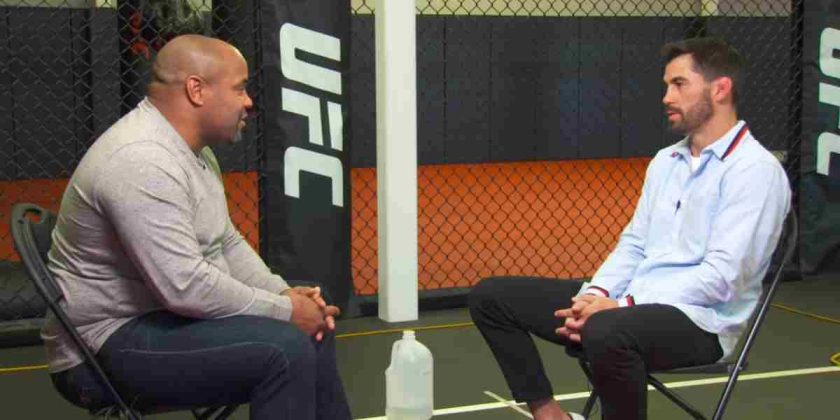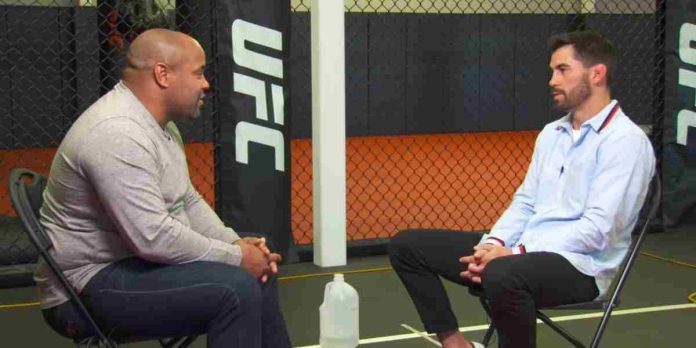 Daniel Cormier has confronted Dominick Cruz for holding him 'accountable' over his alleged lack of preparation for his broadcast assignments.
Cormier most recently came under fire when Justin Gaethje criticised him for allegedly being 'biased' in favour of Islam Makhachev during his fight against Dan Hooker at UFC 267. 'DC' dismissed the accusations, saying that he does his job with complete impartiality.
Cruz Slams Cormier's Commentary
This time around, Cormier's broadcast partner Cruz, who returns to the commentary booth at UFC 269 this weekend, has criticised him.
During the UFC 269 media day (as transcribed by BJPenn.com), Cruz said that Cormier doesn't do his homework before calling fights.
"I watch [Jon] Anik do so much homework leading up to a fight," Cruz said. "People have no idea how much homework he has to do to be prepared for that, and the most kudos goes to him. He leads us in the broadcast with how he talks. When it comes to Daniel Cormier, I usually mute it. I love 'DC', he's my friend, but to me, from my experience, he doesn't do the homework.
"He wants to get in and out, get the job done, make his money. And I think he cares about us, but it's just different. He doesn't do the preparation from my experience. He might now. I'm hoping he watches some film this time on my fight so he knows what I'm doing and why I'm doing it. But I'm not gonna hold my breath on that, that's for sure."
Cormier Confronts Cruz
After hearing what Cruz said about him, Cormier invited him on his YouTube channel and confronted the former bantamweight champion for openly talking about things he believes they should be discussing in private. 'The Dominator' disagreed however, saying that he has the right to hold the former two-division champ accountable.
"It feels good," Cruz said of returning to fight at UFC 269. "I just like talking to you man. Let's talk."
"Of course we like talking," Cormier replied. "That's why we talk privately at times also. You know what I mean."
"Well we don't have to do it private," Cruz suggested. "We're right here."
"Well, we talk privately. That's why it proves that we love to talk," Cormier responded. "But right now we're talking on air."
"So let's talk privately on air," Cruz said.
"So let me ask you a question. But wait, that's the problem. That's the problem," Cormier explained. "The things we talk about privately we aren't supposed to say in public."
"And who made that? Who made that rule?" Cruz questioned Cormier.
"That's our rule," Cormier replied. "You say so many things privately that I would never repeat publicly."
"No," Cruz said. "I've never said anything. I did not say anything that you wouldn't want me to say in public. I held you accountable. It's different. Accountability is love."
"No it isn't," Cormier scoffed. "It's only love in your mind Dominick."
"Accountability is love," Cruz explained. "Listen if you hold your kid accountable for missing something, is it love? Do you do it because you love them?"
"But what are you holding me accountable for?" Cormier questioned.
"Not watching film," Cruz replied.
Daniel Cormier or Dominick Cruz, who do you agree with?
See also: