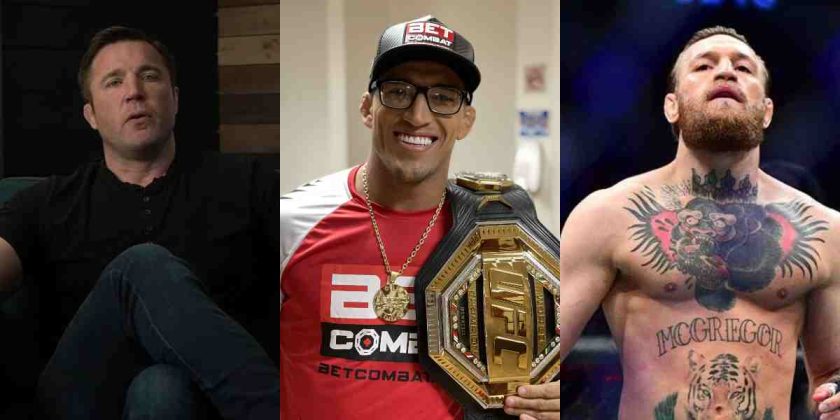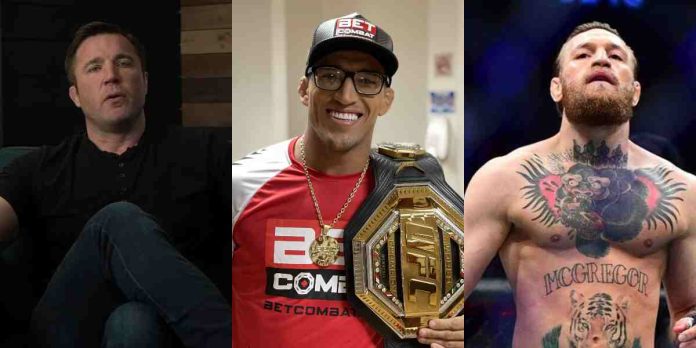 Chael Sonnen has given his thoughts on a potential fight between UFC lightweight champion Charles Oliveira and Conor McGregor.
Oliveira had an outstanding 2021 as he won the vacant lightweight title by beating Michael Chandler at UFC 262, before making his first successful title defence against Dustin Poirier at UFC 269. McGregor's 2021 was a tough one, however, as he lost twice to Dustin Poirier at UFC 257, and UFC 264, where he broke his tibia, resulting in a doctor's stoppage.
Sonnen: 'McGregor Is Very Problematic For Oliveira'
McGregor is eyeing a return to the Octagon next summer and wants an immediate title shot upon his return, and Oliveira said that he wouldn't say no to a possible fight against 'The Notorious', who is currently riding a three-fight losing streak at lightweight. Sonnen however, believes that the Irish man would do well against 'Do Bronx' in a potential fight.
Speaking on his YouTube channel, Sonnen said that McGregor is a very problematic matchup for Oliveira.
"If there's anybody that Conor is likely to beat to become the world champion, it is the sitting champion right now," Sonnen said. "Charles Oliveira vs Conor McGregor is a fascinating matchup. It is very problematic for Oliveira. Conor McGregor is as good of a striker as this sport has ever seen. Oliveira is a very dynamic striker who showed some real wrestling prowess in a couple of contests, but in other contests, didn't. Conor can handle himself on the ground and can take care of himself on the feet.
"The in between has been a problem with very high level guys, so now you start to question whether Oliveira's really a high level guy. I don't have the answers to these questions. I don't know whether Oliveira has this magic wand, but I do know that Oliveira is doing all the things that used to annoy me and they don't annoy me anymore."
Do you agree with Chael Sonnen?
See also: