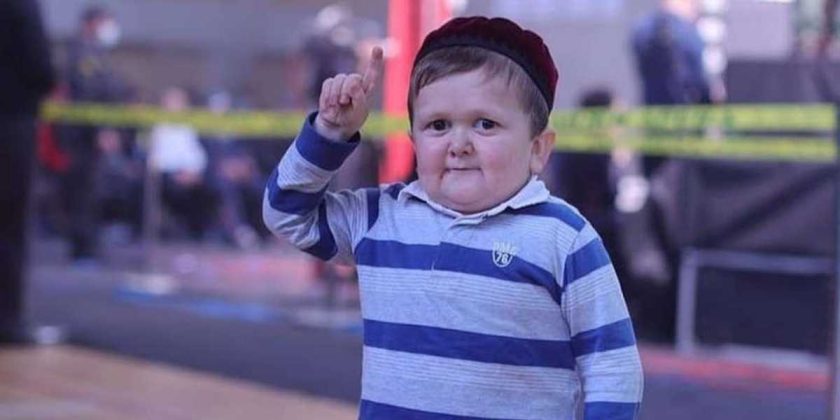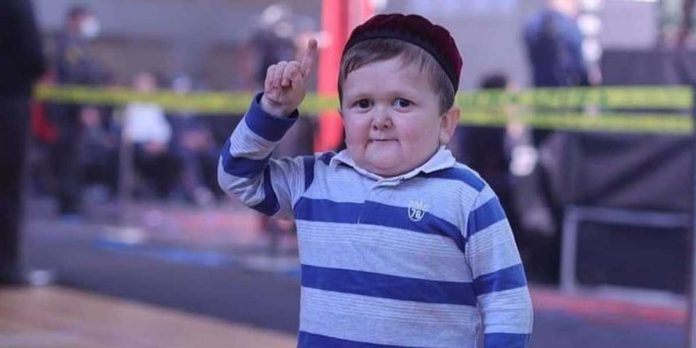 If you follow mixed martial arts closely, you must have heard the name of Hasbulla Magomedov a lot this year. He is a Dagestani social media superstar who happens to be besties with the region's crown jewel Khabib Nurmagomedov and various other MMA superstars, including Islam Makhachev. But who is Hasbulla? Here's everything you need to know about 'Mini Khabib', who is taking Instagram and TikTok by storm.
Who Is Hasbulla Magomedov?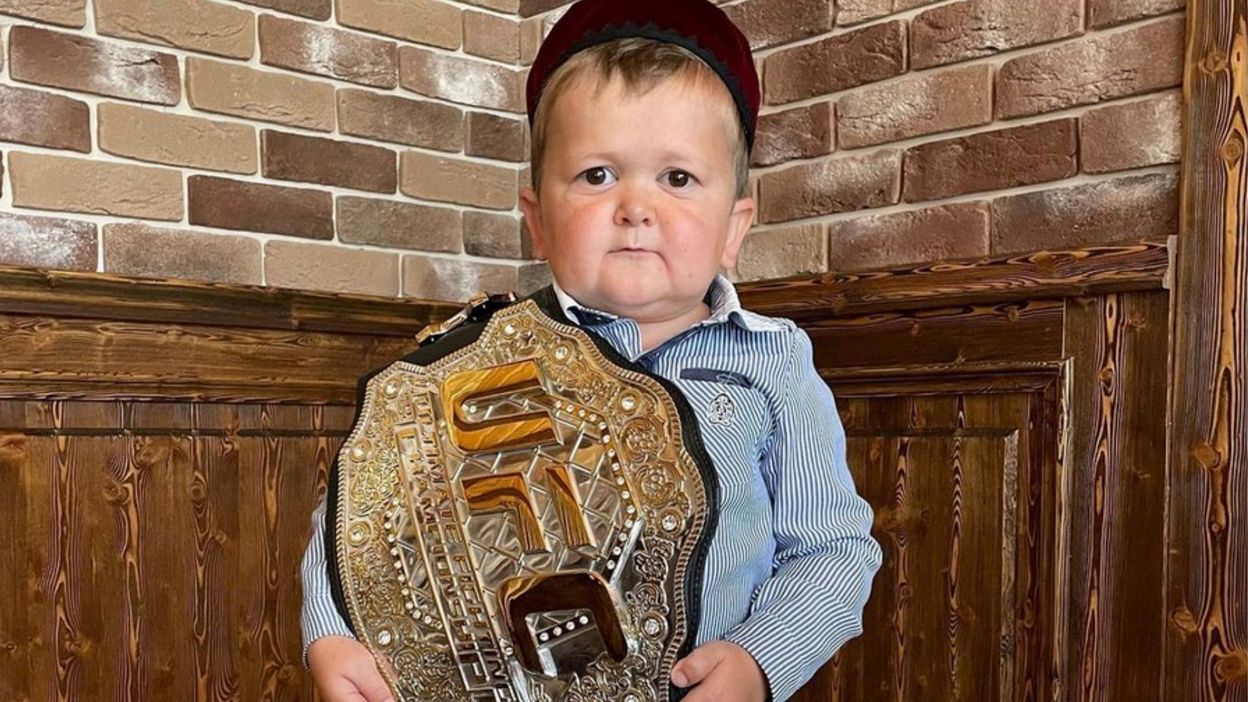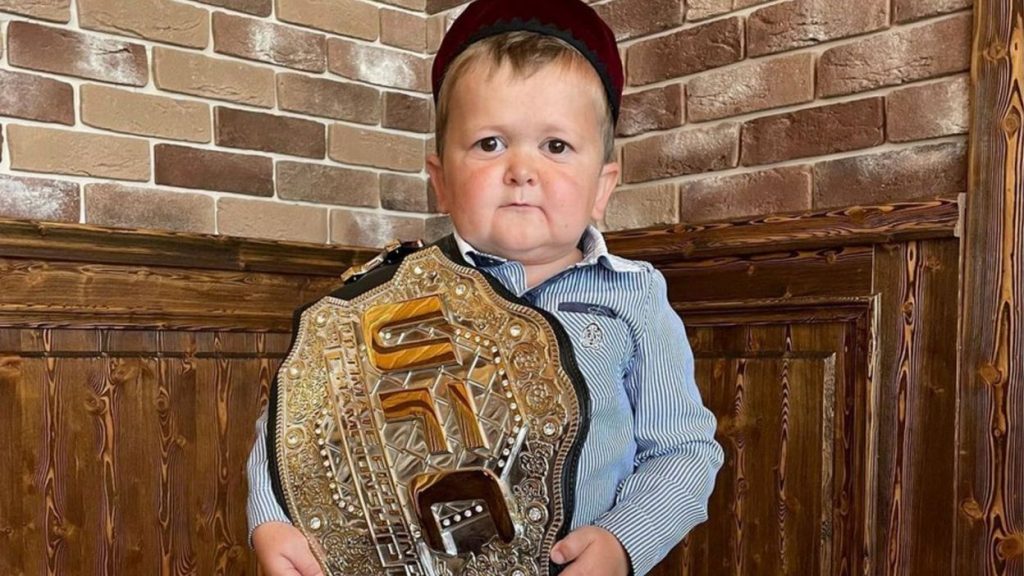 Hasbulla Magomedov hails from Makhachkala in Dagestan, Russia, and despite his child-like appearance, he's an adult who was born in 2003. Hasbulla was already quite popular on Russian Instagram and TikTok when he rose to global stardom after videos of him imitating Khabib and his pre-fight press conference with Abdurozik, another social media star who has the same condition as Hasbulla, went viral this year.
The highly anticipated fight between Hasbulla and Abdurozik may not take place, as per their promoter Ashab Tamaev, who is also a successful Russian YouTuber. However, both the social media stars have gained a lot of new fans thanks to their press conference antics.
Hasbulla's Age
Despite his child-like features and voice, Hasbulla is 18-years-old, who was born with Growth Hormone Deficiency (GHD), also known as dwarfism or pituitary dwarfism, which is caused when there are insufficient growth hormones in the body. Although he said that many people consider him special, he considers him completely normal, because he is able to perform day-to-day activities without any trouble.
UFC And Hasbulla
Hasbulla was most recently invited to attend UFC 267 and had a VIP seat close to president Dana White. Hasbulla was there to support Islam Makhachev, who defeated Dan Hooker by first-round submission. He celebrated the victory with Khabib and Makhachev inside the Octagon.
Initially, many people thought that Hasbulla was related to Khabib Nurmagomedov, because of his resemblance with Abdulmanap Nurmagomedov. It was later revealed that he's not related to Khabib and the two know each other through various mutual friends.
What Does He Usually Post?
A major portion of his content is him hanging out with MMA fighters and celebrities, but he also posts photos and videos of himself test driving the latest models of BMW and Mercedes. Hasbulla Magomedov is a car freak, and despite not being eligible to drive due to his condition, he is often seen driving along with his friends in various videos.
In some of his other videos, he does seemingly dangerous things like playing with knives and guns and performing stunts on his quad bike. He also loves playing pranks on his friends.
What Does He Like To Eat?
Hasbulla is a foodie. He loves anything and everything, and is always grateful for a meal, but there are a few things that he loves passionately, like strawberries. Hasbulla absolutely loves strawberries and is always happy to receive them as a gift from his friends. He has uploaded various clips of him feasting on the fruit. Unfortunately, he doesn't believe in 'sharing is caring' when it comes to strawberries. Hasbulla also loves chocolate and oatmeal and doesn't tolerate disrespect towards food.
During his press conference with Abdurozik, the Tajik singer taunted him by calling him "oatmeal head", which made Hasbulla Magomedov furious. An angry Hasbulla told Ashab that Abdurozik will face the consequences for disrespecting oatmeal, which he really loves. He also said that his father has taught him to always respect food.
Hasbulla Is A Pet Lover
Hasbulla is a pet lover and is often seen posting photos and videos of his cats. He also shares videos of his friend's pet monkey named Jimmy, with whom Hasbulla has a love-hate relationship. The two didn't like each other at first but formed an unbreakable bond with the passage of time. Their videos are widely popular on the internet.
Breakthrough Video
While he regularly posts viral content, Hasbulla became a common face when he posted a video of him punching one of his friends in the face during a wrestling event before sprinting away in a hilarious manner.
Needless to say, Hasbulla loves punching people in the face. Not many people would punch Daniel Cormier or Antônio Rodrigo Nogueira in the face without worrying about the consequences, but Hasbulla did it without breaking a sweat.
Hasbulla Magomedov isn't scared of fighting back against Khabib either. He's violence personified.
Hasbulla Magomedov's Martial Arts Credentials
While Hasbulla has never mentioned training in any form of martial arts, he has shown a decent understanding of grappling in various videos. In a recent video, the Dagestani was seen applying a solid armbar on his training partner. The previous video, he was seen competing with a kid two times his size, who he easily neutralized with a crisp rear-naked choke.
Hasbulla mentioned in recent interview that he trains with Khabib and his team at their gym once a month because he doesn't like fighting or training much. Hasbulla is also solid with his hands, as seen in the clips above of him punching people in the face. He does need to work on his kicks, however.
Hasbulla's Beef With Abdurozik
Hasbulla Magomedov and Abdurozik first went viral on social media after their hilarious pre-fight press conference was posted on YouTube by Ashab Tamaev. The pre-fight video between Hasbulla and Abdu racked up nearly nine-million views in its first three days, and has more than 15 million views as of today.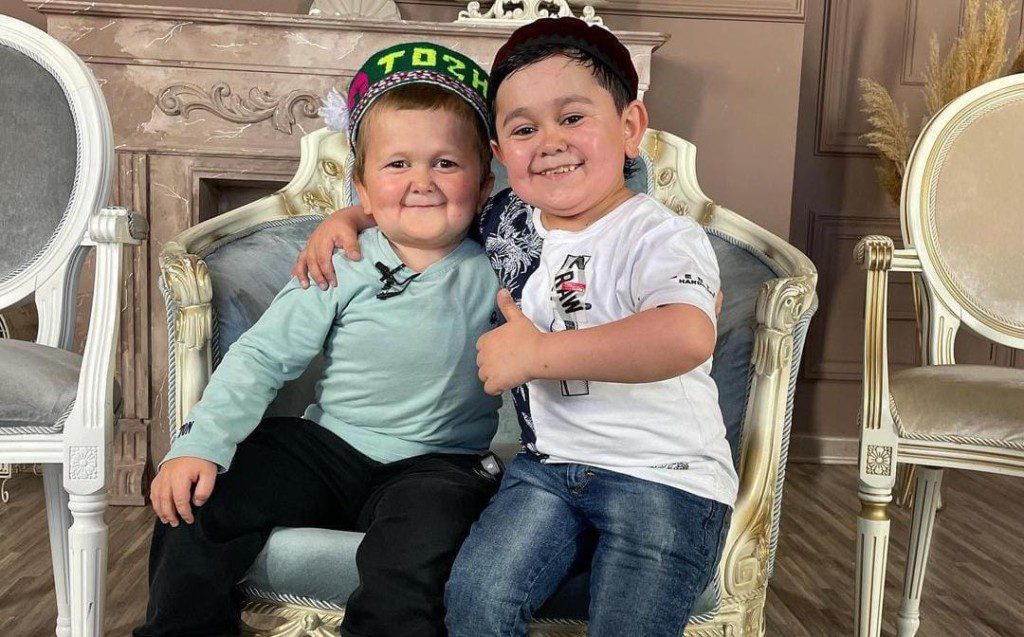 Abdurozik is a Tajik singer and songwriter, who has the same condition as Hasbulla. They traded barbs on social media for several months before deciding to settle their differences inside the cage after Hasbulla challenged his arch-rival to a fight, which he accepted in a heartbeat.
The animosity between the two was visible as they traded more barbs during their press conference, where things got physical a number of times. If it wasn't for Ashab Tamaev, Hasbulla and Abdurozik would have fought and settled their differences there and then.
No Fight Yet
The two haven't fought yet, and it's highly unlikely that they will square off as the Russian Dwarf Athletic Association (RDAA) opposed the idea of a fight between them. In a video posted after their hostile press conference, the two were seen embracing each other, hinting that they may have buried the hatchet once and for all.
However, they begin trading barbs on social media again a few days later. The two almost threw hands when they ran into each other at UFC 267 earlier this year. Hasbulla was there to support Islam Makhachev, while Abdurozik was backing his opponent Dan Hooker.
While there are currently no plans for a fight between Hasbulla and Abdrozik, boxing promoter Eddie Hearn said that he would not rule out the possibility of promoting a fight given the animosity between them. Hasbulla himself revealed that there are currently no plans for a fight between the two because of a lack of sponsors, and because he doesn't want it either. 'Mini Khabib' said that it would be a 'shame' to fight a singer.
What Do Celebrities Say About Him?
Hasbulla has a lot of celebrity admirers, including Khabib, who said that he has the potential to be more popular and rich than him. Giving his thoughts on Hasbulla, Khabib said that his compatriot has the potential to become a billionaire if he goes to the United States, because he would have a lot of backers and opportunities.
Khabib Nurmagomedov
The former UFC-champ did oppose the idea of a fight between Hasbulla and Abdurozik however, saying that they two should join hands and use their popularity to help charities in Russia and around the world. Khabib said that there's already a lot of fighting going on around the world, so the two influencers should use their platform to promote peace.
Tagir Ulanbekov
UFC fighter Tagir Ulanbekov is also friends with Hasbulla, but their first encounter was anything but friendly. Ulanbekov revealed that he met Hasbulla in a gaming club, and believing that he was a child, the flyweight prospect told Hasbulla to go home. Hasbulla was infuriated with Ulanbekov's remarks, but thankfully, the two buried the hatchet and are now great buddies who often text each other.
"One night I came to a gaming club and I saw this little kid, well that's what I thought back then, so I told him that he should go home," Ulanbekov said. "And he was like, 'What the hell! I am not a kid!' Then people told me how old he was, that he's a young man, that's how we met. We talk often, we text each other, meet to drink some tea. He's very fun to be around."
Logan Paul
Before his boxing exhibition against Floyd Mayweather, YouTube sensation Logan Paul revealed that he's a huge Hasbulla fan, and as long as he channels his "inner Hasbulla", he would do well against the boxing legend. After the fight, Logan took to Twitter to jokingly challenge Hasbulla to a fight.
Dana White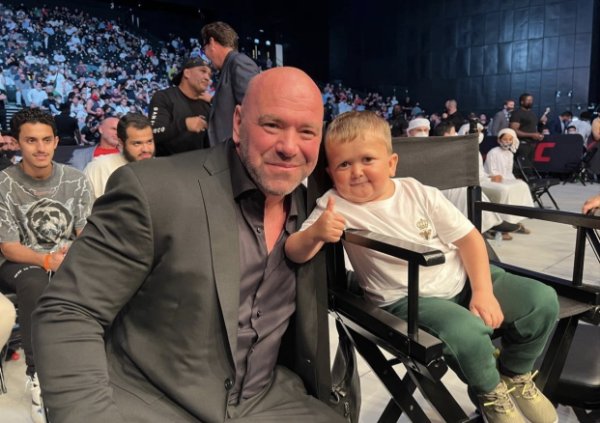 Dana White also loves Hasbulla. In an interview ahead of UFC 267, the UFC president said that he would love to collaborate with the social media sensation. He also revealed how a video him that he posted on his Instagram did crazy numbers.
"So I'm going to tell you something. So the video that he sent saying, 'Dana White, I'm coming to Abu Dhabi and UFC' … so when I posted that with me on the plane saying, 'I'm coming,' it's the biggest post that I've ever posted. I have 6.7 million followers on Instagram. 6.4 million people watched that video. Is that f***ing crazy?"
UFC's broadcaster Jon Anik is a massive Hasbulla fan as well. It's not often that he gets out of the commentary booth to take a picture with a VIP in the crowd, but he couldn't resist taking a picture with Hasbulla, the face of the fight game.
Joe Rogan
Joe Rogan is also a fan of Hasbulla. Speaking on his 'The Joe Rogan Experience' podcast with Dillon Danis, the veteran commentator said that he's amazed to see how quickly Hasbulla has become a massive social media celebrity.
"It's incredible how quickly they've elevated this guy's platform so quickly. It's like that one little video caught fire, and it wasn't that long ago, and then all of a sudden there's this massive push behind him and I see him everywhere. Every time I open up Instagram I see a little video of him."
Hasbulla Magomedov also engaged in a war of words with former flyweight and bantamweight champion Henry Cejudo a number of times in the past. Cejudo jokingly said that a fight between the two makes a lot of sense because they are in the same weight division. Hasbulla is up for the challenge as well, but will 'Triple C' be able to withstand the Dagestani's punching power?
Hasbulla also wants to fight Conor McGregor, because he wants to punish him for all the crude things he said about Dagestanis in the lead-up to his fight against Khabib at UFC 229, which he lost by fourth-round submission. In a skit released by Ashab Tamaev, Hasbulla said that he would like to fight McGregor because he talks too much.
Controversies Surrounding Hasbulla
Like many superstars, Hasbulla has his share of negative fame as well. He has been suspended multiple times by Instagram for violating the community standards, mainly for his showcase of arms. Last month, Hasbulla was blocked after he was accused of making death threats against a woman.
Hasbulla warned that he wouldn't spare the woman unless she apologises for allegedly filming his sister. "I will not leave this girl alive until she apologises to the whole of Instagram, because she filmed a video of my sister and posted it for the entire Instagram," Hasbulla allegedly wrote on Instagram. Through his backup account, however, Hasbulla clarified that he deactivated his account himself and wasn't blocked.
The 18 year old was also criticised by Russian Dwarf Athletic Association (RDAA) chief Uliana Podpalnaya for his press conference with Abdurozik. Podpalnaya said that pitting the two against each other for entertainment made a mockery of Paralympic sports.
Hasbulla Magomedov The Meme King
Hasbulla Magomedov's growing popularity has given rise to internet memes, which thousands of people regularly engage with. Here are some of the best Hasbulla memes on the internet.
The undisputed king of the internet.
Here's arguably the best young footballer in the world right now with his Hasbulla mug.
Two on one? Not a problem at all for Hasbulla.
Knockout of the year.
What Are Hasbulla Magomedov's Future Plans?
Hasbulla Magomedov hasn't had any formal schooling, as he confirmed during his press conference with Abdurozik, but he aims to become an Islamic scholar one day. His main aim is to learn the Quran and become a theologian and legal scholar in Islam. Hasbulla said that he plans to take some time off from social media in the near future to focus solely on his studies.
He also wants to run his own business and hopes to own a garage with all the wealth he has accumulated through his social media ventures, which is around $200,000.
Are you a fan of Hasbulla Magomedov?
See also: