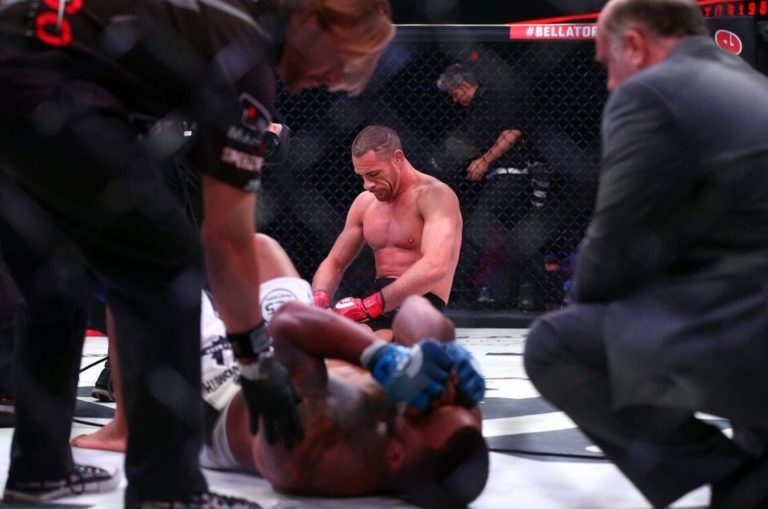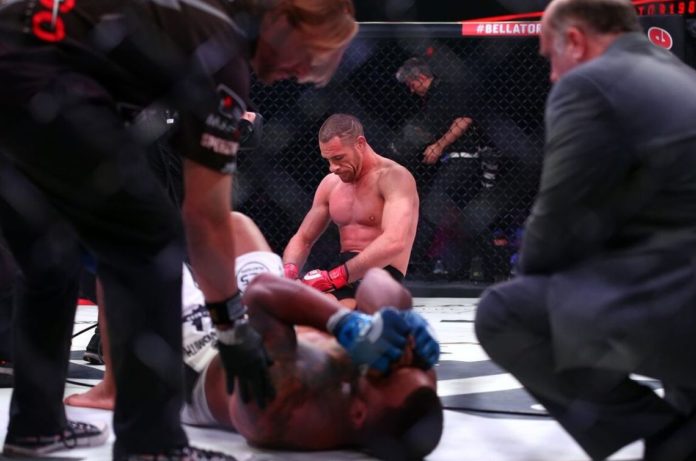 Rafael Lovato Jr. is a very special talent, someone we don't see many of in the sport of mixed martial arts. His technical abilities are second to none, as he's shown us just ten times. It'll probably stay at that number too, sadly. As most of us know by now, Lovato has been battling issues with his brain for about a year now. Just before his last fight, he was diagnosed with Cerebral Cavernoma, a disease that causes the vessels in his brain to clot and form into ball-like shapes, clusters. He was almost pulled from his fight with then Bellator Middleweight Champion Gegard Mousasi, but was ultimately given clearance to fight.
It's such a tragic thing, because though this shouldn't shorten his life, he hasn't been given clearance to fight since, and it's doubtful he ever will again. That's why it's such a beautiful thing that he was allowed to make the walk at Bellator 223. His last dance was one to remember for himself, his family, friends, and us fans. No one expected him to beat Mousasi, a guy that many feel the UFC should've kept on their roster.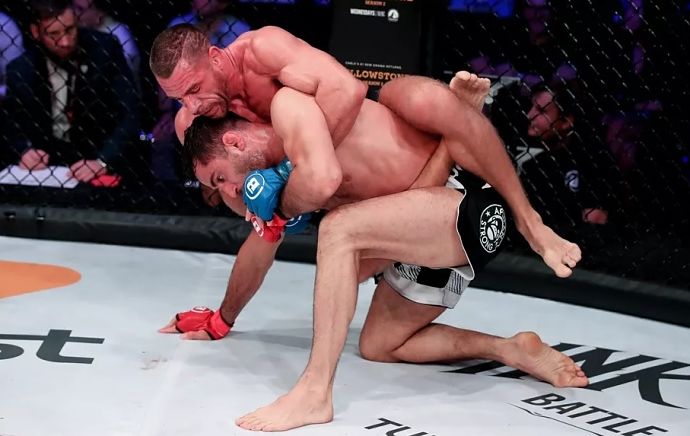 Lovato got his love for martial arts from his father, who was a Jeet Kune Do instructor. He studied many forms of fighting, and competed in amateur boxing in his youth, before finding Brazilian Jiu-Jitsu when he was 13-years-old. After stumbling upon BJJ, he quickly took to it, and is now one of the best grapplers in the entire world with a fourth degree black belt in the art. His frame helps with that as well, being 6'3" with a 77.5" reach; it makes it much easier to wrap opponents up, which is exactly what he's a master of.
Lovato competed in BJJ up until he started his fighting career, winning numerous medals at numerous tournaments. He placed in 24 of those tournaments, and made his mixed martial arts debut in late 2014 after competing in his last grappling tournament earlier that year.
Rafael Lovato Jr.'s Brazilian Jiu-Jitsu Accomplishments/Medals:
World Jiu-Jitsu Championship (one gold, one silver, six bronze)
World No-Gi Jiu-Jitsu Championship (three gold, one silver)
Pan American Jiu-Jitsu Championship (two gold, one silver, two bronze)
European Jiu-Jitsu Championship (gold)
No-Gi World Cup (gold)
Brazilian National Jiu-Jitsu Championship (two gold, one silver, two bronze)
Lovato made his MMA debut in Legacy Fighting Championships, and won via submission (arm-triangle choke) toward the end of round one. He didn't fight again until 53 weeks later, where he defeated now UFC fighter Kevin Holland via submission (rear naked choke).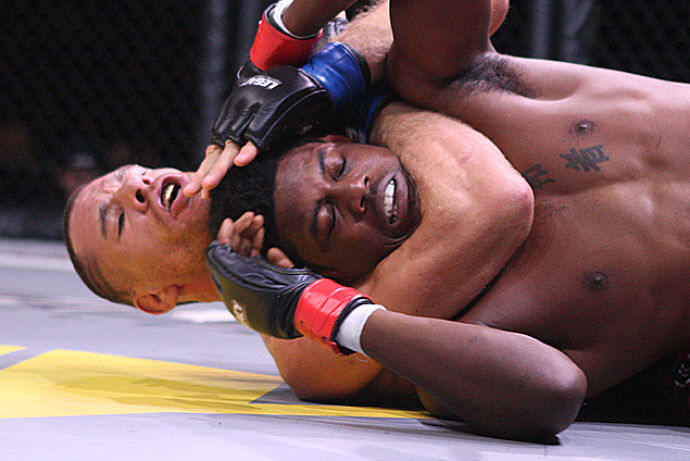 Next came Lovato's first title fight, where he also picked up his first win via strikes, as he TKO'd his opponent at the end of round two. He was only 2-0 going into this fight, and he was now the Legacy FC Middleweight Champion. He had one title defense, as he defended it via submission (armbar) late in round three before vacating it to join the Bellator roster. His Bellator debut made a loud noise, as he TKO'd his opponent with knees and punches just 13 seconds into the first round.
Lovato was then matched up with UFC veteran Mike Rhodes, making quick work of him as well, winning the fight via submission (rear naked choke) just two minutes into round one. He then defeated Chris Honeycutt via unanimous decision (29-28, 30-27, 30-27) to cap off 2017, where he went 3-0 throughout the year, and 3-0 in Bellator to this point. Lovato then faced another UFC veteran, Gerald Harris, and defeated him via submission (armbar) just over a minute into the fight.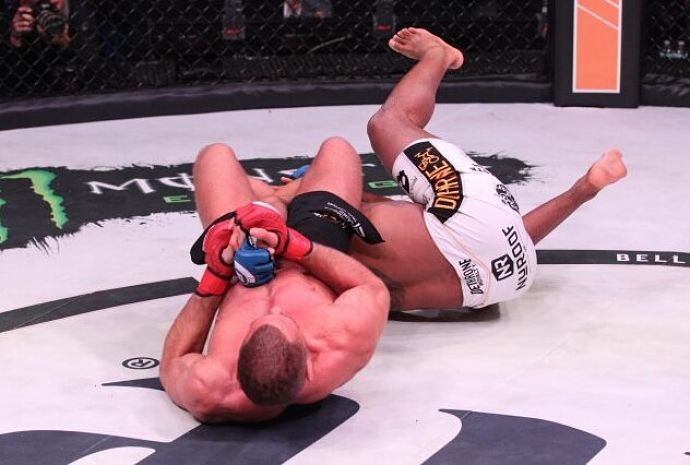 This was a real turning point for him, now everyone was seeing how dangerous he actually was. Harris went 3-1 in the UFC with three knockout wins and one decision loss after his season of The Ultimate Fighter. He also hadn't ever been submitted, and was 8-2 since his UFC departure, until he fought Lovato that is. After the biggest win of his career, Lovato returned to action later that year and defeated John Salter via submission (rear naked choke) at the end of round three. This was also incredibly impressive because Salter is a first degree BJJ black belt, he was on a seven-fight win streak (all finishes, five in Bellator), and has gone 2-0 since losing to Lovato.
Now Lovato was 9-0 as a professional mixed martial artist, already a former champion, and 5-0 in Bellator. It was time to see how good he really was, as they matched him up with one of the best middleweights the sport has ever seen, Gegard Mousasi. Again, no one expected him to win this fight. Lovato took it to Mousasi throughout the five-round main event, he just wouldn't stay off him. Every time he could tie up with Mousasi or take him down, take his back, he did. At the end of the night, Lovato was awarded the majority decision (47-47, 48-47, 48-47) victory, and the Bellator Middleweight Championship.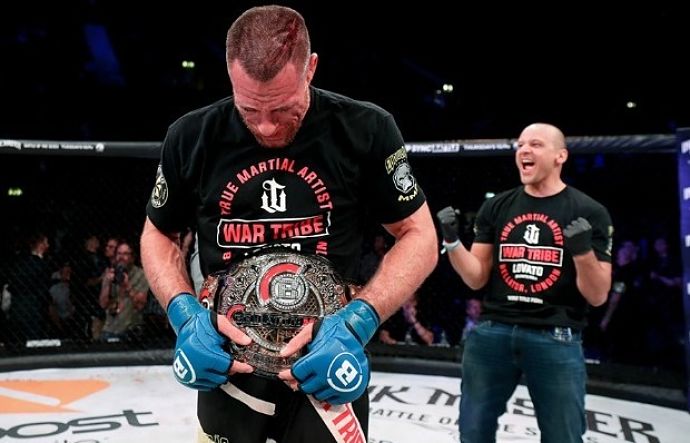 Sadly, this was the last time we'll ever get to see him fight. It's unfortunate, the rematch with Mousasi was close to being set up, but no doctors will clear him now. Most of them say he shouldn't even be grappling, because being choked could potentially cause one of the clusters in his brain could burst, as could getting hit of course. This of course means he was forced to vacate his title.
When we have a talent such as himself, it's such a tragic thing to see it end like this. No, he's not dead or dying, and yes, he is healthy, but that doesn't mean he's happy. It doesn't mean he doesn't have more to give, he just beat Gegard Mousasi in his last fight, he's obviously capable of great things.
The only thing that's not absolutely terrible when considering all of this is the fact that he's 36-years-old, he'll be 37 on June 25, so he probably didn't have too much longer in the sport regardless. Who knows though, he trained BJJ exclusively until he got into MMA. He'd trained in other arts in his youth of course, but he didn't take a lot of damage, not even in his fights, so he may have had a longer window than most.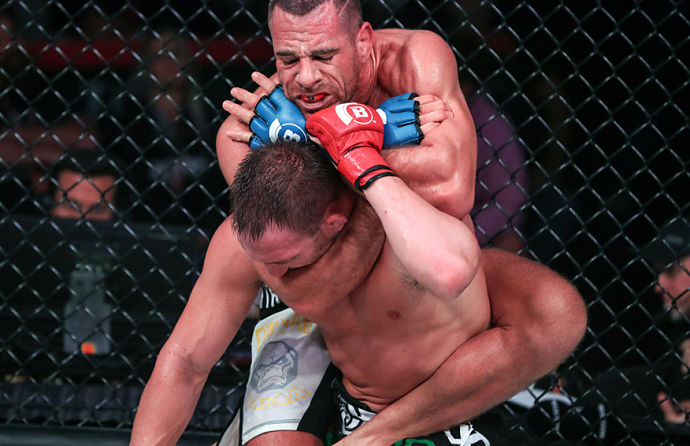 This is an overwhelmingly sad story. He had so many things going for him, he could've accomplished so much more. Could he have again defeated Mousasi in the rematch? Could he have racked up a number of title defenses? It's all guesses what he could've become at this point. His striking was very good too, especially considering how good his grappling is. You'd think, to be that good on the mat, it must take away from your time to train striking, but he was great everywhere. He had great round kicks of all sorts, he had great knees, and his hands were developed as well.
From being just the second American BJJ black belt (BJ Penn) to ever win a BJJ World Championship, to becoming a four-time BJJ World Champion, to becoming a world champion in mixed martial arts, he's a very special individual. Not many can become that good at anything, let alone achieve greatness. He touched it, but it's been taken away because of these horrible circumstances. He finishes off his MMA career with a perfect, unblemished record of 10-0, while having gone out on top as world champion.
How would Rafael Lovato Jr.'s career have gone if this wasn't an issue and he was able to continue fighting?