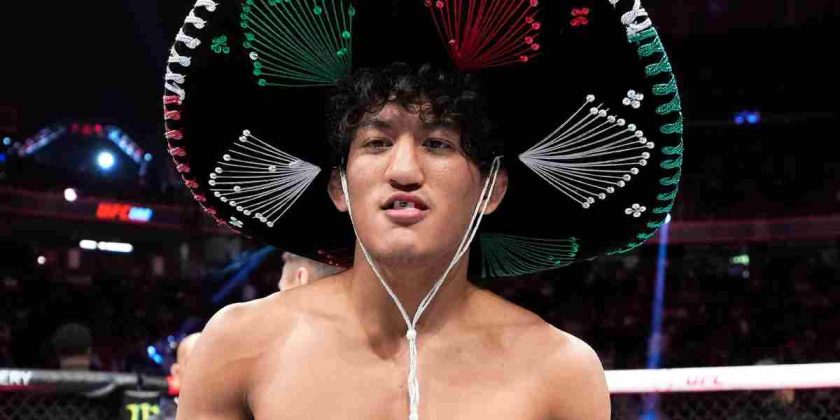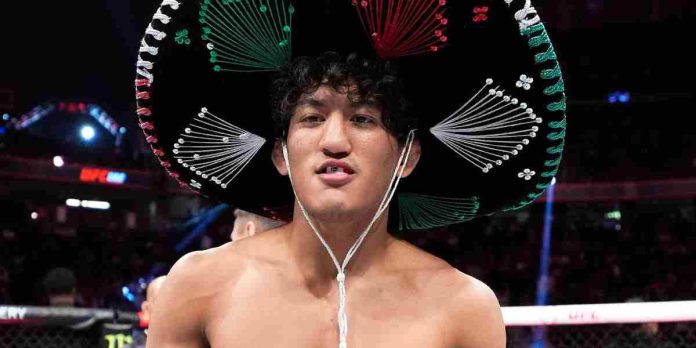 Raul Rosas Jr is a Mexican-American MMA fighter, who signed with the UFC in 2022, after his impressive showing in Dana White's Contender Series.
| | |
| --- | --- |
| Name | Raul Rosas Junior |
| Age | 18 years old |
| Weight | 135 LBs |
| Nickname | El Nini Problema or The Problem Child |
| Birthplace | Mexico |
| Residence | Santa Rosa, California |
| Net Worth | $100,000-$200,000 |
| Endorsement | Stake Betting |
Raul Rosas Jr Early Life
Born on October 8th, 2004, in Clovis, Mexico, Rosas Jr moved to the United States at a young age with his family. Rosas, who goes by the nickname of 'El Nino Problema', had a keen interest in sports from a young age. His favourite sports are soccer and mixed martial arts, and he pursued both as a kid, but since it was tough for his father to let him pursue both, Rosas was asked to choose one and he opted to be a fighter instead of a footballer/soccer player.
Rosas is predominantly a grappler, but he has a decent amount of training in boxing as well. He has competed in a number of junior championships, most notably winning the IMMAF youth championship in Italy in 2019. He transitioned into MMA in 2021 and after an impressive showing, he started fighting professionally. Rosas started his professional MMA journey in Mexico since he wasn't allowed to compete in the United States because he was underage.
MMA And UFC Record
After bagging five finishes in his first five pro fights, Rosas was given the chance to compete in DWCS, where he won by a unanimous decision. Dana White was so impressed with him that he instantly handed him a UFC contract. Rosas made his UFC debut at UFC 282 in December 2022, submitting Jay Perrin in the first round and becoming the youngest person to secure a bonus in UFC history. Rosas will fight Christian Rodriguez at UFC 287 next.
Salary And Net Worth
Rosas isn't an uber-rich person for now. He had his humble beginnings, and even through his junior competitions and professional MMA fights, he didn't make a whole lot of money. His net worth is said to be around $100,000 to $200,000, with his UFC salary being $74,000. In his fight against Jay Perrin, Rosas made $12,000 to show, $12,000 to win, and a $50,000 performance bonus. Given the fact that he will be competing on the main card at UFC 287, we should expect the Problem Child to earn a lot more than he did in his first fight.
Additionally, Rosas is sponsored by Stake, which claims to be the leading betting platform in the world.