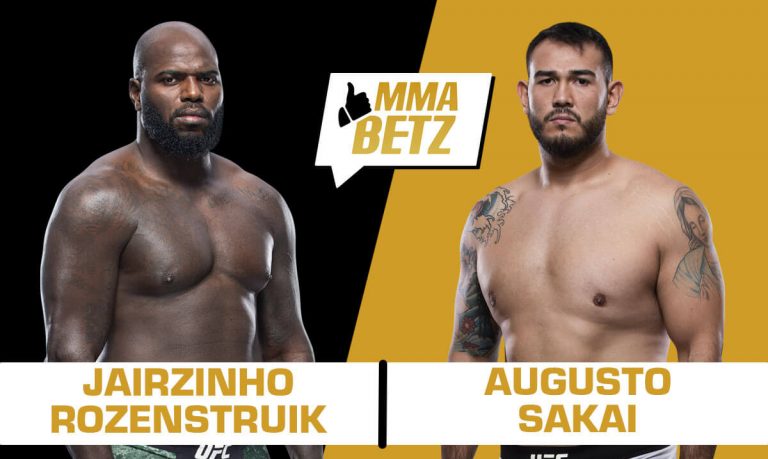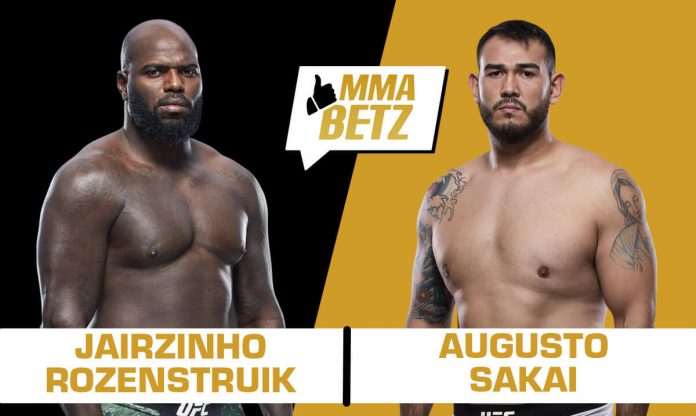 UFC Vegas 28 goes down this weekend at the APEX Center. In the main event, Jairzinho Rozenstruik and Augusto Sakai go toe-to-toe in a key heavyweight matchup.
Both fighters sit inside the top ten of the UFC heavyweight rankings but are coming off defeats, Rozenstruik to Cyril Gane via unanimous decision at UFC Vegas 20, and Sakai to Alistair Overeem via TKO at UFC Vegas 9.
At UFC Vegas 28, Rozenstruik has the chance to break into the top five again, while number nine ranked Sakai can also jump a few places up in the rankings.
Analysis And Prediction
Both Rozenstruik and Sakai are primarily strikers, with 21 knockout wins between them. 'Bigi Boy' comes from a kickboxing background, who utilises a combination of heavy kicks, from low to high, and power punches to win fights.
The Surinamese is a little flat-footed however, which makes him vulnerable to the Brazilian's strikes, which he throws in bunches. Sakai also uses his footwork to create angles before rushing in. However, he has a tendency of overextending at times, which could favour Rozenstruik.
Statistically, Sakai is the better striker offensively, as he throws 5.32 significant strikes per minute on average, compared to Rozenstruik's 3.14. Defensively, there's not a lot to choose between them. Rozenstruik absorbs 3.48 significant strikes per minute, while Sakai absorbs 4 per minute.
Sakai has a positive striking differential, and a better striking defence, which is 50 percent, compared to Rozenstruik's striking defence, which is merely 39 percent.
The Curitiba native is the more agile striker, and should use his movement and agility to inflict damage on Rozenstruik, but with his power, he can also easily end the fight.
Prediction: Augusto Sakai via stoppage
Betting Odds
Jairzinho Rozenstruik (-120)
Augusto Sakai (+100)
Who do you think wins the UFC Vegas 28 main event between heavyweights Jairzinho Rozenstruik and Augusto Sakai?
See also: