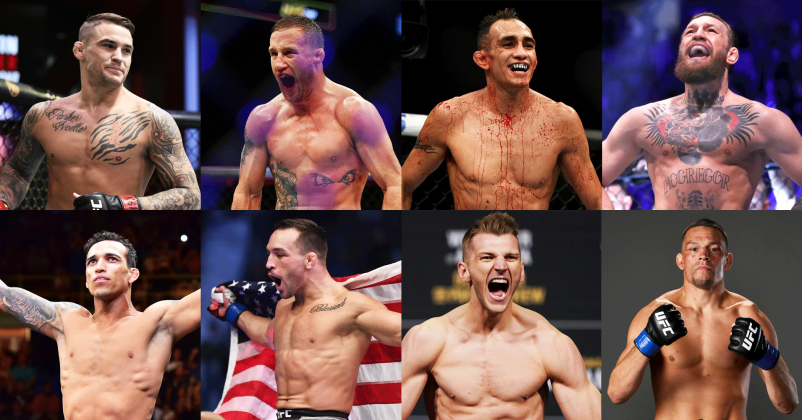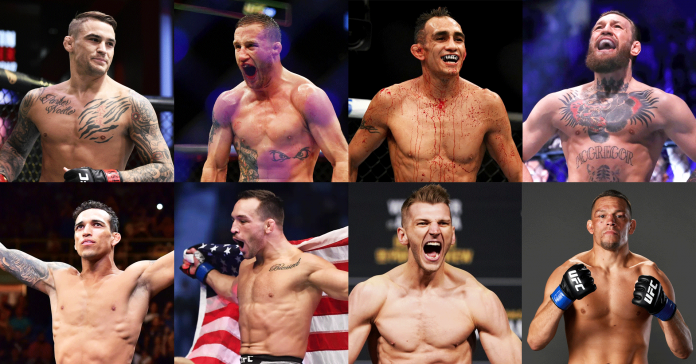 Dustin Poirier turned the tables on Conor McGregor by stopping him in the second round at UFC 257.
In the first round, the Irishman charged at his opponent right from the word go, pressuring him against the fence, and landing some good shots. Poirier did a good job of using his grappling and clinch to neutralise McGregor's attacks, however.
In the second round, Poirier took over after compromising his McGregor's lead leg with crushing calf kicks, before hurting him with a left hook, and following up with a barrage of heavy blows to hand the Irishman his first ever knockout defeat.
In the co-main event, promotional newcomer Michael Chandler dispatched Dan Hooker in the very first round to make a spectacular UFC debut.
Earlier this month, Dana White revealed that Khabib Nurmagomedov wanted to see something special for him to return to the Octagon, after announcing his retirement at UFC 254. With the way both Poirier and Chandler performed, one would think they've done enough for 'The Eagle' to feel motivated.
However, in the UFC 257 post-event press conference, the UFC president shared that Khabib believes he is levels above everybody else, and therefore, he would most probably stick to his decision to remain retired.
This means that the lightweight title race is wide open, and there are some intriguing matchups to look forward to in 2021.
Here are five lightweight fights to make this year.
Dustin Poirier vs Charles Oliveira Title Fight
There's no doubt in my mind that Dustin Poirier deserves to fight for the title, and if he wants a dance partner to fight for the vacant belt in case Khabib isn't coming back, he should fight Charles Oliveira.
Poirier has only lost once in his last nine fight, when he challenged Khabib for the title at UFC 242. In that period, he has enjoyed wins over Eddie Alvarez, Justin Gaethje, Max Holloway, Hooker, and McGregor. Many believe he is the uncrowned UFC lightweight champion.
In contrast, Oliveira is on an eight-fight win streak, with notable victories against Kevin Lee at UFC Brasilia and Tony Ferguson at UFC 256. The two fighters make the strongest case to fight for the title, and both match up very well against each other. This is the title fight we need to see.
Justin Gaethje vs Michael Chandler
Prior to his UFC 257 bout, many believed Chandler would choke under pressure, since he has been fighting in the 'lower leagues', as Hooker had stated. But he proved that he belongs among the best by truly embracing the moment this past weekend. In fact, it was the 30 year old Kiwi, who has a number of Octagon visits under his belt, looked nervous in comparison to the newcomer.
Chandler has always been a championship-level fighter, and he's very experienced when it comes to performing under the bright lights. However, he needs at least one more big win under his belt inside the Octagon. Ideally against a top-five fighter like Gaethje.
'The Highlight' is coming off a loss at the hands of Khabib at UFC 254, but he's still very much in the title picture. With a win over Chandler, he could easily jump right back into the mix. For the former Bellator champion, not only is it a great matchup, but a big name in the division.
Gaethje struggled against Khabib's pressure and wrestling, and Chandler has very much the same style, with heavier hands. Yet he would be vulnerable to Gaethje's one-punch knockout power. This is arguably the most exciting matchup in the division.
Tony Ferguson vs Dan Hooker
With back-to-back defeats, both Ferguson and Hooker need to rebuild. 'El Cucuy' is ranked fifth, while 'The Hangman' is just a place below at sixth in the division, but both are expected to slip a place or two to make room for Chandler in the top five.
They are both going to need some impressive wins to make their way back to the upper echelon of the division. It only makes sense that they fight each other for chance to bounce back in to the top five.
Conor McGregor vs Nate Diaz III
The best time for McGregor to complete the trilogy with Nate Diaz was right after UFC 205, when he beat Eddie Alvarez to win the title. The second best time would be right now.
Diaz hasn't fought since his third round TKO loss to Jorge Masvidal at UFC 244, and McGregor has suffered back-to-back setbacks at lightweight, against Khabib at UFC 229 and his most recent one against Poirier. 'The Notiorious' was stopped on both occasions, which only means he needs to up his game before fighting the top guys in his division once again.
In his post-fight interview, McGregor cited inactivity for his downfall. Keeping that in mind, it'd be better for the former two division champion if he fights someone on a similar trajectory as himself. Diaz also hasn't been very active since 2016 either, and they are tied at 1-1. This is the best time to earn some bragging rights. And let's be honest, who doesn't want to see the rematch!
Which lightweight matchups are you looking forward to the most?
See also: