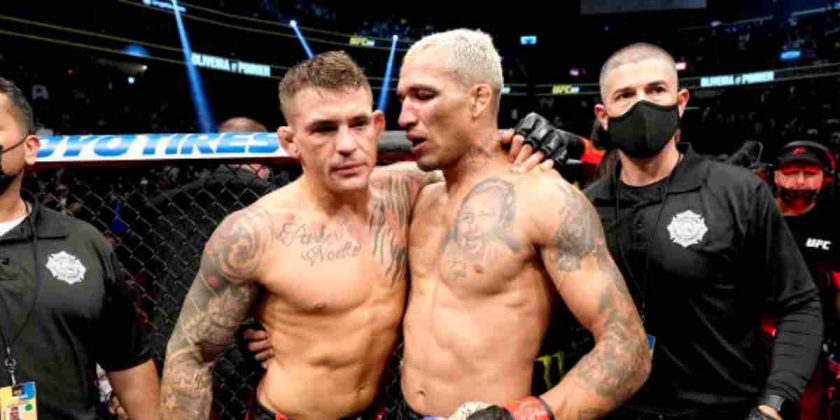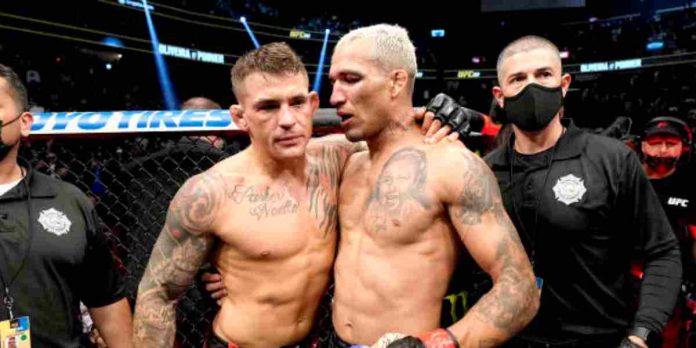 UFC lightweight champion Charles Oliveira has said that he will continue to prove his critics wrong after his first title defence at UFC 269 against Dustin Poirier, who said that he's 'heartbroken' after another devastating loss in a title bout.
Oliveira faced some adversity in the first round, as he was on the receiving end of several big shots by Poirier, but came back in the second round to turn the tables, using his grappling to control and pummel his opponent on the mat. 'Do Bronx' jumped on the Louisiana native's back early in the third round, finishing him by a standing rear naked choke.
Charles Oliveira's Thrilled After Win
During the UFC 269 post-fight press conference (as transcribed by MMA Fighting), Oliveira said that he will continue to prove his critics wrong.
"I don't care," Oliveira said. "I don't care what people think, I don't care what they say. Look at what they've been saying about me. They say I can't take hits. Look at what I've been doing. They say I quit. Look what I've been doing. So I'm just gonna continue to do what I do."
When asked about how he'd train for a potential title defence against Gaethje, Oliveira said that he is going to do whatever it takes to get the win.
"It's what I've always said," Oliveira said. "A fight is a fight. I'm gonna do what I do. We're gonna plan around whoever the opponent is and we're gonna do what's needed and we're just gonna continue to train and make it happen."
Dustin Poirier 'Heartbroken'
UFC 269 was deja vu for Poirier, who also lost to Khabib by third round rear naked choke submission in his undisputed 155 pound title fight at UFC 242. 'The Diamond' said that he was utterly 'heartbroken'.
"It sucks," Poirier said. "Worked hard to get back here to fight for another world title. Got choked out again. I'm just heartbroken really."
Poirier also explained why he decided to stay in a defensive position when he was getting beat up on the mat in the second round, instead of sweeping and trying to get back up to his feet.
"Obviously, I knew his jiu-jitsu was the best, some of the best, the most submissions in UFC history coming into this fight," Poirier said. "That's kind of the reason I didn't go crazy trying to sweep and get up that second round. Cause like I said leading this, I'd rather lose the round than give my back and lose the fight trying to scramble back up. But he ended up getting to my back regardless. The guy's good. He's the champ.
"Same thing with Khabib. It's such a small room for error in these kinds of fights. I felt good. After the first round sitting on my stool, going into the second, I was drinking water and thinking I'm going to be the world champion tonight. Such a crazy thing what we do."
Who do you think Charles Oliveira and Dustin Poirier should fight next?
See also: