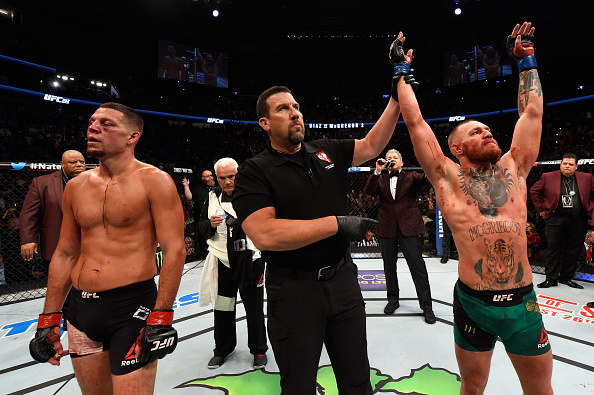 Nate Diaz has said that he is willing to throw hands with anybody other than his former two-time opponent, Conor McGregor.
Diaz last fought at UFC 263 in the first-ever non-title, non-main event five-round fight in the promotion's history against Leon Edwards, losing by a lopsided unanimous decision, although he had a huge moment in the fifth round when he wobbled the Brit with a clean shot, but failed to capitalise on the opportunity to produce one of the most iconic comebacks in MMA history.
The Stockton native is currently on a two-fight losing skid, like McGregor, who has lost his last two against Dustin Poirier at UFC 257, and UFC 264, where he lost by a doctor's stoppage after breaking his tibia in the first round. The Irishman eyes a return to action this summer and wants an immediate title fight against welterweight kingpin Kamaru Usman.
While the UFC doesn't often say no to McGregor's demands, fans believe a third fight against Diaz makes the most sense for the former two-division champion.
In March, Diaz tweeted that he wants to fight McGregor.
However, it seems like he has changed his mind now and is looking elsewhere.
The 37-year-old shocked the world by submitting McGregor in the second round of their welterweight bout at UFC 196. The Dublin native exacted his revenge at UFC 202, where he won by a majority decision in a closely contested fight that could have gone either way.
For the last several months, Diaz and Poirier have been lobbying to face each other, but the holdup seems to be on the UFC's end since Nate has only one fight left on his contract. The two parties reportedly had talks in March to extend his deal but no agreement has been finalised.
Who do you think Nate Diaz should fight next?
See also: