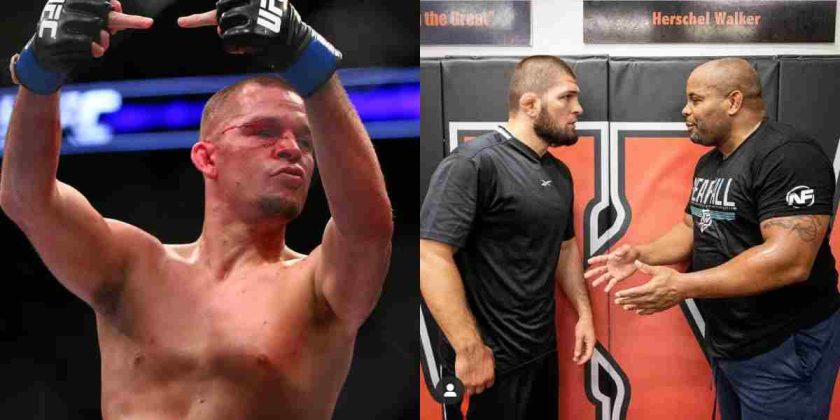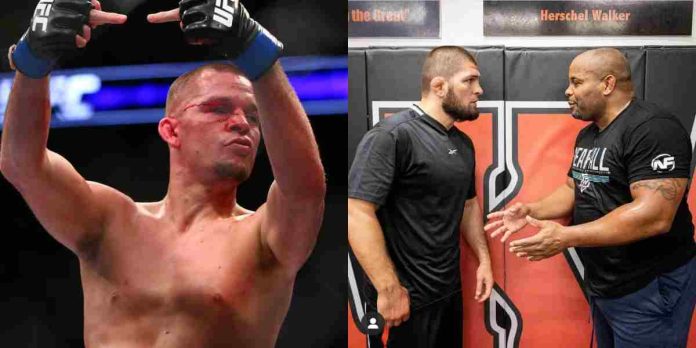 Nate Diaz isn't a fan of former UFC two-division champion Daniel Cormier and former lightweight kingpin, Khabib Nurmagomedov.
Diaz and Nurmagomedov have never had a cordial relationship, and over the years, the two fighters have taken several jabs at each other.
The Dagestani accused Diaz of ducking him when he was still fighting while the Stockton native continues to accuse 'The Eagle' of avoiding him.
So, it's not surprising to hear Diaz saying mean things about Khabib.
"F*** Khabib, that was funny. Khabib is the worst. Just look at him, he ran off, he's a jock. It's not my style of fighting. I don't like it," Nate Diaz said to the Nelk Boys on their Full Send Podcast.
What's, in fact, surprising is that Diaz doesn't consider Khabib nor his teammate Cormier real fighters.
"Yeah, that's cool. If that's how you fight. But the style in general, he's not a real fighter. Him, 'DC' (Daniel Cormier), certain guys. I'm just not interested in that kind of fighting at all," Diaz said. "Not wrestling because I love wrestling. It's just the jocky attitude. I'm a real fighter. I like real fighters who fight for real."
Diaz last competed at UFC 279, where he defeated Tony Ferguson by submission in the fourth round to fight out his UFC contract. He is currently scheduled to face Jake Paul in his boxing debut on Saturday (today).
Once he is done with Paul, Diaz believes he may make a return to the UFC. If that happens, Conor McGregor recently said that he'd love to lock horns with his former foe for the BMF title, which is currently held by Justin Gaethje.